2012: You have questions.. hopefully we will try and answer them now.
It's a new year and we're answering our most frequently asked questions from 2012, because when you tell people you quit your job to travel the world for a year, there are bound to be some questions. Questions like, "Where was your favorite place?" Or, "How does it feel to be back in the 'real world'?" And, "What's next?"
So we're taking this time to answer them all. Here we go. One of the first questions we get after people heard we've been traveling long-term is:
Did you win the lottery?
No, I wish.
How did you afford a trip like this?
We did it the old fashion way – lots and lots of hard work and savings. We made sacrifices to make saving a priority: I brought lunch to work 3-4 times a week. We barely ate out. And our social life was practically non-existent.
What's your favorite place?
What was the best thing you ate?
We ate well in 2012 which made it extremely hard to narrow it down, but we wrote all about it here in our 12 Best Thing We Ate in 2012 post.
What's the biggest shock upon coming home?
Meal portions.
Did you get sick?
I had food poisoning in India and was bed-ridden for nearly a week. Gerard could barely move a muscle for 3-days in Thailand possibly from swallowing ocean water while swimming in Koh Hong. Other than that, a few stomach issues here and there for our fearless eating habits and that was it.
Was it safe? Or, did you get robbed?
Yes and no. Well, I usually answer the 'Is it safe?' question with 'As safe as it is being home..' and let their imaginations run wild with that. I am grateful we never once got pickpocketed or robbed. We did not lose our luggage or get held up at gunpoint or kidnapped. We rarely felt threatened other than the time we tried to bus through a miner protest in Bolivia. Paranoid at times, yes, but never in 'real' danger. The world is a safe place contrary to what the media might put out.
Did you have a budget?
Yes. We started with a cost per day/ per person based on the country then rolled it up to an overall number. Honestly, there was no rhyme or reason, just based on other's experiences and adjusted accordingly to our traveling habits. For example, $100 a day per person for one- month in New Zealand. We did not let the budget dictate our daily spending either. It was more of a guideline; something to keep in mind. Some days we came in way under and other days we blew the budget out of the water, but it all averaged out for the most part.
Our initial budget was $20,000 per person for the year.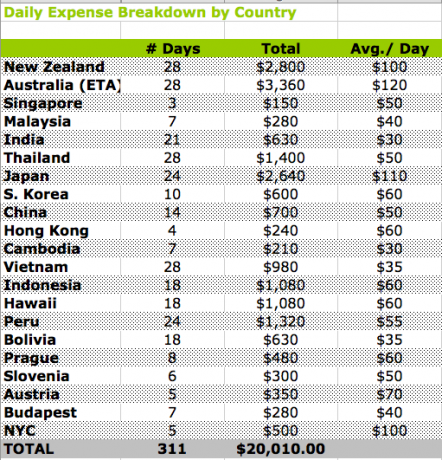 How much does it cost to travel the world for a year?
Gerard and I spent 312 days on the road and our final grand total for two is $45,357 or roughly $22.5k per person.
UPDATE: Sorry, but we found out we miscalculated the budget, so the actual total is $51,988 (including airfare for both), so that's about $25.5k per person.
You've already seen some of our total recaps by country – New Zealand and India to new a few. We have a lot more numbers coming your way that will break down where exactly our money went including new posts from South America and Eastern Europe.
For us, we often say we're not backpackers, but rather we're flashpackers. And while we didn't travel on a big spenders wallet, we weren't exactly roughing it either. We spent where it was necessary to keep ourselves comfortable and our sanity in check opting for private double accommodations instead of staying in dorms – hey, we're not 18 anymore. We couchsurfed more for the experience but it did help save some cash too.
Where's the honeymoon?
Luckily the world is a big place. I think Belize would be great and Gerard wouldn't mind Bora Bora. Africa would be another wild option. I guess we'll just have to wait and see.


Questions From Facebook:
Shanna F had a great question. She wants to know if we had a bad experience in any country or if any country just didn't appeal to us as much.
China. In their defense, we only did visit Shanghai, Xi'an and Beijing so that hardly counts for the entire country, but just the overall feel rubbed us the wrong way. It's too congested. People appear to be yelling all the time and, in our minds, rude and didn't seem to make an effort to care. After a few days, I didn't like the person I was when I was there – short tempered and erratic, I was just plain mean. Mean enough to push a little old lady on the metro and didn't care. She pushed me first.
Chris E wants to know, How successful did you find couch surfing, and any tips on using that service?
Couchsurfing was a wonderful experience for us, the few times we got to actually do it. It was a bit tricky since we are a couple and most hosts can only host 1 person. The key to couchsurfing is to get great references. See if you already have friends on CS to write in a good word for you. Local CS meetups are a great way to connect with not only locals but other couchsurfers traveling. Overall, some of our trip highlights, albeit interesting at times, is thanks to couchsurfing.
Rachel K was curious, since we traveled light, did we buy souvenirs and if we bought an additional bag to carry our newly acquired goods?
We debated this. In the end, not nearly as much as I'd hope but we knew this when we decided to travel with carry-on size luggage. We stuck to small items that were practical like jewelry for me and new t-shirts for Gerard to switch out. We were able to send things back with my cousin whom we met up with in Thailand and we also shipped a big box home when we were in Seoul but never had to purchase additional luggage.
What's next?
Probably the most popular question we've been getting recently, now that we're home, is what's next for you and G? What does the year have in store, and, are we done traveling?
I don't think we'll ever tire from traveling, we have yet to make a dent in the universe. But for now our long-term traveling days are at a halt.
We still have so much to share from our time abroad, it'll keep us both busy for months to come. Plus, we intend to indulge in some mini weekend getaways to quench our wanderlust thirst.
We have a wedding to plan which is both exciting and frightening at the same time. And finally, Gerard and I are actively looking for jobs. Eeeek!
You might like:
Share and Enjoy