Where alcohol and meat are prohibited but apparently drugs are free game!
A secluded Bohemian town in the Ajmer district of Rajasthan, Pushkar is a place where time seems to have stood still since it's psychedelic heyday. Where tie-dye t-shirts, bell bottom pants, dreadlocks and hookahs paint the vibrant shades of town. Where alcohol, meat and drugs are prohibited but clearly no strict regulation on the latter as it's become a popular destination for tourists coming for "spiritual enlightenment".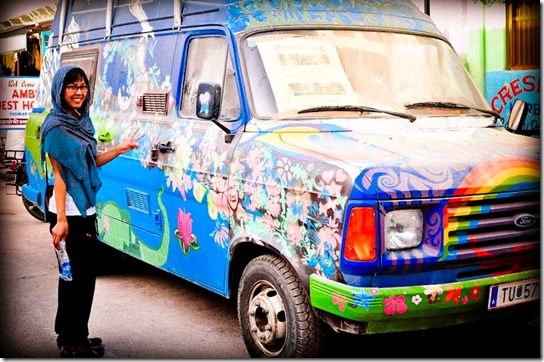 Getting There
There are no direct trains to Pushkar. Instead, you'd have to train to Ajmer, tuk tuk to the bus station (50Rs) and then take the #1 bus to Pushkar. The bus ride should cost about 12Rs. Someone will walk around collecting the money once the bus is in motion. The ride should take approximately 30 minutes. Other than the fact that some kid threw up on G's backpack, the bus ride was pleasant. 😛
Stay
We stayed at Everest Hotel, a popular guesthouse in Pushkar written in the guidebooks. We splurged on a deluxe room with couch, fan and air-con which we never used. You can show up and try bargaining for a small double bedroom for approximately 400- 500Rs a night. The rooftop restaurant is so-so but the view is absolutely amazing.
See
If you're itching for some sight seeing, there are ghats surrounding a holy lake, and apparently the only Brahma Temple in all of India. That's pretty much it. My suggestion, weave through the windy narrow streets of town. You'll pass pastel shade buildings, women in vibrant saris and hippies in dreadlocks. It's rustic, charming and groovy all at the same time. Here are some of our favorite photos from Pushkar:
Some guidebook suggest you should brave the wee hours of the morning to hike up a mountain and catch sunrise over town. We met some people who did it and said it wasn't anything special. Personally, I think you can get a great view of town on virtually any guesthouse rooftop.
If you want to shop, this is the place for it. But be warn the power of theek hai isn't as effective here like the rest of Rajasthan. I tried. Majority of the time I was turned away almost immediately without even a counter offer.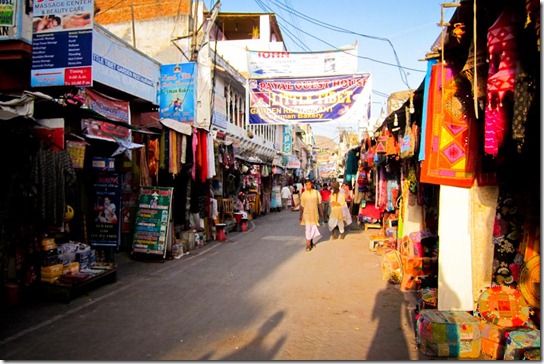 Eat
Pushkar is a vegan town with healthy cuisine options you probably can't find anywhere else in India. It's not your traditional Thali dinner that's for sure. There are no shortage of Italian food and oven baked pizza along with I kid you not when I say, the best fruit salad muesli ever at Sonu Juice Shop! They also make mouth-watering fruit smoothies with ice from mineral water so it's safe for us Westerners to drink.
For a hearty meal, get a falafel wrap toasted to perfection from one of two rival shop in town. They're right next to one another. Both are good but I prefer the one on the left (if you're looking directing at the shops) because every now and then, they hand out free Chai. Get it stuffed with fries!
For a feel good meal, check out Honey and Spice. Delicious home made banana bread, tofu steaks, brown rice, yummy salad and the healthy Bowl of Joy (below). It's definitely not your traditional Indian menu. They also make a fruit muesli but not as good as the one from Sonu in my opinion.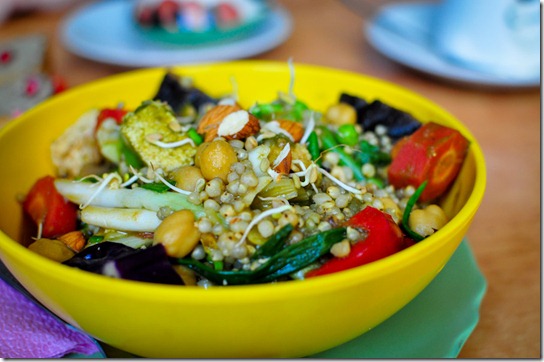 Pushkar is different than any other city we've visited and quickly became my favorite place in all of Rajasthan. I welcome the slower pace, crave the healthy food and love the shopping even if I couldn't bargain much. It's the only place I wouldn't mind spending more time in and a much needed break from India without actually having to leave the country. Truly a magical place.
It's funny, we tend to think we're big city folks when it comes to traveling. New York, Rome and Buenos Aires are some of our favorite big cities to visit. But on this particular trip to India, I realize more than anything, how much we enjoy and prefer (yearn) to be in a small town like that of Pushkar.
How about you? Are you a big city boy or a small town girl when it comes to traveling? Would you like to visit Pushkar?
You might like:
Share and Enjoy