The best Thai food from our trip. And we cooked it ourselves!
We decided to check off one of my long awaited bucket list wish and, at the same time, tackle one of Gerard's life's greatest challenges – cooking. It's not that he can't cook. He just hasn't found his calling until now. So we signed up for a full day cooking class in Chiang Mai with Siam Rice Thai Cookery.
Our day started with pigging out on a mountain of fried pork fat! Not really, but we did get to sample some during our market visit where we got schooled on the different ingredients and herbs used for Thai cooking. Let's see, there's lemon grass and tumeric, kaffir lime and lots and lots of basil – sweet basil, holy basil, lemon basil.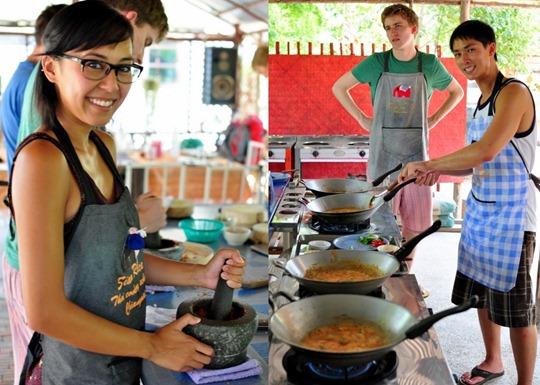 We want to try everything on the menu, so naturally, we split between our favorite dishes by category. No use in two people making pad thai. 🙂
1. Soup
First up is soup and I had my heart set on hot and sour soup otherwise known as tom yum soup. Gerard selected the hot and creamy soup which is almost identical to mine except his has coconut milk instead of coconut juice.
I love Thai method of cook – throw everything in the pot of high heat and NOT stir. Thai people don't stir, says Sim our cooking teacher.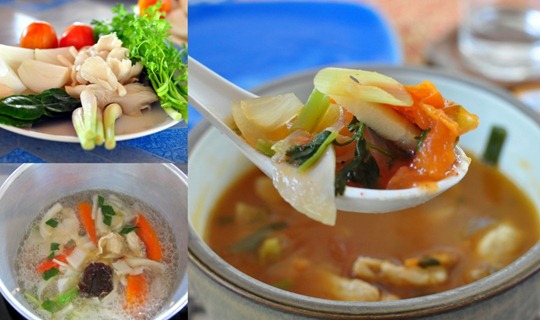 2. Noodles
This was a no brainer. We picked our favorites dishes when it came to the noodles – pad thai and pad see eew. Gerard's pad thai came out just as we'd hope. It was delicious. Mine, not so much. It was good, but not great. The texture of the thick noodles were a bit too mushy.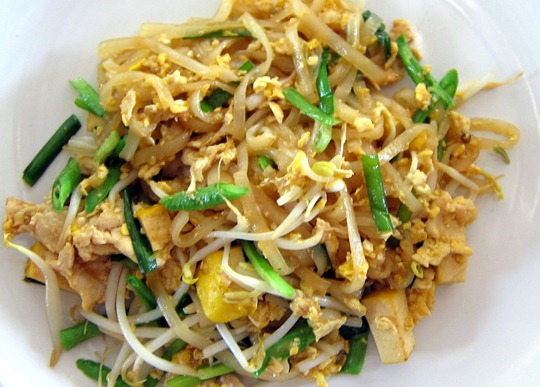 By the time we finished our soup and noodles, we were completely stuffed. Then I realized we still have another 4 dishes to cook and, of course, eat. Food overload!
3. Make Curry Paste
I suck at making curry paste. But in my defense, Sim did say Penang curry paste takes the longest since you need to pound it to a fine mush. After a good 10 minute arm pounding work out, Sim called in backup to help me finish. Fail!
4. Cook a Curry from your Curry Paste
Gerard picked red curry with pumpkin while I selected the Penang curry – the one with the difficult paste. Of the two, I liked Gerard's more. Mine was too spicy but then again, I was the one that added the chili while Gerard added more sugar and coconut milk. Our friend Joe cooked a delicious green curry that honestly had me drooling. Probably the best of the three.
5. Appetizer
If you're in the half day class, you would not be able to make papaya salad. I convinced Gerard to take on the spring rolls mostly because I wanted to see him roll a spring roll. LOL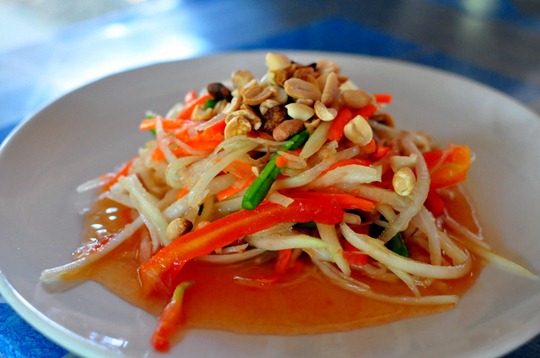 I was very impress with Gerard's rolling technique even if his didn't turn out as uniformed as his teacher. Can you guess which rolls are his?
6. Stir Fried Vegetables
Stir fried vegetables is really stir fried chicken. I chose the fried holy basil with chicken because the other two option had ginger and sweet & sour flavoring – neither of which I'm a fan of. Gerard decided on chicken with cashew nut which is probably the only non-spicy dish of the day other than dessert. He didn't have a problem eating this one all by himself.
7. Thai Dessert
You can't get more 'Thai dessert' than mango with sticky rice. I opted for the sticky rice with young coconut which ended up tasting like Gerard's sticky rice only creamier. Gerard's mango help to cut the coconut-y taste.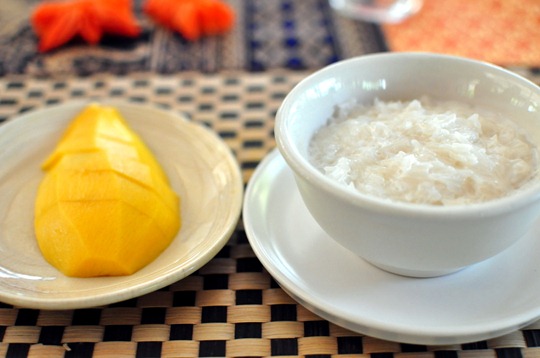 And even though I failed at making curry paste, I still got my certificate of completion!
Our time in Chiang Mai has been filled with nothing short of incredible experiences. We cuddled with baby tigers and bathed rescued elephants (which we'll write about later). Let's not forget, celebrated one kickass Songkran too. Partaking in a cooking class was the icing on the cake and a perfect way to cap our time here in Chiang Mai.
You Should Know
The half day course consist of soup, noodle, curry paste and curry. Appetizer, stir fry and dessert are only offered in the full day course.
The full day course costs $900BHT but there are also half day and evening courses available.
Do not eat before your cooking class.
Don't bother to take notes, Siam Rice provides recipe books to take home.
What Thai dish would you like to learn how to cook?
You might like:
Share and Enjoy