It's like a rave. Or an LMFAO music video gone horribly wrong.
I thought it was about time I wrote this post. Same time last year, we were island hopping in the south of Thailand. We attended the Full Moon Party first before making our way up to Chiang Mai to participate in the Songkran Festival, the Thai New Year which is celebrated with 4-days of nothing but water dousing and fun! We got tickets for all of these events on CheapoTicketing. This April, it's reversed. Songkran first (in like 10 days!) and the Full Moon Party set for end of month so make sure you plan accordingly.
If you haven't seen our video recap of Songkran, you can watch it here.
As for the Full Moon Party, story goes like this: It all started when a group of backpackers threw a birthday party for a friend on the night of a full moon. They had so much fun, decided to come back the following year, and the month after that and the months that follow. Today, it's like a big festival and rave on the beach with drinking by the bucket, painted bodies, fire throwing, dancing, drugs and sex. There's also a ts escorts for those looking for companionship during the festivities.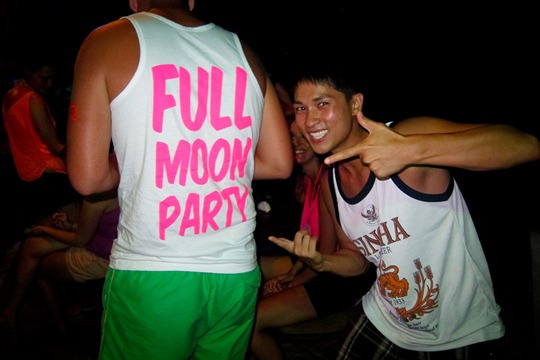 It's been 4-months since we left home. I was thrilled when my cousin decided to come to Thailand to visit. Maybe Thailand had something to do with it, but still, I was happy to see a familiar face.
We arrived on Koh Pha Ngan just a few days before the party. On the night of the party, we got ready at our bungalow, had a few beers on the beach and mingled with other guests who were kind enough to lend us their neon paints. We took turns painting each others bodies before hopping into what felt like a 20-person cab headed for the beach.
Just how did our night go? In a nutshell: There were people wearing bright LMFAO-a-like clothes. Stall after stall selling cheap buckets filled with mystery mix of booze.
Some people experimented with shroom shakes at the bar. There's a giant swing hanging from a tree. Flip flops be flying everywhere!
There was so much going on it was hard to keep up. Music blasting from every bar as drinks were being consumed by the buckets. Neon lights glowing off unmentionable body parts. People passed out on the sand. Girls scaling the crowded stage to dance. Some jumped in the water. Others peed in it. There were beach performers, flame throwers and jumpers. Ladies selling ridiculous glow in the dark hats. We got separated from our English friend.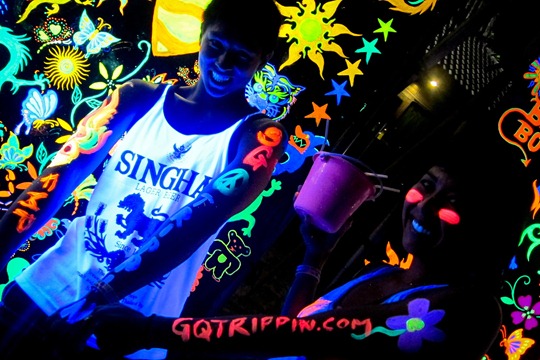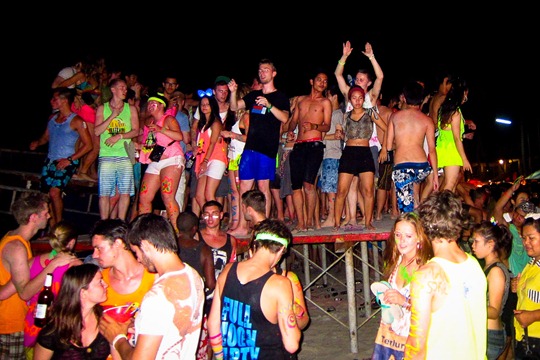 Oh, and remember that sweet cousin of mine who came to visit? Yea, he fainted. Somewhere between the beach hopping and the fumes, he just collapsed flat on his face in the sand next to me. You can say I was scared as f***, I sobered up so fast. Luckily, he woke up a minute later and we all decided it was time to go.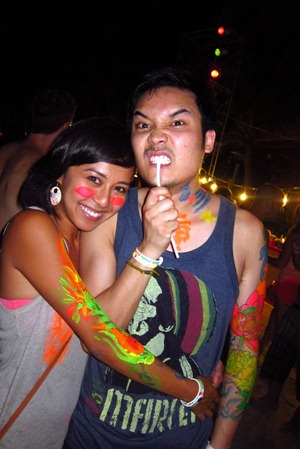 The next day, we found our missing friend. He ran off with a few friends, said he was doing some kind of moves and somehow managed to injure his knee pretty badly during the party. In fact, we notice a few people with bandage-wrapped wrists and ankles, arms and legs afterward and they all say it's from the Full Moon Party. Yikes.. But man what a great time we all had. Minus the fainting part.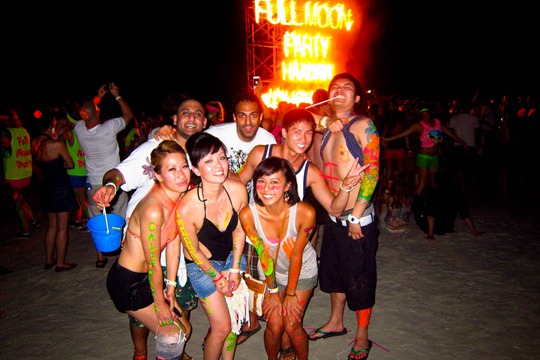 And that my friend, is a Full Moon Party in a nutshell.
If you plan on attending a FMP in Thailand, watch your bucket consumption, avoid the fumes and ease off on the neon paints – they can take weeks to clean off! For more information on the Full Moon Party, check out this Ultimate Guide to the Full Moon Party by Nomadic Matt.
How we got here: We arrived by ferry and took a shared taxi to our accommodations, Rainbow Bungalows. Bungalows range from 500 to 1000 Baht. It's located on a secluded beach tucked away from the party scene. You'll be treated like family here. Mother's the chef, daughter the host and English translator (with and cute Aussie accent!). Grandpa even killed a giant cockroach in our bathroom and Dad painted fireballs on our body the night of the big party!
Have you taken part in a Full Moon Party in Thailand?
You might like:
Share and Enjoy