Water buckets, ice and super soakers.. sawasdee pi mai from Chiang Mai.
As far as festivals go, we've only attended one this year to compare, but I dare say Songkran in Thailand would rank as one of the best in the world.
The Songkran festival is celebrated in Thailand as the traditional New Year's day from April 13th – 15th. Thais celebrate Songkran by throwing water at one another with water guns, buckets and hoses. Sounds fun, right?
In Chiang Mai, it's notorious for starting the festivities early and continuing on for up to five days. It doesn't hurt to have an endless supply of a dirty moat water surrounding the city walls.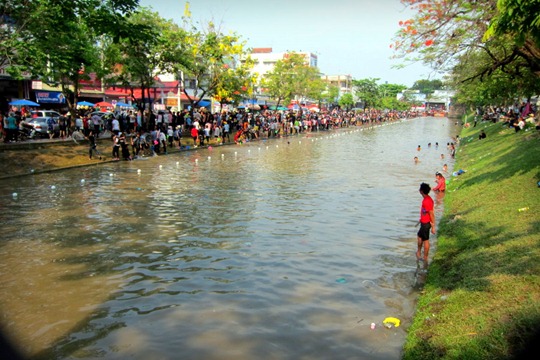 In preparation for Songkran, choose your weapon wisely. A water gun or super soaker is the most common choice and can allow you to carry on a long water war. A water stick is perfect for quick, sharp shots – great for short range but the battle is short lived.
If you want to do some serious damage, a bucket is by far your best bet. Your attacks can be quick and fast and you're able to reload just ask fast as you dump or toss water on your opponents.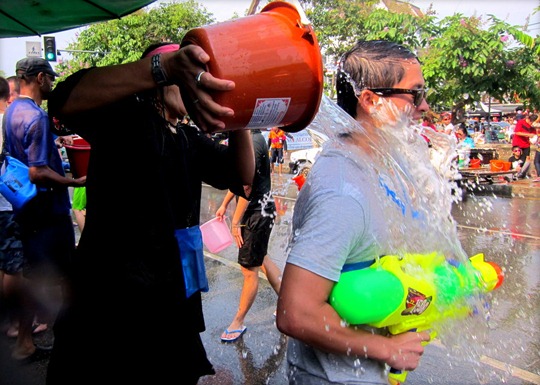 Whichever weapon you choose, there is no shortage of water sources. Restaurants and street vendors put water containers in their store front constantly filled with water – some even with ice! Burr..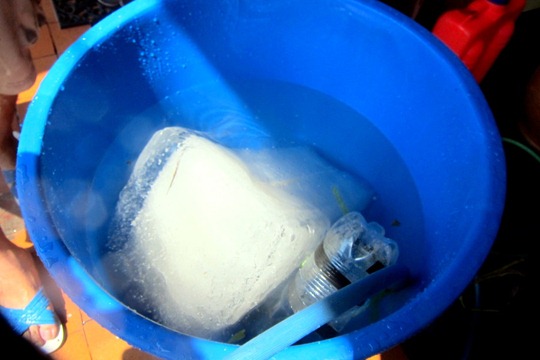 It's best to post yourself either near water containers or along the moat where water is readily available. Just don't get too close to the moat or you might get pushed in. Lucky for me, I didn't get moat belly the next day but still very much traumatized by the whole ordeal.
If you choose to travel by songthaew (shared taxi) or tuk tuk around the moat during Songkran, you're singling yourself out as a moving target and hell will have no mercy on your soul.
And by hell I mean Gerard. He spent nearly 15 minutes hosing down this one tuk-tuk with Japanese tourists. Even knocked a Chang beer right out of the guy's hand. LOL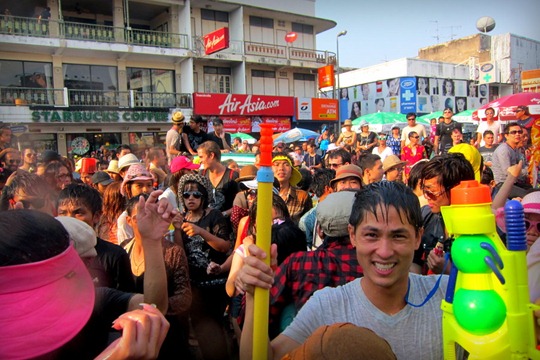 The East Gate or Tha Pae Gate is where most of the action is and where you want to be. There are heaps of music stages set up along the moat including Water Wars, Coca Cola's foam party and more with International DJs from around the world.
Police may be off limits, but no one said anything about the SWAT Team!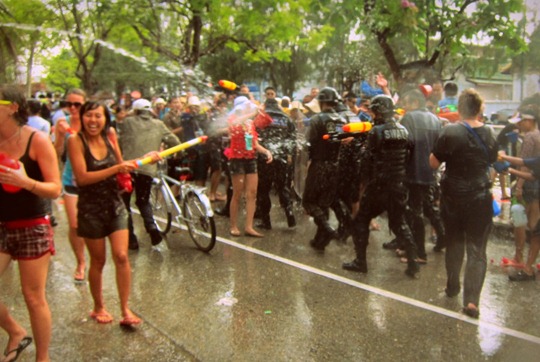 Apparently things got a bit out of control in years past so alcohol is (somewhat) regulated. It's best to either pre-party in your guesthouse or BYO undercover B.
Of course it's never fun to drink alone (well, maybe sometimes). But better to make new friends during Songkran than enemies I tell you. We had family from home, friends who flew in from Vietnam and made new friends with folks from our guesthouse.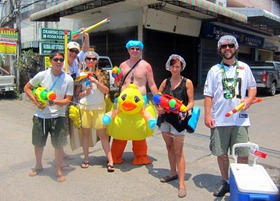 If you make friends with the locals, they might just spare you a bucket of chilling ice water down your back and let you ride on their truck where you too can be a moving target!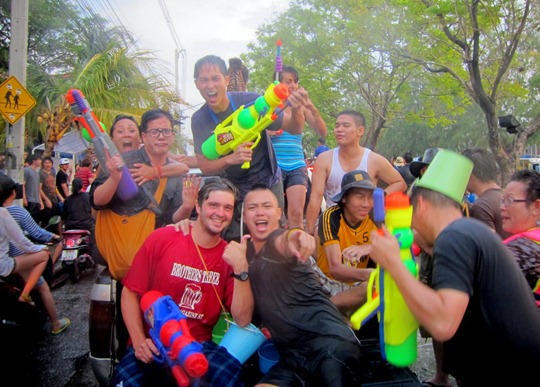 So.. think you have a pretty good idea what Songkran is? If you're still unsure, check out our video below. But please, don't let us convince you how insanely awesome this festival is. 😉

We've had our fair share of festivals from around the world and even celebrated Holi in India this past March. Most of you already know how that went for me. This was a completely different experience.

Songkran is the greatest festival ever! It's the perfect excuse to be a kid no matter what age you are. I've never had such a positive experience from beginning to end (no boob grabbing, yay!). Everyone is genuinely happy even if they are shooting at my face and in my ear. Which by they way, left me ringing for days I thought I needed to go to the Doctor. Cleared up in the end though, phew.

————
You Should Know
In Chiang Mai, water throwing can start as early as the day before Songkran and last for five days.
Purchase your weapons early. You can expect to pay anywhere from $250- $500BHT for a super soaker gun. $150BHT for a water stick.
Protect your eyes especially if you wear contact lens. Sunglasses or goggles, as goofy as they look, will give some protection when you're being shot in the face with water.
Bars and restaurants stop serving alcohol between 2 – 5pm.
Be prepared if you need to go potty, most restaurants charge $5BHT to use the restroom if you are not a patron.
If you want a break from the water festivities, other attractions in Chiang Mai are still open such as Tiger Kingdom and Baan Chang Elephant Park. Go early morning to avoid getting wet but be prepared to get drenched on your way back in to town.

Would you "Like" to add Songkran in Thailand to your bucket list?
You might like:
Share and Enjoy