Of all the places we've visited, there's a handful of cities of which I can actually say, with confidence, "I can see us living there." Yes, I can see us living in Kyoto, Buenos Aires, New York and Prague. And now, I get to add one more lovely city to that list: Seville, Spain. Yes, Seville aka Sevilla is just one of those places that has quite simply dazzled us with its beauty and charm, seduced our stomachs and captivated our hearts — one of the few places we can see ourselves living there.

Arriving in Seville
We took the bus from Cordoba to Seville. The ride was short and thankfully, the station is central; we were able to walk from the bus station to our vacation rental.
Things to see
When in Seville, a Flamenco Show is a must. You can find one easily on Tripadvisor. After comparing the top 3, we opted for La Casa del Flamenco Auditorio's smaller, more intimate location. Plus, it was a short 1-hour show. With only 3-rows of chairs circling the stage, no seat is a bad seat here. My only criticism, the Flamenco couple only danced once together, the rest were solo performances.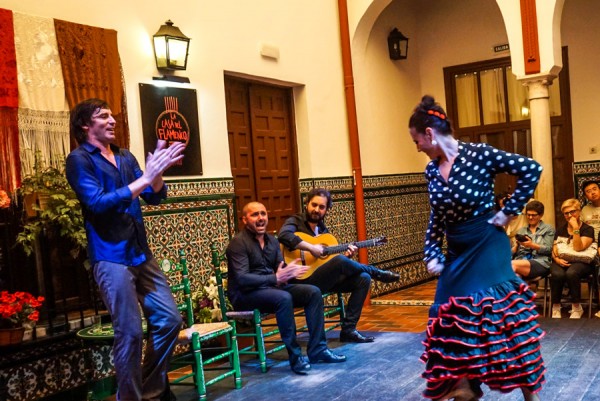 Metropol Parasol is a giant wooden structure that looks like a futuristic, digital mushroom. Located in the old quarter of Seville and is best seen at night when it's lit up and changes colors.
Take a stroll through Maria Luisa Park.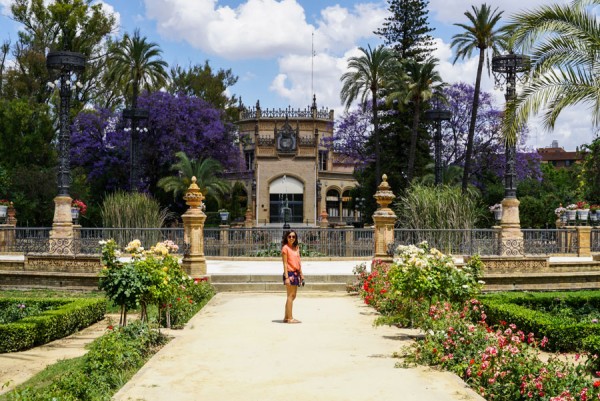 Then head towards Plaza de España for one, if not the, prettiest and most picturesque Spanish Squares. We had a lot of fun shooting here. Check out those puffy clouds!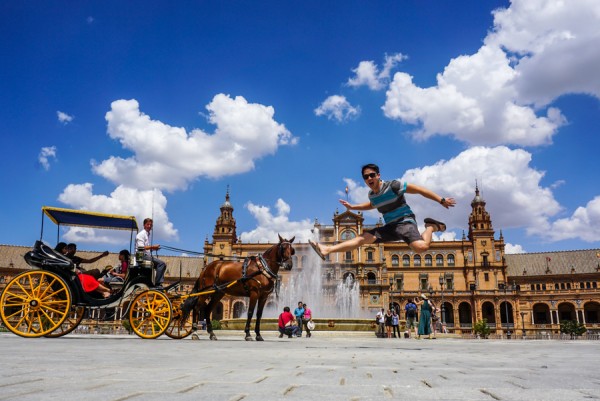 What to do
The Cathedral of Saint Mary of the See, or better known as Seville Cathedral, is said to be the largest cathedral in the world! You'd think that title went to St. Peter's Basilica, huh. So did I. We were both wrong.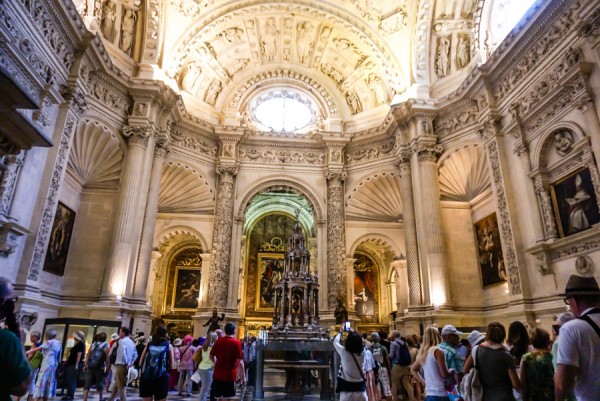 I know many will say, another cathedral? But this one is worth the small entrance fee, trust me — it's stunning inside. Plus, you have to anyway if you want to climb up the 40-story stairs (technically they're ramp) of Giralda Tower to get the best 360-view looking over Seville.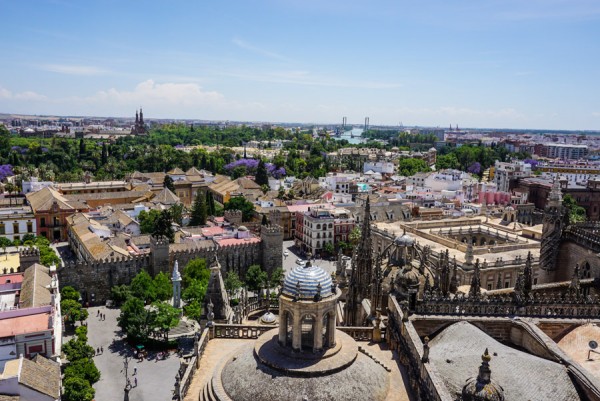 Visit The Alcazar. You'll be thoroughly impressed by its Moorish architecture and beautiful gardens. It's got a reputation for being the oldest royal place still in use in Europe. Another reputation? It's recently being referred to its new name, Dorne. Even if you're not a GoT fan like me (I can't say the same for G), the Water Gardens of Dorne is truly a beaut!
Where to eat
I adore the purple interior accents in La Azotea. Then again, my favorite color is purple. These are not tapas portion — they're massive, normal people size food meant for sharing. Definitely get the razor clams if they have it. The fried artichoke hearts are popular, though I wished they were crispier.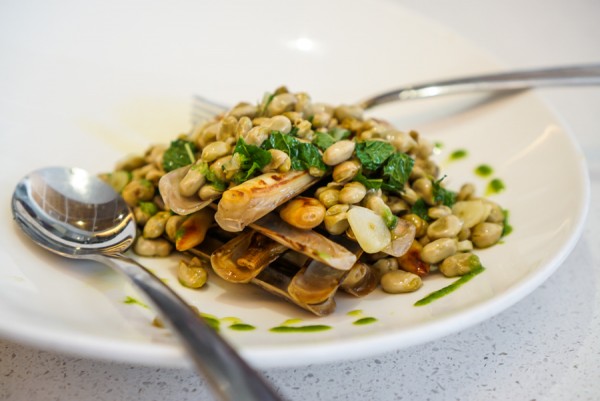 If you're craving Italian or simply need a break from tapas, try Osteria L'Oca Giuliva. The interior is adorable, food is good but the service is very slow (even for Spain).
Eslava menu is eclectic. If you look them up, you'd think they come with a hefty price tag and I'm sure their regular menu does, but we came for tapas, and the tapas are cheap! The cuttlefish cigar is a must. The pork taste like Vietnamese thit kho, braised caramel pork. LOL..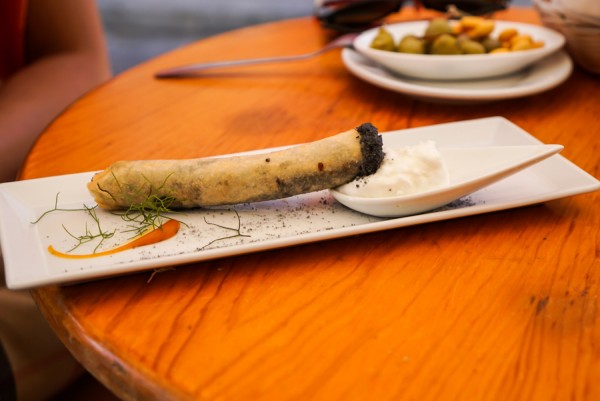 Our favorite is La Brunilda. We enjoyed their lunch so much, we came back for dinner the next day. Get the buratta and bacalao fritters, for sure. The seared tuna was a bit too salty for our taste, but the duck confit is bomb!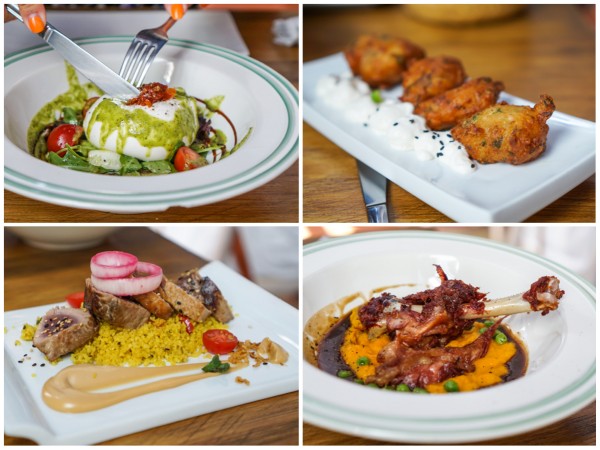 Bodeguita Romero is known for their classic Andalusian tapas. Nothing fancy, just good ole traditional dishes from pringa, which I refer to as their pulled-pork sandwich, to Espinacas con garbanzos, spinach and chickpeas.
Of course, if you can't decide on where to eat, you can never go wrong with a food tour in Seville!
Place to stay
Look at all that space! I think this is a first for us both, so much room we didn't know what to do with it all. Let's face it, we've never been dorm room material. And hotels, well they can be a tad small especially in Europe. Surprisingly, when we were researching for places to stay, hotels were the same price if not more costly than an entire apartment or condo to ourselves. I prefer the comforts of home, or at least a place that feels like home, so to find the perfect vacation rental for us in Seville and at a good price was gold!
Located next to the bull fighting stadium, it was a short 10-minute walk from the bus terminal station and less than 5-minute walk to the Cathedral and center of town. We had no trouble coordinating a meet up with the host to get our keys. The apartment is located on the 3rd floor, luckily the building is equipped with elevators!
It was a 2-bedroom, one shower, kitchen with washer and a massive living room space. Looking for a washer was important — we desperately needed a clean set of clothes, so finding one was a bonus. I was sold on that living room space and all that natural lighting coming from the double paneled windows. That and the location really was, dare I say, perfect.
Here's a closer look at our home away from home in Seville.
GoT tips for first-timers in Seville? (<– did you catch that? Lol)

Disclaimer: Our accommodation in Seville was provided by the kind folks at FlipKey. As always, all opinion are our own. We really hit the jackpot with this one — spacious and quiet, and the perfect location to boot. 
You might like:
Share and Enjoy