Yes, I did it! I bungy jumped 134m on my 29th birthday!
For backpackers, New Zealand is a mecca for extreme outdoors activities – skydiving, canyoning, glacier hiking and, of course, bungy jumping! We're here to do almost all of the above, but primarily, we came to conquer the latter. And by we I mean Gerard. It's been high on his bucket list since forever.
Coincidently, I will be celebrating my 29th birthday while in New Zealand. As a present, Gerard thought it be a great idea to try River Surfing and it was a lot of fun, we were pretty tired by the end of it. While doing that we noticed people bungy jumping off a bridge way up there. This got him started talking about maybe trying it the next day. Greaaat… I'm petrified of heights. And, call me crazy, but I'd hope to see more than just a glimpse of my 29th, perhaps even make it to 30 if I can help it.
There's nothing normal about wanting to stand at the edge of a bungy pod suspended 160m above a gorge and jump. And certainly not normal for wanting to go bungy jumping days after watching that Aussie girl's freak bungy accident over Victoria Falls go viral on the internet. Her bungy cord snapped and she fell into the crocodile infested water!
But part of me thought, how awesome would it be to say, "I bungy jumped on my birthday!!". The rest of me pretty much said, "This is insane." Despite all the nervousness and doubt and the many times I tried to talk my way out of doing something stupid, I knew that deep down everything was going to be alright.
AJ Hackett Bungy is "The Bungy Originals" so in a lot of ways, I had faith in them as corny as that may sound. They operate worldwide and with a 100% accident-free record to show for, that's a reputation I'm willing to put my trust (and life) in.
If ever I was going to do this, now is the time. And definitely while I'm here in New Zealand.
The Nevis Bungy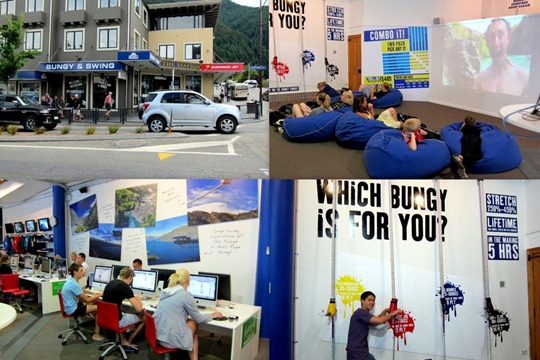 We arrived at "The Station" 20 minutes prior to our scheduled time and found the place packed. We were asked to fill out the standard paperwork and toe tags (Yes, toe tags!). After a quick weigh in, Gerard took to the free WiFi while I curled up on a bean bag chair trying my best to calm my nerves. Not long after, we boarded a bus.
Once there, we had a short briefing, one final pee break and another weigh in. Could be the pee, could be the altitude. Either or, I lost weight during that 40 minute drive. Lol.
We each got strapped in and made our way out to the cable car to transfer us over to the bungy pod.
I appreciated the bungy pod being rigged with sound system and music. Gerard tried to get lost in the beat to ease his mind off the jump that is about to come. I was even more grateful the Bungy Crew had their shit together. Their system is solid and I quickly felt at ease. Each person jumps in a specific order with a specific cord. There's a reason why we were weighed and measured.
I spent a few short minutes in the chair getting strapped up and no soon after, I'm at the edge of the pod. A quick photo snap here and there and before I knew it, I'm counting 3.. 2.. 1.. BUNGYYY!!!!!!!!!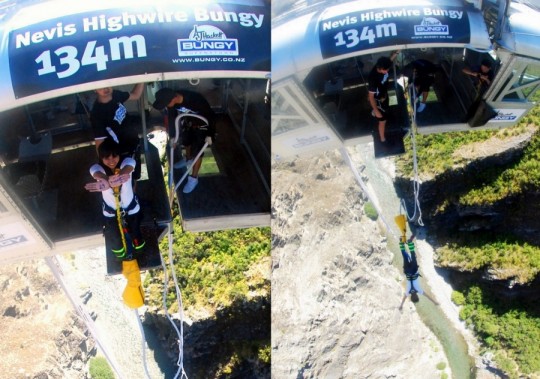 29 Today!
The fall last approximately 8.5 seconds. 8.5 long ass seconds! I screamed but midway down, my voice cracked and I went mute. A rush of emotions flooded me. It honestly felt like I'd quit my job all over again.
Excitement. Nervousness. Doubt. Regret? Doubt again. Relief. Excitement again.
Add to that — anxiety, panic, overjoy and a sense of accomplishment. It was such an outer-body experience.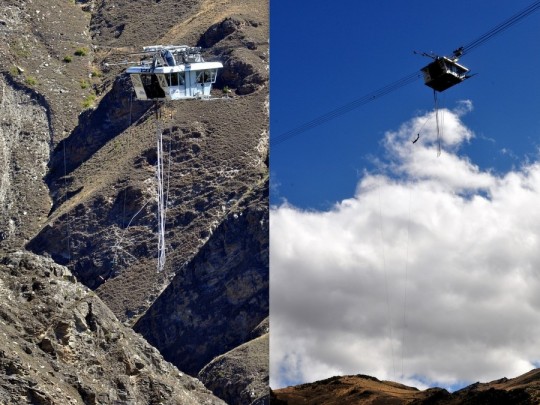 Here is Gerard's jump from a different view!
The Nevis Swing (a.k.a. Nevis Arc)
I was already planning to cheat death once by bungy jumping in New Zealand, I might as well take on the BIGGEST swing in the world!
My heart was still racing but it gave me some piece of mind knowing I'd be able to swing tandem with Gerard. This was also a great anxiety management  lesson for me and thanks to our Couchsurfing host Jay, Gerard decided he too would swing upside down. Idiot.
So there we were, strapped onto our swing with me right side up and Gerard upside down like a bat. Or as they like to call it, the Ying & Yang position!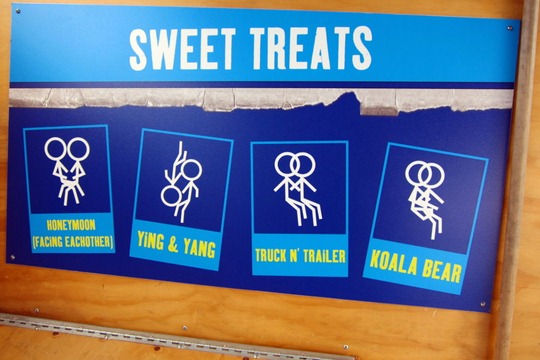 There's a slew of other positions ranging from normal to extremely funny but I wasn't about to straddle Gerard or climb on his back while plunging 120m at a ridiculous speed of 150kph+.
I thought bungy jumping would be the scariest of the two so I was glad to have conquered that beast first.
I couldn't be more wrong. Can you spot us below? We fell more than swing and I couldn't help but hysterically laugh and scream at the same time thinking, "OMG, NOT AGAIN?!!" and.. how ridiculous Gerard looks swinging upside down. Haha.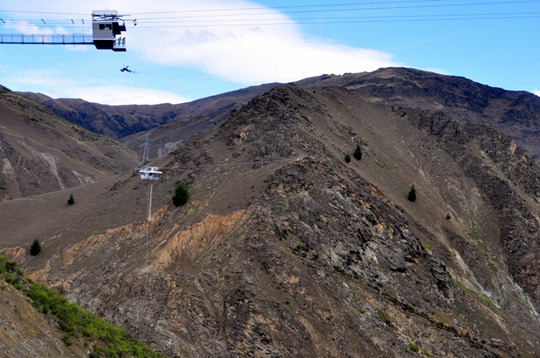 Photo by AJHB
Once the swing slowed down, Gerard flipped over right side up. Took us a few seconds to realized what had just happened. We spent the next few minutes silent, just taking in the breath-taking 360* view. Not long after, we were pulled up, slowly.
The Proof
AJ Hackett provides some pretty awesome shots and video footage of our jump and swing. We should have brought our USB but was glad they provided us with DVDs instead.
Unfortunately, my video is corrupted. Spent the last couple weeks exchanging emails back and forth with AJHB but still no luck. Not going to lie, a bit disappointed that I can't upload it for all to see but hoping the problem will be fixed soon and I can upload it on Facebook.
Here's Gerard's jump and our swing video provided by AJHB.
This is obviously not for the faint of heart. Nervousness is expected. Fear, normal. It's not something most would choose to do for fun. At least not at first. This was something more for me. And as I swung back and forth in the middle of the gorge, I had this great sense of accomplishment, albeit relief, that I may have just taken on my great fear of heights.. and enjoyed it.
Bungy jumping is one of life's greatest personal challenges and one I will no doubt bask in the glory of my achievement that I, Kieu Nguyen, had conquered the Nevis. On my birthday no less.
Gerard would like to say, check THAT of the list!
Is bungy jumping on your bucket list?
———-
For an unforgettable, adrenaline rush and a once in a lifetime experience in New Zealand, consider bungy jumping in New Zealand with AJ Hackett Bungy. A combo package including Nevis Bungy, Nevis Swing, certificate, free T-shirt and hat is $375 NZD. Photos are $45 or Photo and DVD pack is $80. Visit their website for more information on hot deals and combo rates.
Disclaimer: I received a complimentary combo package from AJ Hackett Bungy. However, this review remains independent. My thoughts, my words. Still my voice behind the blog.
You might like:
Share and Enjoy