You'd be surprised we're a little late in the game of travel hacking — we probably should have started years ago then maybe by now, we'd be in the millions, but I was perfectly content with my single cash back card and didn't think twice about the possibilities. As tempting as free luxury hotel stays and first class flights sound, it also looks like a lot of work. Or so I thought. It wasn't until a dinner outing with our good photographer friend where he shared between him and his wife, they travel hacked and racked close to 2 million miles in 2 years.
I was intrigued (and a bit envious too) so I started to do a little research of my own and found you didn't have to actually do much to earn meaningful points. Long story short, I've accumulated over 500K miles in just one year of working the system and here's how:
Which cards did we acquire?
Between the two of us, we signed up for 8 credit cards in the last year:
Chase Sapphire Preferred
Chase Ink Plus
Alaska Airlines Signature
United Mileage Plus Explorer (x2)
Southwest Rapid Rewards Visa
Starwood Preferred Guest AMEX
Our goal was to maximize points we could eventually redeem for flights. Luckily, the Chase Ultimate Rewards program allows us to transfer points into partner airline miles so naturally Chase was a big focus of our spending, and I love rewards programs, and that's why I also get Tail's Android app for cashback offers as these are great as well.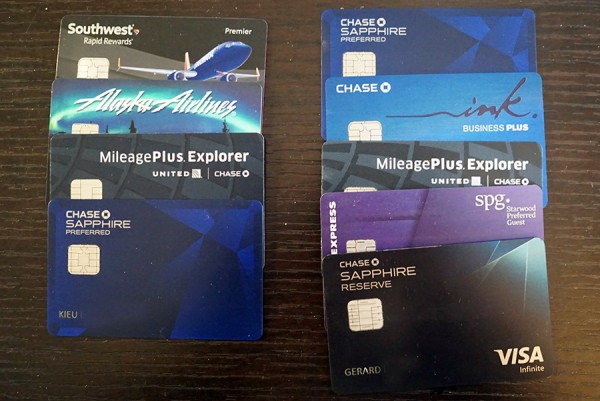 Why did we choose the cards we chose?
Chase Sapphire Preferred:
2x points for every dollar spent on dining and travel
Signup bonus: 50K after $3K spent + 5K for adding authorized user
Chase Sapphire Reserve:
3x points on dining and travel expenses
Priority Lounge Pass
Signup bonus: 100K after $4K spent
Chase Ink Plus:
5x points for cable, internet and cell phone bill
5x points from office supply store purchases (Office Supply & Staples). Note you can buy many gift cards from these businesses to take advantage of 5x.
2x points on gas
Signup bonus: 60K after $5K spent
Alaska Airlines Signature
3X points on Alaska Airline purchases
Companion pass for $75 which we used for a flight to Hawaii
Signup bonus: 25K after $3K spent + 5K for being a Bank of America member
United MileagePlus Explorer Card
3X for United purchases
Free baggage check-in and United lounge pass
G's personalized signup bonus: 70K after $3K spent
Q's bonus: 50K after $2K spent
Starwood Preferred Guest by AMEX
5 points for stays at Starwood Hotels and 2 points for Marriott Hotels
30,000 bonus after $3K spent
Points can be transferred to many partner airlines with a 5,000 bonus for every 20,000 points transferred.
Southwest Rapid Rewards Card
2 points for Southwest purchases (not that great)
Signup bonus: 50K after $1K spent
Chase Freedom — this I already own from a few years back
5x points bonus categories
Bonus categories change every quarter and range from gas, restaurants, grocery stores and various department stores.
These points can be converted to Ultimate Rewards points. Big plus right there!
How do we meet those spending minimums without becoming a shopaholic?
Correction, I did not become a shopaholic. Q, on the other hand, was licensed to spend although she didn't go as crazy as I thought, thankfully. Typically, we would need to hit a $2-4K minimum and had 3 months to do it which sounds like a lot, especially when we're both opening cards at the same time, but it actually wasn't too difficult. We would:
Offer to pick up the tab when dining out with friends and have them pay us back via Venmo or Paypal. With food and drinks, the bill can get pretty up there.
Book flight tickets for family and friends. By far, the easiest way to spend big bucks — someone is always flying somewhere these days and luckily, we have friends who aren't into chasing miles and wouldn't mind us booking for them.
Purchasing gift cards was another option and we made sure they were for stores we frequented: Amazon, Target, or local grocery stores.
As a last resort option, paying rent by using a credit card checking service. This isn't ideal as there are fees involved but if you're desperate, can work too. The company I found with the lowest fee of 2.5% is Plastiq.
What about annual fees?
Each of these cards do have an annual fee of  $75 or 95 with the exception of the Sapphire Reserve which is $450 (with a $300 annual travel credit). There are ways to getting around annual fees. But since I don't want to deal with fees, I can't keep all these cards active. Here's my plan moving forward to minimize annual fees:
Keep:
Chase Sapphire Reserve: Totally worth it.
Downgrade:
Chase Sapphire Preferred: Downgrade to Chase Freedom Unlimited. This will allow us to get 1.5x on all purchases (great for non-travel and dining purchases)
Chase Ink Plus: Downgrade to Chase Ink Cash. Get the same point perks with no annual fee.
Cancel:
Alaska Airlines Signature
United Mileage Plus Explorer
Southwest Airlines Rapid Rewards Card
Starwood Preferred AMEX
With baby on the way, we have less plans to fly much in the new year to be keeping airline cards around. And while the companion pass with Alaska is extremely enticing, we can always book a flight with our earned miles. Plus, we get more points with the Chase Sapphire Reserve anyway. We also rarely stay in hotels these days, so Starwood has to go.
Frequently asked questions:
Isn't signing up for too many credit cards bad for your credit score?
No. I had an excellent credit score rating before starting to sign up for 5 cards in the last year. My recent report actually showed that my credit score got even better! Now I'm cruising at over 800.
Won't canceling credit cards negatively impact my credit score?
I certainly thought so and there is some truth to that, but if you cancel your cards carefully, you will be able to close out accounts without hurting your score. You definitely shouldn't close out any credit card that you have a long history with because you built valuable credit history with those accounts over a long period of time. However, if you close out a card where you have little history with, say less than a year or so. It shouldn't impact your credit score much at all.
When is the right time to sign up for a card?
During promotional periods when the signup bonus is big. For many airlines, 30K miles is the standard bonus, but if you time it right, you can get 50K+. I got lucky and received a special offer from United for 70K miles for their Explorer card! We follow The Points Guy to stay on top of the latest and greatest deals.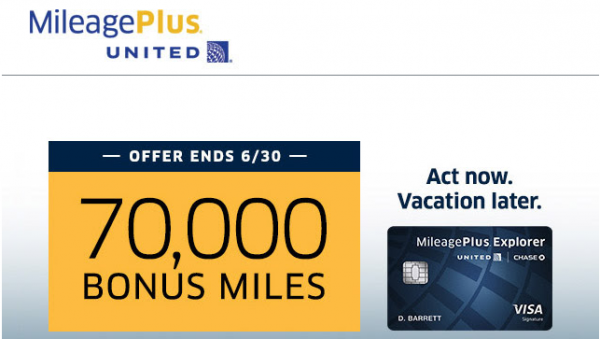 What good are all those miles once I have them?
So much! The best thing about the Chase Ultimate Rewards program is you can transfer them to partner airlines like United, Southwest and many more:
United – 60K miles for RT from SFO to many major destinations in Europe
British Airways – 50K miles for RT from SFO to Tokyo.
Alaska Airlines – Flights to the Pacific NW or Hawaii.
Maybe first class upgrades?
This is all just a tip of the iceberg!
Regrets & mistakes we made:
There are a few mistakes I made which ended up being good learning lessons:
Had I known the Chase Sapphire Reserve was coming, I wouldn't have had Q sign up for the Southwest card so she could that card instead. She capped out at 5 new cards per every 2 years and was denied the Reserve.
Also, when I signed up for the Chase Sapphire Preferred, I took advantage of getting an additional 5K points by adding Q as an authorized user on the account. Looking back, it would've been better to have Q sign up for her own Chase Sapphire Preferred so she could get an additional 50K points instead of 5K.
Last year we flew on Alaska Airlines to Hawaii, they were pushing a 50K sign-up bonus which we did not capitalize on. Q ended up getting 30K instead.
So how many points did we earn in the past 12 months?
The majority of points was earned through sign-up bonuses alone, 445K. Another 125K+ was earned through maximizing points through our purchase strategy and a few flights. That brings the total to over 570 thousand points! If used effectively, I would value these points at close to $10,000 of travel! They could be worth a lot more if I wanted to splurge and use some on first class flight upgrades. 😉
I think we're tapped out for awhile. We may apply for some new cards in a year or two, but for now we'll enjoy our nice new stash of miles.
Well that pretty much sums up much of my new found wisdom in this point hacking space. There's a world of more tips and methods to gain even more points, but I'm not going deep as this is really an introduction to gathering miles just by miles alone. Really it's all about taking advantage of the incentives out there in the credit card world and maximizing value out of them. I hugely regret not taking advantage of this years ago. But you know what they say, better late than never right?
Hope you got something out of this and happy travel hacking!
We'd love to hear your questions, favorite tips, best practices and resources for maximizing points. Let us know in the comments section!
Disclosure: This post may contain affiliate links to help us keep our blog up and running. 
You might like:
Share and Enjoy