Next time you visit South Beach, don't pass up these must-eat munchies!
Miami Beach is known for their B's — beaches, bods and bars. But don't get too distracted with their hotness and nightlife scene. SoBe has some of the best grubs Miami has to offer! Here are 5 of my most memorable munchies.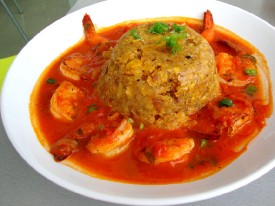 shrimp mofongo
Jimmy serves up Puerto Rican comfort food at its best. And you must get the mofongo! Mofongo is fried mashed plantains mixed with pork cracklings, and who doesn't love pork fat! Plus, did I mention it's also fun to say?
You can have it many ways, but most will recommend you get it with shrimp. One bite and I was hooked!
Supposedly it's does wonders for your hangovers too.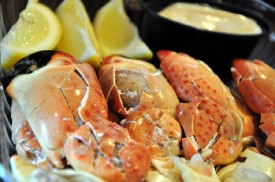 stone crabs
Pretty damn pricey, but worth the splurge. Take a bite of these one-of-a-kind sweet & meaty crab claws and you'll find out why this institution has been around for almost 100 years.
Order through Joe's Take Away corner next door if you're not in the mood for fine dining. Don't forget to finish off with a slice of their key lime pie.
ropa vieja
What's this Cuban restaurant most known for? Old clothes. You heard right. Well at least that's how it translates to English. The Ropa Vieja dish is shredded beef that's simple yet tender andflavorful. Your entree comes with a side of some of the best fried plantains I ever had. The boys and I liked it so much, we were about to go back the next day!
The other famous dish here has to be the oxtail stew.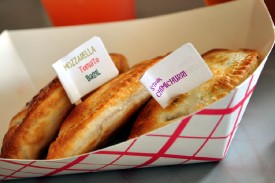 empanadas
This fresh food place outside SoBe serves up salads and soups, but they're really known for their Argentinian empanadas. Sweet or savory, they have you covered. Just a sample of pies from their list: chimichurri steak, mozarella/tomato/basil, dulce de leche/blackberry, and guava/cream cheese.
Wash it down with a refreshing melon green tea or strawberry lemonade and you're good to go!
huevos rancheros
This is an iconic breakfast brunch spot on Ocean Dr. You simply can't beat the location for beautiful people watching in South Beach. Oh yeah, the food is pretty good too.
I had the huevos rancheros, but many recommend the eggs benedict substituting the hollandaise for the cream cheese sauce.
Have you been to Miami? What are some of your favorite SoBe eats?
Photo credit: 1
You might like:
Share and Enjoy