Another flash back as best as I recall it.

"I'm sorry you do not qualify. You're not of age," says the travel representative behind the counter.
"What? Age?" I said. "That didn't come up during the booking process. No one told me that would be an issue. This a mistake."
"There's no mistake," the Rep repeated. "You're not of age. You have to be at least 23 to qualify for the deal." (We were 21)
"Then can we have our deposit back?" I demanded.
"I'm sorry the deposit is non- refundable."
F*ck.
We were young. We didn't know better. Amateur travelers that we were, we fell for one of those time share deals. The ones you often get coming through your fax machine at work. The deal is legit, if you could call it that, but definitely not without its fair share of hidden agendas.
Oh well, chalk it up to experience. We're not going to let that rain on our Disney parade. Just make sure you read the fine prints and ask questions. Lots of questions.
Disneyworld really is the happiest place on Earth. We didn't realize how insanely huge each theme park would be and quickly realized that our 2 day stay seem like a joke. We ended up seeing Epcot and Disney's Hollywood Studios in one day and the Magic Kingdom on our last day, skipping Animal Kingdom altogether.
Let's reflect:
Favorite Theme Park: Since we didn't make it to Animal Kingdom, my vote goes to Epcot. I'm sure G will agree. Can you blame us? You can literally walk your way around the globe all in one day.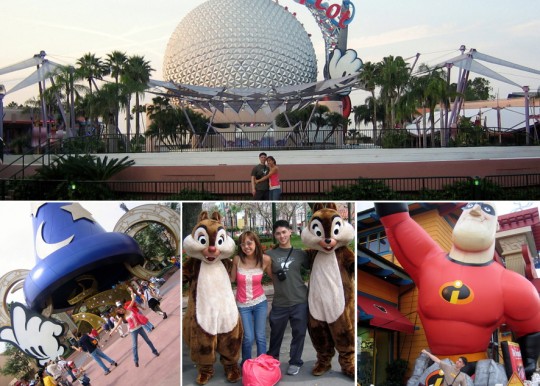 Favorite attraction: Rock n' Roller Coaster Starring Aerosmith. I am and will always be a life time fan of the classics such as Space Mountain and The Hollywood Tower. But I also have a new favorite. If Steven Tyler rocks your boat and you're in the need for speed, look no further. Our faces below should say it all. (We're in the back row.)
Most overhyped attraction: Indiana Jones Epic Stunt Spectacular! I first saw this on the Disneyworld episode in Full House. Remember that? Where Michelle gets to be Princess for the day and DJ kept seeing Steve everywhere. Somehow, I expected more.
Must see: IllumiNations: Reflections of Earth at Epcot. The moment when you start to believe in all the magic. It's a spectacular water show at night filled with pyrotechnics, lasers, fire and fountains on World Showcase Lagoon.
Favorite dining experience: If I had the opportunity, my pick would surely go to Character Dining. But since we didn't get around to doing that, we'll just call it a tie with dinner at Coral Reef Restaurant at Epcot.
Worse dining experience: Sommerfest. I'm sure most would enjoy sausage and beer on any normal day. Today was just not the day nor the place. It's the happiest place on Earth! Give me a funnel cake or giant pretzel shaped like Mickey Mouse.
Biggest disappointment: Downtown Disney. Mainly because it's located on the other end of the Park and not near Magic Kingdom at all. We wasted an entire day just getting to and from which sucks because it was our last day in Orlando.
Memorable moment: When we arrived, we took a cab through a Sonic Drive- In near our hotel. Our first Sonic burger experience and well worth the additional fare fee. I did rush the guy at the window and reminded him that he was racking up our cab bill to which he replied, "I've never seen anyone pull up in a cab before."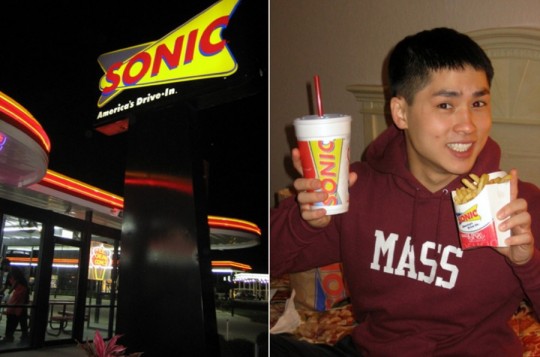 Biggest surprise: Of course our very first I "heart" you were exchanged during the Main Street fireworks show. Tinkerbell flew across the Castle. You could say it was a magical moment.
Tip of the day: If you're going in March or April, a rain poncho will come in handy. Rain comes and goes at random hours of the day. We had to shell out some major cash to buy one on the Disney premises so come prepared.
Even though our time was cut short and we didn't get to see all of Disneyworld, we had a blast! Truly the happiest place on Earth.
You might like:
Share and Enjoy