It's the stuff you wish you knew upfront, the "minor" details tour companies "forget" to outline in their trip itineraries. We knew we weren't signing up for a Bora Bora. Then again, I wasn't expecting to go pee outside my tent at one in the morning either. But that we did. Truth is, we knew it was going to be a bit out of our norm and comfort zone, but that's also how we tend to travel to experience a new place and culture. Still, had I known about these in advance, I would have came far more prepared.
If you're thinking of over landing Africa, here are a few more things you should know about:
10+ hour, bumpy rides and rotations
Of your 21-day tour, nearly half is spent in the truck on 10+ hour long rides on less than desirable road conditions, where you will end up seeing many wild animals that start with X or a Z, it's a safari of it's own, almost. It wasn't just bumpy, it was dusty and hot so grabbing the right seat is key on these trips: in the back and you'll feel every bump. By the window and it's wind and dust in your face all the time. On the wrong side, the sun is beating down on you. In the front, well it's just plain awkward. And you can't get too comfortable because at some point, someone will complain and you'll be placed on rotation. Meaning, your seat today will not be your seat tomorrow.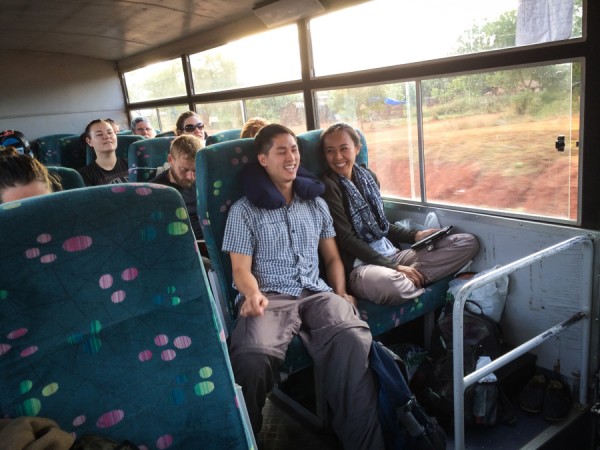 Most days we starred into the never-ending distance. Only 8 or so more hours to go..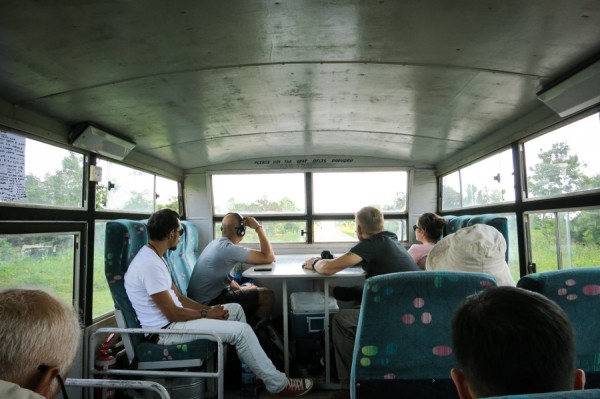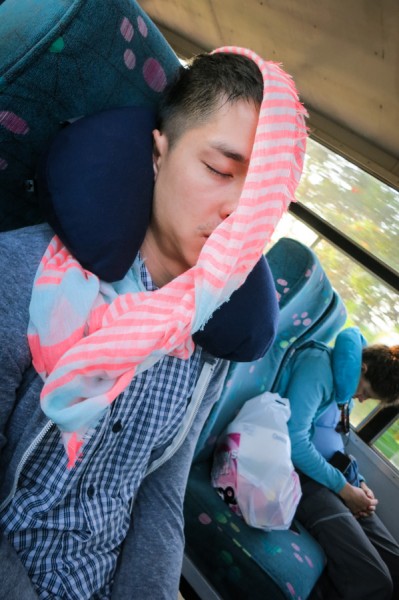 Tip: Because the rides were so bumpy, it was hard to read our Kindle. Instead, pack audiobooks or movies to help pass time. Make sure to get up and stretch too.
2. Packed lunches!
White bread, bologna or mystery meat, lettuce, tomato onion and strange cheese with runny mayonnaise — yes, that's what's for lunch all day, err day. Most days, we ate our morning made sandwiches on a moving truck. After week 1, I was repulsed at the thought of lunchtime on the bus. It was literally making me nauseous.
Here's us making lunch during the daytime on the side of the road. It happened maybe twice on the entire trip. Most days, the picture on the bottom right paints a more realistic setting — packing sandwiches at 5AM in the dark.
Luckily, I came prepared. I packed a plastic bowl and ramen noodles, MAMA and beef pho to be exact. The first day I opened my first ramen package (I packed 4), it was after a consecutive 3-day long, 10+ hours drive – I needed this.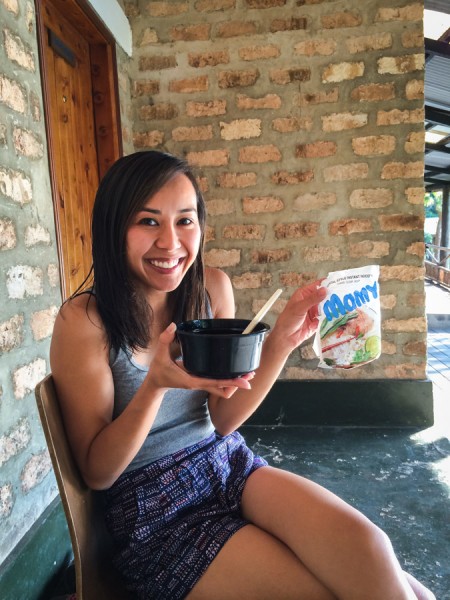 You don't have to pack your own tupperware, you can pick it up on a market run day. Ramen noodles are available too, though in strange flavors like picante, it does the trick. Our group even got creative with each passing lunch: swapping bread for tortilla wraps, omitting bread altogether and opted for packed salads – we just picked up a bottle of dressing to share amongst the group. Gerard really wished he packed more Clif bars as we couldn't find any protein bars in Africa.
Tip: get the samosas at the border crossings, they're the best. Even better than the ones at the market.
5am wake up calls
Most days, you'd be waking up at five in the morning. But five in the morning we woke: grab our torch and headlamp, go pee and brush, pack up our sleeping bags and backpacks, break down our tents.. all in the dark. Here we are, brushing our teeth in the dark. Gerard's got a head light on his head, hence the bright flash. It was definitely a challenge to pee with a headlamp on your head or a torch in your hand, but after a few days, it was second nature to us — our new morning routine.
if you are going for camping and hiking,you must have a headlamp which can also come in handy for outdoor activities at night. For example, if you enjoy running but find it hard to fit into your schedule during the day, running at night with a headlamp can be a great alternative. Not only does it allow you to continue your fitness routine, but it also adds an element of excitement and adventure. Plus, if you're wondering does running burn fat? Incorporating nighttime runs into your fitness routine can help you burn more calories and reach your weight loss goals faster. So, if you're someone who loves to explore the outdoors, investing in a good headlamp is always worth it as it can serve multiple purposes, including helping you stay safe and active at night.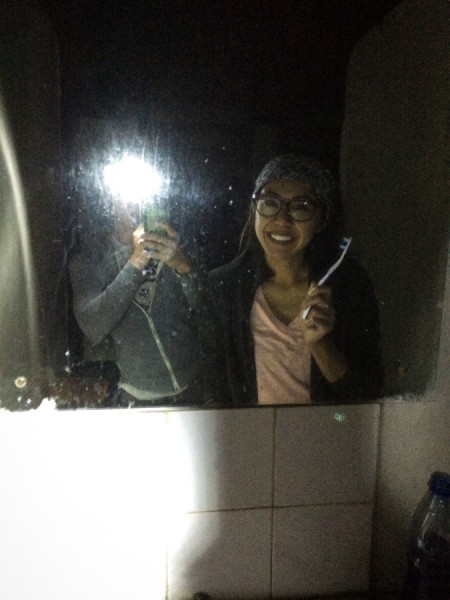 Laundry day
When you arrive late afternoon and have to leave early the next day virtually everyday, there isn't a lot of time for laundry. More importantly, there isn't enough time for drying the clothes you've just hand washed, so it is really important you pack light and things that dry fast. No fluffy towels allowed. Luckily, we've gotten pretty use to packing long-term and on-the-go. I almost thought my hand washing days were behind us when we ended our year long trip. Wishful thinking I guess.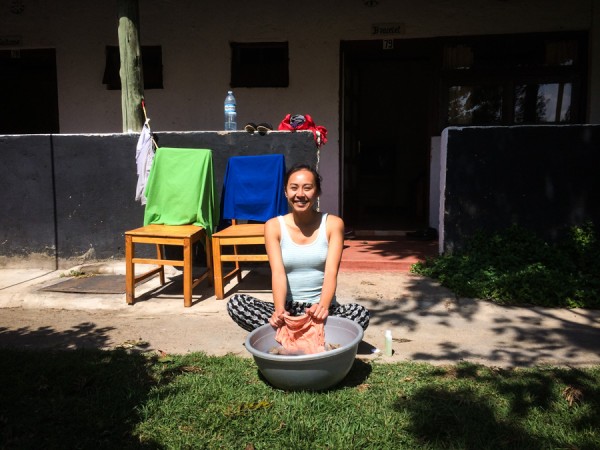 Tip: Bring a long clothesline. Preferably one that can clip anywhere, like from one tree to the next.
Chores
Yes, you will have chores: cleaning the truck, dish washing, flap dry (if you've been, you know what I mean by this), be the chef's helper like chopping vegetables, lots of them. All part of the joys of overlanding Africa. Visit appliancehunter.co.uk to know the what cleaning appliances to bring.
You can check out or visit online sites to obtain new appliances for your everyday use and to ensure longevity and quality items, why not find out more here!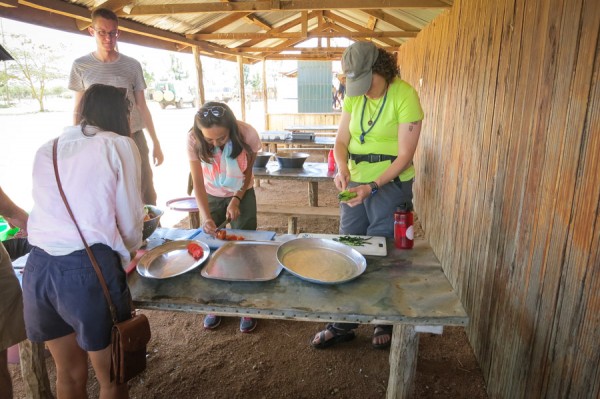 We somehow avoided truck cleaning altogether, someone went out of order on the list. Oh well, we made up for it plenty with our green bean and carrot chopping skills! Here we are with Peter, our chef.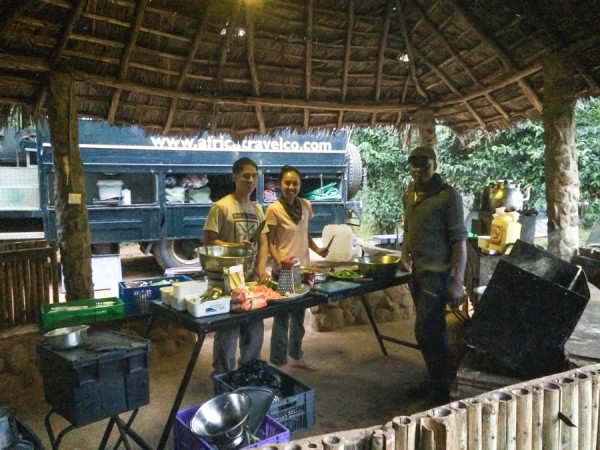 Bush toilets
It's exactly what it sounds like. There's no such thing as a rest stop in Africa. Instead, there are bush stops. This means, pull over to the side of the road, find a decent bush and go. It's unlady like and hard to find a spot that's far enough from the road or even the girl right next to you. By our second bush run, we were all too comfortable squatting next to one another and peeing.
You can thank G for this embarrassing photo, my lowest point on the trip to date and he took full advantage of it, that's my hub. Here I am, making a break in the Serengeti. We weren't allowed to stray far from the truck for fear of getting mauled by a lion, so back of the truck we went.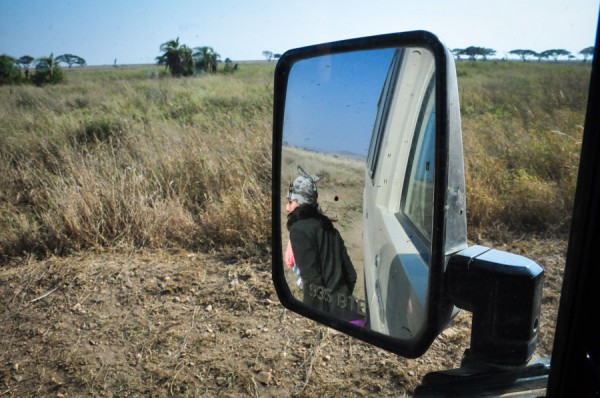 Because of long bus days, we suppressed from drinking too much which left us all really dehydrated. TMI but we've never seen our pee so dark yellow, it was definitely not a good sign. Most days, we slept all day just to pass time on the road and not think about thirst and boredom.
Tip: pack toilet paper, baby wipes and hand sanitizer.
Upgrades! It's a good thing.
Finally, something good they didn't tell us — the opportunity to upgrade your tent to a dorm or private bed! I must confess, we didn't tent it as often as we probably should have. However, the few times we did pitch and break our own tents, I really liked it. Our tents were brand new and massive! It was spacious and cozy, far more comfortable than I thought it would be. I just didn't enjoy having to break then down at five in the morning.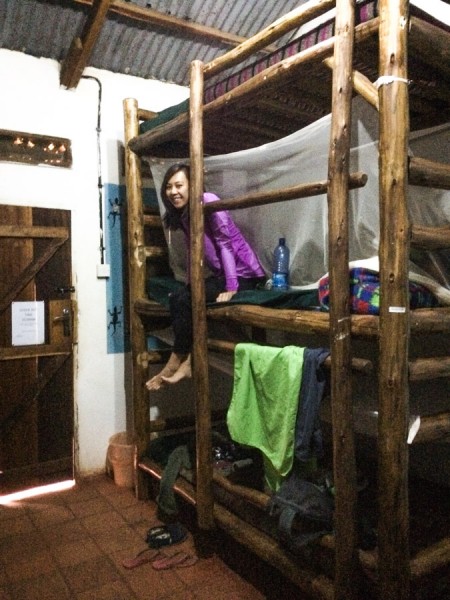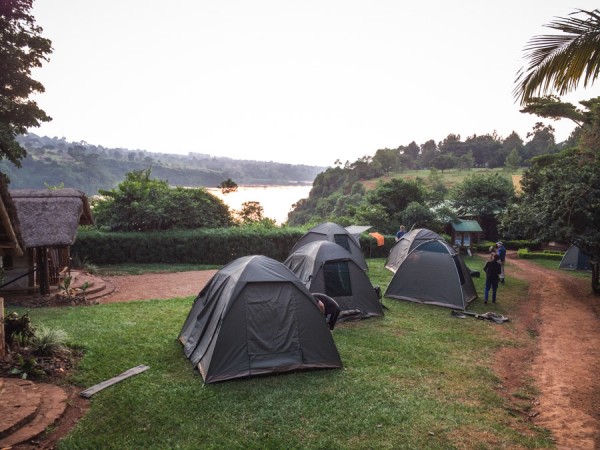 It's not exactly the honeymoon most people go on. Then again, we were never the conventional, cookie cutter traveling duo. We knew half of what we were getting ourselves into. It's all part of overlanding in Africa and despite some of the things listed above, we thoroughly enjoyed the way we traveled East Africa.
By the way, we heard the roads and campsites were of better quality in South Africa. Our experience is based traveling through East Africa, where it's rougher and not as developed as South Africa.
I wouldn't have minded a little heads up either though. I would have came far more prepared: an extra head lamp, more cup o'noodles and a shepee. I'm not joking.
Have you traveled Africa by overlanding? Share some of your most memorable moments in the comments!
You might like:
Share and Enjoy