Festival of colors. And yes, they grabbed my boob. Welcome to India!
Remember the TV show Outsourced? Best show ever! It was the first time we ever heard about Holi. Needless to say it quickly made its way to our bucket list.
So we came to India with that goal in mind – to celebrate Holi otherwise known as the Festival of Colors. Holi is a religious festival celebrated by Hindus. It's celebrates the beginning of a new season, spring. During Holi, bonfires are held and people throw colored powder (gulal) at each other. Sounds like fun, right?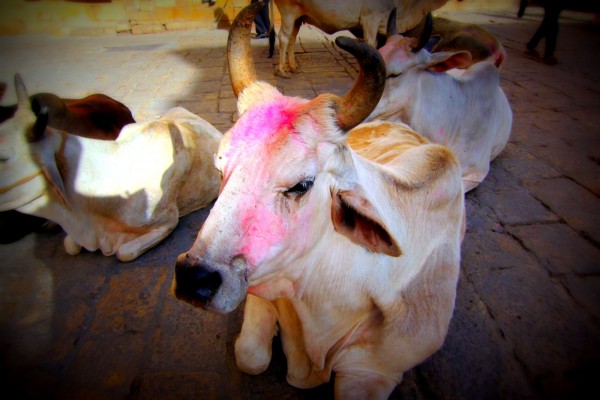 Holi cow!
Our original plans were to celebrate Holi in Delhi. But we quickly changed to Mathura knowing it could get out of hand in Delhi. Then just days before we arrived, our Couchsurfer host in Jaisalmer invited us to attend his friend's wedding which happens to be during Holi. If you know me (Q), you know it's my bucket list wish to attend a traditional Indian wedding in India. Jaisalmer it is!
We arrived to Jaisalmer after a 16 hour overnight train ride the day before Holi. Our hosts Lucky and Vijay welcome us to their hotel inside the Fort. Spent the day wandering town and bought our Holi gear for the next day – cotton pants and white shirts, water gun and colored powder.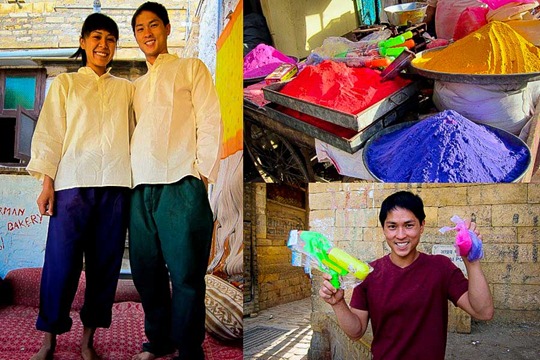 I had a slight sigh of relief knowing we were going to be with locals for Holi, but that doesn't mean I wasn't paranoid. Everyone practically told me to stay inside my hotel, "It's not safe. Men will touch you."

Holi day came and we barely made it outside our hotel front doors before we were covered in shades of green and purple.. from other tourists. Phew. So far, so good. Another 50 yards down the street, in the middle of a small square, teenagers and men drenched in shades of red were eager to color us. I was half excited, half scared sh!tless.

Can you see the look of fear in my eyes? Listen carefully and you can hear me say, "I got grabbed.." A small not-so innocent tap on the butt. Nothing too alarming. Yet.

To my surprise, the crowd was tamed – beaming with genuine Happy Holi smiles. With each gulal pat on the cheek, we Happy Holiiii back and made our way through the crowd.

At that moment, I thought, we could do this. We could actually make it through Holi without being violated.

And then we turned the corner. Another group of men also smiling but with that hungry pack of wolves look in their eyes. I recognized a few familiar faces, but I was still nervous. I quickly nudged Gerard closer, reminding him to stay close to me as we walked towards the square.
I figured if I walk with my arms across my chest in a Namaste position it would deter some of the grabbing. It was useless. Within seconds, we were ambushed. The men took turns smearing our faces with powder. I was manhandled as the men took turns hugging me. One guy came from behind and smothered my face with wet gulal. I finally had to drop my arms from my chest to pry his hands off my face. I kept my mouth closed but the gulal stung my eyes. Gerard was nowhere to be found. And then it happened..
My left boob.
I just about had it, about to raise "Holi" hell on the grabber but then he chuckled and smiled back, "But it's Holi!" with arms in the air, shoulders shrugged.. still giggling. That made me laugh a little and I simply threw up my shoulders too, "It's Holi.." and moved on.
I came somewhat prepared though – wearing double layer tops and a padded bra. Sure, evidently it must have been nice for the grabber, a fist full of soft boob, but for me, the grabbee, I hardly felt a thing. 🙂 Mostly shocked that it actually happened than anything else.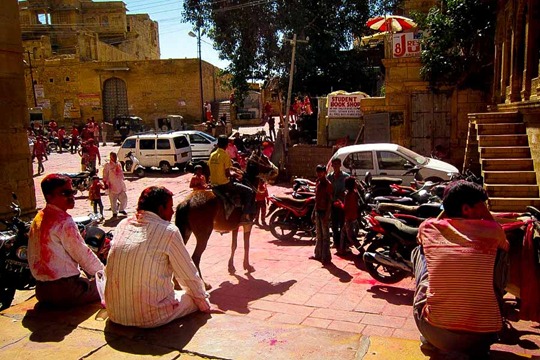 The rest of Holi was as we had hoped for. A celebration. We spent the rest of the morning perched above the steps inside the Fort watching the celebration continue below. Occasionally someone made their way up and Holi'd us and we returned the colorful gesture.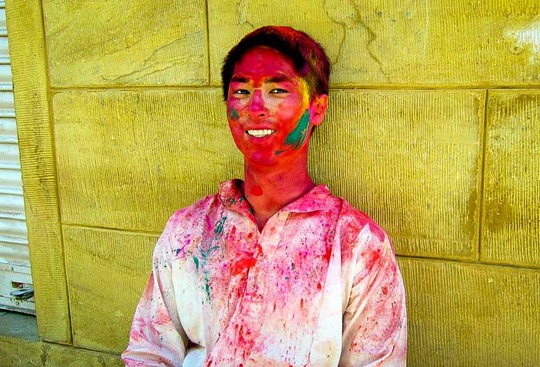 I realized quickly how I can reject "hugs" and the men will usually back away. They were not forceful. And when I was tired of getting my face smeared, by now I was getting worried the color would set and stain for days, I simply said, "Just a little.." and they gave me a gentle tap on the cheek. Kids were my biggest fear, armed with water bottles filled with mystery colored water, but even they listened when we kindly said, "No, please.."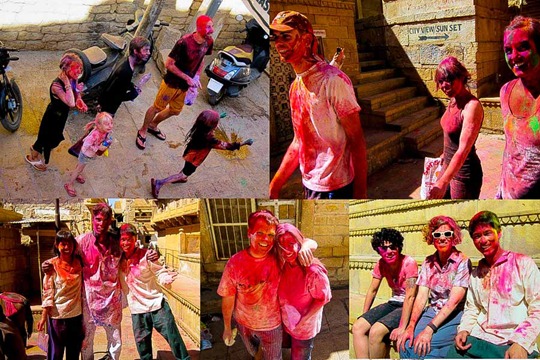 Final Thoughts
Holi is a fun, colorful and joyous occasion.. for the men. The only women participants are the tourists so you can imagine the odds are not in our favor. It's not a celebration I would recommend for female travelers alone or otherwise.
I certainly don't want to backlash Holi, nor do I want to dumb down my experience either. I leave Holi with mix feelings. On one hand, I'm sad I was in constant fear. Wish I could have enjoyed it like the boys. Nobody was going around grabbing their "goods". On the other hand, there were moments where I really had a great time – when the experience was genuine, no "hugs" or grabbing. It's a feeling hard to describe – being afraid but joyful at the same time. But that was my Holi experience.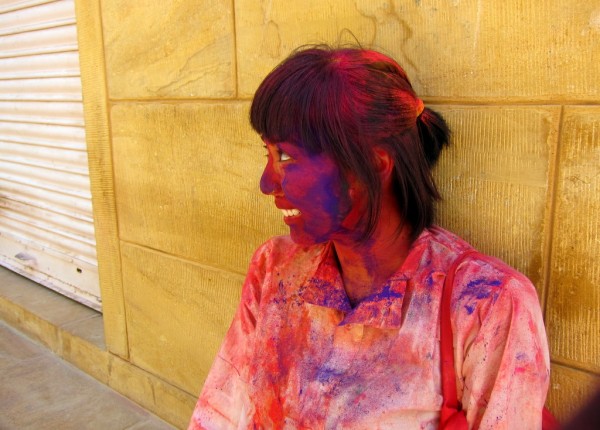 Apparently, I didn't have it all that bad. I met a guy who told us the grabbing was uncontrollable in Jodhpur even with guy friends protecting the girls. Blogger friends in Mathura said it wasn't a pretty picture there either.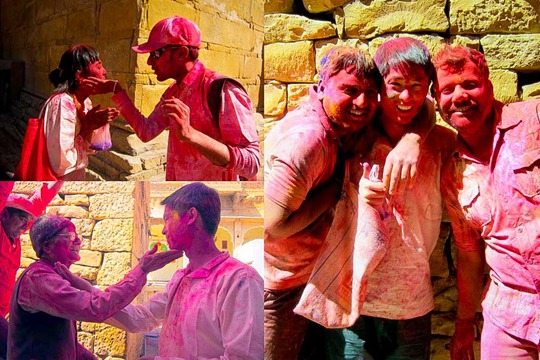 I consider my experience rare and lucky. Lucky that we ended up in Jaisalmer where it's small and controlled. Lucky we had "Lucky" and Vijay, our CS hosts, and his many many town friends to look after us when things got a little rough. Lucky to have only been grabbed once. And most importantly, lucky the damn color washed off.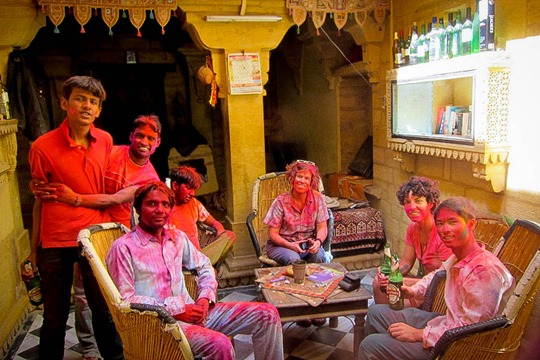 Thinking of celebrating Holi in India? You should. Guys would love it. Girls, just come with a plan and preferable an arsenal of friends. We desperately wanted to Couchsurf particularly for this reason – to have locals with us for such occasion. Also, choose to celebrate Holi in a small town where the madness can be somewhat controlled. At the very least, you'll be able to duck into alleys, climb atop Fort stairs or make it back to your hotel if things get wild.
We had an incredibly safe and fun Holi with our new friends in Jaisalmer. One that I don't regret despite my one butt tap and boob grab. But I probably won't ever do it again though if my boobs have a say in it.
What are some of your favorite festivals around the world?
You might like:
Share and Enjoy