Who would have thought, one non-swimmer and the other fearful of open water could ever fall in love with scuba diving. Not us. At least, not us three years ago. Gerard and I enjoy snorkeling but we've always been curious what lies beneath the sea if only we could just swing a little deeper. Then we discovered, pun intended, something called a Discovery Dive.
Discovery Scuba Diving is designed to introduce non-divers to SCUBA. With a light amount of theory and in-water training needed, you get to learn the basics and go diving in shallow reefs with an instructor all in one day. It's perfect for people like us!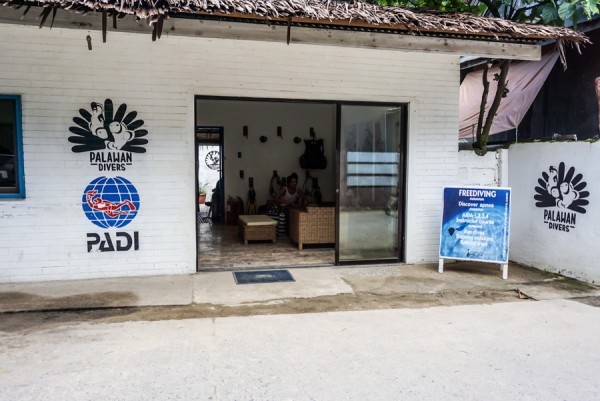 The day before our dive, we met with our guide Pablo, an uber chill dude from Spain, to go over the basics: simple underwater hand signals, what it means to equalized, stuff like that. We also had to watch an introductory video, that's a norm with every Discovery Dive. A quick wet suit, mask and fin fitting and we're all set for the next day.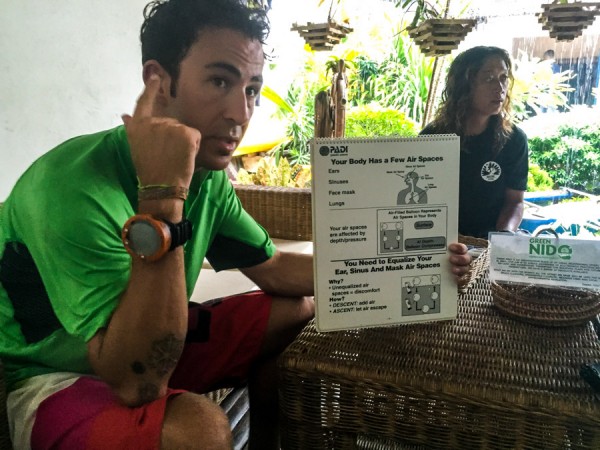 The next morning, we set out to sea. Only, we couldn't because for the first time in Palawan Divers' history, the boat engined died with no chance of on site repair. Just our luck. Stranded on our boat at dock for nearly an hour, we waited for a rescue boat to come. Here's us transferring all our scuba supplies over to the new boat. I was nervous they'd cancel the trip altogether but after the short morning delay, we were on our way — phew.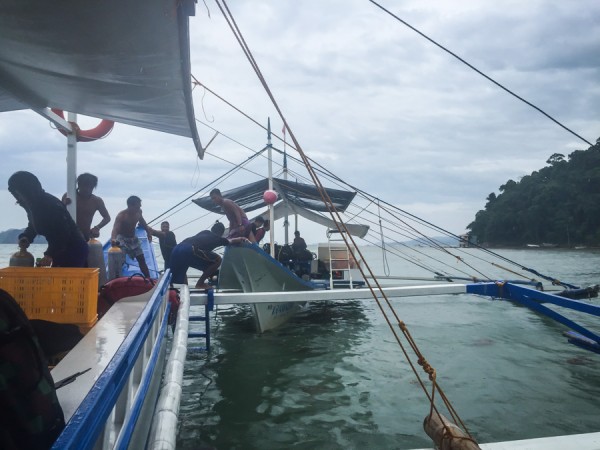 First stop: Helicopter Island, because it's shaped like a helicopter, or so we were told. I call this area the kiddie pool. This is where they drop off Discovery Divers for their practice swim. The water is shallow and calm, visibility was perfect. Gerard and I had no trouble passing our basic underwater lessons here, except that we nearly drowned just getting off the boat!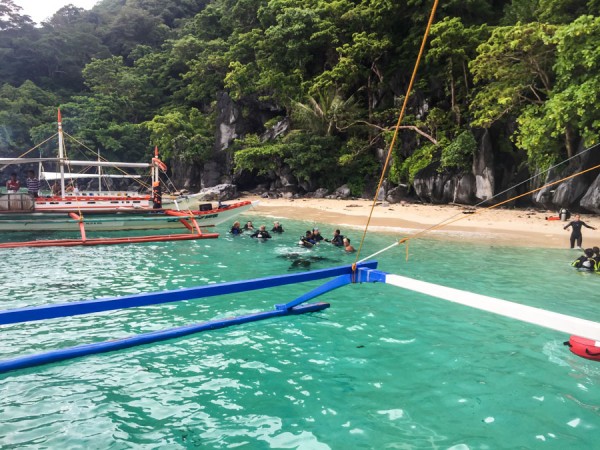 Important note to self: always remember when you've got a weight belt strapped on you before jumping in the water, even if it's shallow. Gerard and I nearly drowned trying to surface only to be pulled back down by our weight belts. Luckily, one of the boat guys pulled us up and dragged us over to where we could stand. We took him by surprise, I think. He looked at us with narrow brows and said, weight belts? To which we both nodded and he simply smirked and turned away. Oops…
Weight belts near death experience aside, we strapped on our vest, spit cleaned our mask and, in no time at all, started our descent and underwater training. After some brief hand signals and clearing of our mask, Pablo started to swim and we began to trail him like little ducklings. The calm sea and good visibility made it easy to navigate and to see all the rich marine life.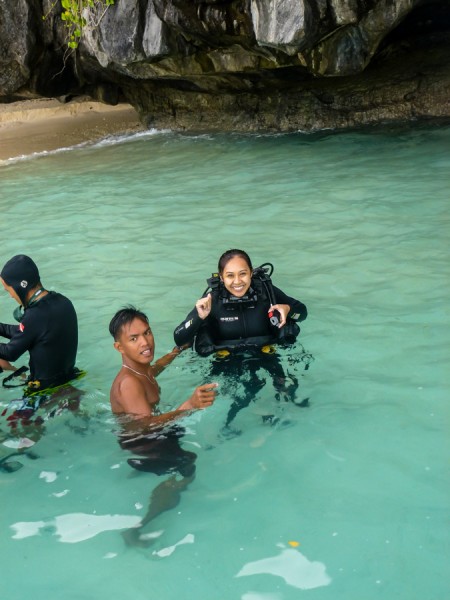 On our first dive, we saw an enormous turtle resting on top of coral and it was right then that I realized, this is pretty fuckin' awesome. You don't understand, last two Discovery Dives we did, I was always in a state of panic, afraid I was going to drown, afraid I couldn't breathe, afraid I was going to be eaten by a shark. This is the first time all those fears were set aside and I was able to truly enjoy the beauty of scuba diving. Not only that, but it was always the first time I finally figured how to control my buoyancy and, more importantly, my breathing. And let me tell you, what a relief and a difference it makes to have your shit together underwater.
On our second dive, the photographer came with us and thank goodness for her otherwise we wouldn't be sharing such amazing photos with us in it. And look, turtles!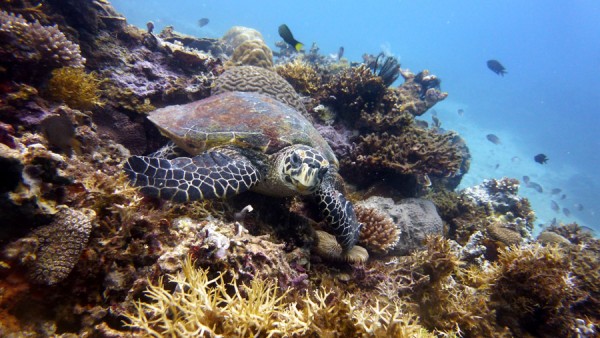 Lunch was served on the boat courtesy of our boat boys, they cooked up a feast for us including steam mussels, grilled fish, fresh cucumber salad and fruit (that mango!) and pork with that signature onion and soy sauce concoction on the side of everything.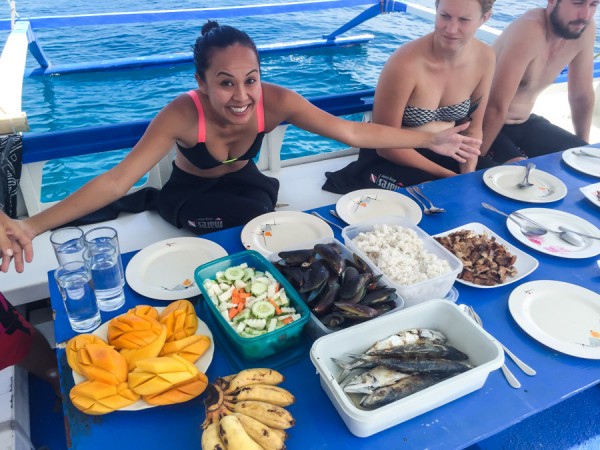 On our third dive, we were comfortable enough to take the GoPro on a selfie stick with us. We really wanted to capture some videos to share. Unfortunately, the third location wasn't as colorful and vibrant as the first two. It was practically an ocean desert oasis, dead coral and sand, no turtles. It didn't matter though because the third dive was where I was most at peace with the ocean. Before we surfaced, Pablo tried to teach us underwater yoga! I couldn't get my balance but G nailed it on the first try — his buoyancy was on point!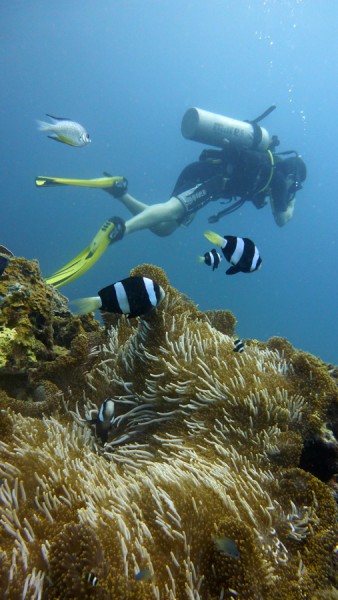 With every Discovery Dive we get a little better and better. This one by far outshines the previous in so many ways: the water is calmer, we got to do three dives instead of two, Pablo was phenomenal, loads of turtles and, we're simply just better divers this time around.
I'm thinking next time wherever we are, we'll stay a little bit longer and perhaps get that long overdue PADI certificate that has eluded us for so long because we're definitely hooked!
Have you tried a Discovery Dive before?
Explore beautiful Palawan and the surrounding islands in El Nido from under water with Palawan Divers. They also offer night and sunrise dives. For more information, please visit their website. 
Disclaimer: We received a discounted Discover Scuba Diving package with Palawan Divers. The photos were purchased from the photographer and was so worth it, don't you agree? 
You might like:
Share and Enjoy