List of places we've stayed in Thailand. Pros and con and more.
We decided to start a new series on all the places we've stayed and whether we'd recommend it.. starting with Thailand. We used Agoda.com for hotel search and booking. Also, keep in mind we tend to live on a flashpacker's budget. Meaning there are plenty of other options out there at a cheaper cost. We spent more for WiFi and aircon. Rates are from time of booking, April 2012, 30 Baht = $1.
Thailand was such a relief because we were finally entering into SE Asia territory which means 2-star hotels, aircon and comfy beds for the price of hostels!
Phuket
We stayed at two hotels while in Phuket. One in Patong near the beach and the other near the bus station.
C&N Hotel in Patong
+: Central and walking distance to all Patong attractions. Beach is a short 5 minute walk. Big room + television, though bed was a bit on the firm side for my liking.
-: Tucked away in a small alley, may be difficult to find. A little pricey, but we needed a little bit of luxury coming straight from India.
$: 1,400 Baht / night
Lub Sbuy Guest House 
I was excited to get away from the crazy that was Patong Beach.
+: Convenient, quiet and clean. Romantic and posh. Located around the corner from bus station. Amazingly delicious street food near bus station.
-: Not close to tourist attraction. You'll need to bus it everywhere.
$: 1,000 baht / night
Ao Nang
Goodwill Hotel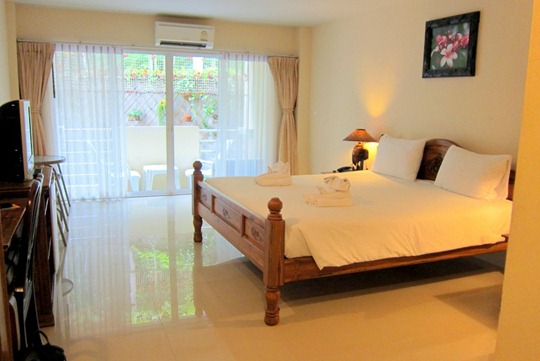 +: Spacious and clean. Small patio. Friendly and helpful staff. Bathroom has a tub, not the shower head over toilet ordeal. Here's More hints on what you can do with any plumbing issues faced.
As for the plumbing, when you receive plumbing services by hydro plumbers, you know the job is going to be done to the highest standard.
-: A bit far up the hill near mosque. A 7-minute walk down to beach.
$: 1,000 baht / night.
Koh Phi Phi
Lux Guesthouse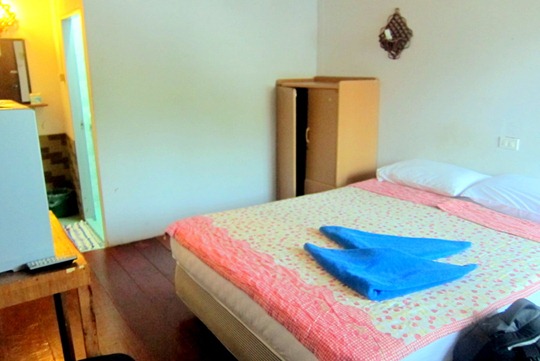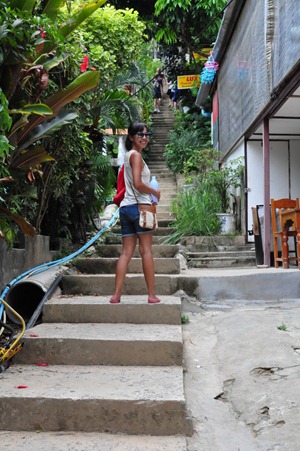 From the arriving dock, it's on the far end of the island. I stood and waited with our luggage while Gerard ventured off to find us a place to stay. He climb the stairs and stumbled upon this place.
+: Aircon and WiFi. On the trails to the view point.
-: Unattractive on the outside. Hard to find. Lots of stairs leading to hotel. Mosquitos.
$: 800 baht / night. Cheapest we found and would not negotiate, but surprisingly, roomier than most we've seen.
Koh Pha Ngan
Rainbow Bungalows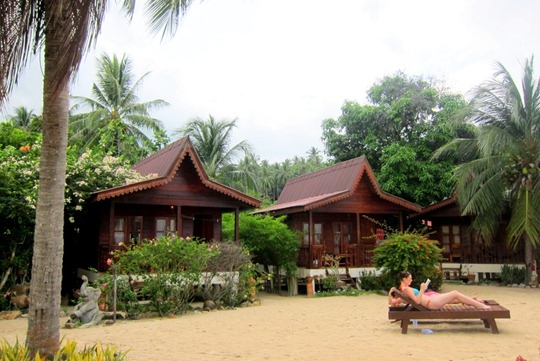 Claire is your hostess with the mostess. Her brother in law is an Aussie and taught her English so she speaks with the cutest Aussie accent. Our room had a double and twin so my cousin was able to bunk with us in one bungalow.
+: Family run, feels like home. Hammock. Delicious home cook food. Romantic bungalows right on the beach.
-: Floor fans, not ceiling. Aircon room available but tucked in back, not ocean view. Secluded. Shallow, ankle deep water. Not swimmable. Taxi to town/full moon party. Unless you rent a scooter, you'll be eating all meals on site – not close to anything.
$: 750 baht / night. Cheaper rooms with aircon are also available.
Koh Samui
Penzy Guesthouse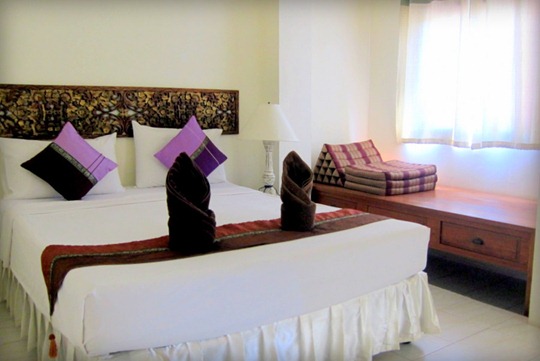 From the ferry drop off, it's a flat 100 Baht rate to catch a song-theow (shared taxi) to Chaweng beach area.
+: Walking distance to beach. Owner is American – extremely friendly. You can rent bikes, book tours here.
-: No elevator. No internet past level 2 so ask for lower level to connect to WiFi.
$: 1,000 baht / night.
Chiang Mai
Tri Gong Residence
Around the corner from possibly the best noodle restaurant on the face of this planet!
+: Near Gate E, tucked away from main street. Quiet, clean and cozy. Walking distance to Miguel's for Mexican food, 10 minutes to night market. Cold water bottles refilled everyday.
-: Far from Mrs. Pai's smoothies. Breakfast not included.
$: 700 baht / night.
Bangkok
Wendy Guesthouse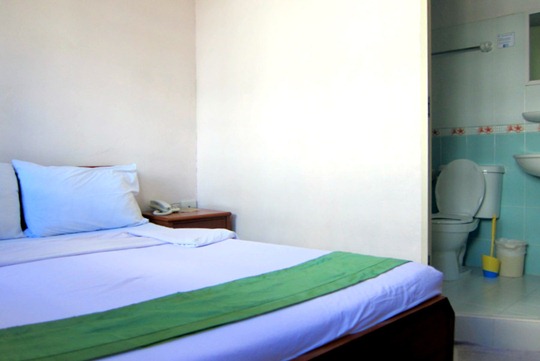 Our first trip to Bangkok, we splurged and stayed at the JW Marriott and Shangri-La hotel. That was years ago. This time, we're not on a fancy budget so finding an affordable place, central, on a flashpackers' budget was challenging.
+: Walking distance from MBK metro stop, one stop from Siam Paragon mall stop. Breakfast included.
-: Rooms are small and a bit stuffy.
$: 1,150 baht / night.
---
A great thing about finding accommodations in Thailand is you don't have to book in advance. You can show up to any city/island (maybe not Bangkok) and literally hotel hunt until you find the right place for you. This allows for flexibility and some times better rates because you can negotiate in person. We decided to try this on Koh Phi Phi. Four hotels/guesthouses and an hour later, we finally found one.
We would recommend all the places we've stayed down to the basic ones. And if you happen to overstay in Thailand, you can rely on good Bangkok visa overstay lawyers to process the extension for you.
Have a favorite accommodation in Thailand you'd like to share? Leave us and our readers a comment!
You might like:
Share and Enjoy