After a disappointing experience at a famous 3-star restaurant, an afternoon at Akelarre (or Akelare) felt like a dream.
San Sebastian is certainly no stranger to Michelin stars and fine dining. After all, it's home to some of the top restaurants in the world — you may have heard of Arzak or Mugaritz thanks to Mr. Bourdain I'm sure.
Not going to lie, when G told me we weren't dining at either Arzak or Mugaritz, I simply whined and ask, why. But I should have known better. When it comes to food, he takes his research seriously and stumbled across Akelarre. It may not have the celebrity status as the other two, but it's got star power. In fact, it's got three of them! I can't really argue with that.
One of the main reasons G chose Akelarre because it offered what many other fine dining restaurants don't… 3 tasting menus where we can have either menu of our choice! That way we can taste on double the deliciousness!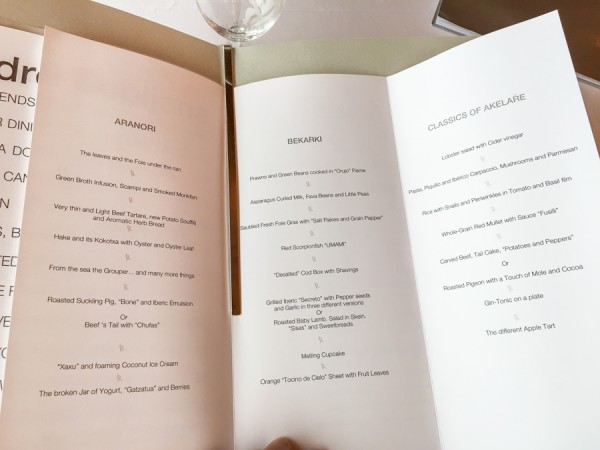 On this rainy day, we cabbed up the windy hills of Bay of Biscay with new friends in tow — that's right, we met some Aussies and in and unordinary but true awesome fashion, invited them to dine with us, Michelin-style. They said yes, duh..
Amuse bouche
Tomato & olive 3 ways – to start, we had a tomato salad in it's simplest, unpresumtuous form. Maybe it's because it wasn't really tomatoes? I don't know, but it was gelatinous and firm, cold and refreshing. The truffles weren't sweet as we were expecting. It was savory and warm and a delightful surprise.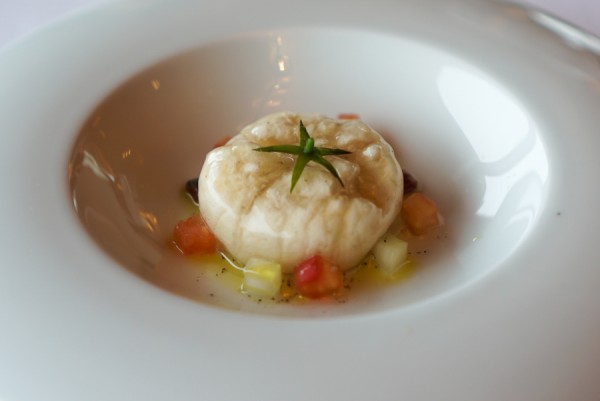 The olives — ugh, you know how we feel about olives. Except this wasn't real olives. Filled with a creamy, almost pate-like filling. Again, yet another unexpected (in a good way) bite. Such a delicious tease and a wonderful introductory to the meal that is about to commence.
I wish I had a picture of our server. He was Tunisian who spoke English, French and Spanish with moderate Italian to boot. A tall and slender gentleman in his 40's was charismatic and always smiling. He patiently waited between courses so we could take our obligatory food pictures. I did manage to get a picture of our Somm whom I also adored. He was extremely knowledgeable on wine, obviously, but what I actually like was he didn't sound like a know-it-all when explaining his pairing. With every pour, we enjoyed the backstory of every bottle.


Aranori Course
Now, onto the main courses. Neither of us chose the classic, G went for the Aranori which is the more experimental menu that that highlights meat and seafood.
The leaves and the Foie under the Rain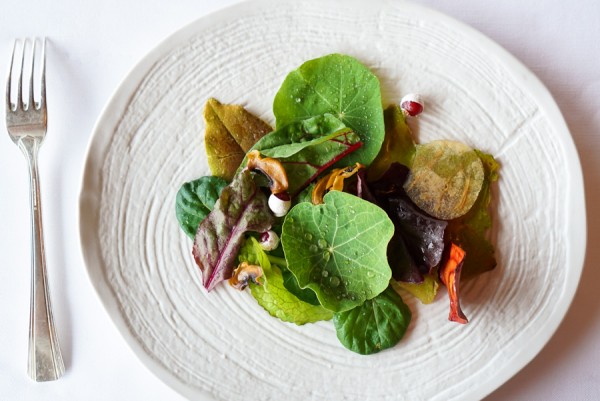 A light dish with a great variety of leaves, some of them are made with cold foie-gras. The dressing, in a rain way, is made with an infusion of aromatics, without olive oil or vinegar – I couldn't get over the fact that the leafy browns underneath were actually foie gras. And, it's unlike any I've tasted; creamy and light, not overly rich, hint of sweet.
Green Broth infusion, Scampi and Smoked Monkfish
Row and smoked monkfish fillet, cut in thin slices. Scampi barely cooked. The little infusion bag made of oblate with monkfish crisp and aromatic small herbs and prawns powder that melts when pouring the absolutely natural broth, in taste and color – you can barely see the monkfish, it's the clear, filmy layer on the inner circle of the plate, delicate in taste. The crispy prawn head was the best part!
Very thin and light Beef Tartar, new Potato Souffle and Aromatic Herb Bread
Thin particles of lean beef meat seasoned like a steak tartar and served with a very special shuffle potato – beautifully presented and a wonderful rendition and take on beef tartare, but it's the crispy potato crackers accompany that makes this even more addicting.
Hake and its Kokotxa with Oyster and Oyster Leaf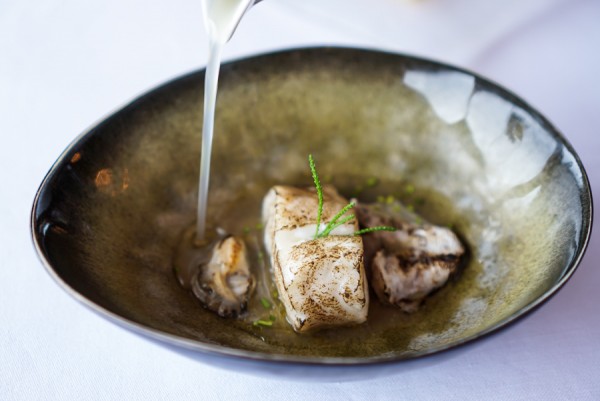 Flamed hake lioin with a powerful sea tasting sauce and a Kokotxa. The hake is pure texture – super grateful G isn't big on oysters or ocean-flavored dishes. I, on the other hand, can't get enough of the briny, salty taste.
From the sea the Grouper… and many more things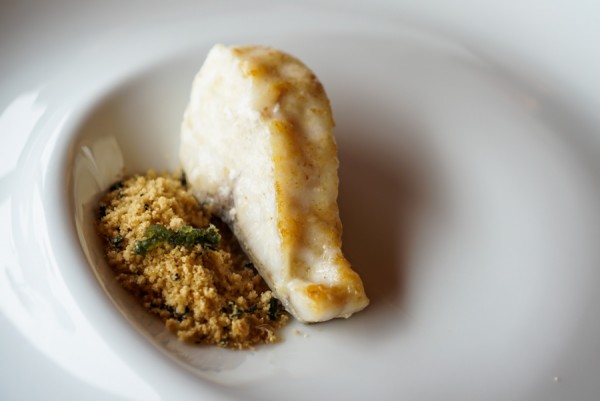 The grouper accompanied by cos cos with cokes and the foam of the waves as a sauce – looks good, unfortunately, not as memorable for G compared to everything else he was served. He only recalls it being a good meaty fish. And the seasoning sidekick was a light cockle sauce that came in the tiniest cast iron pot ever.
Roasted Suckling Pig, "Bone" and Iberian Emulsion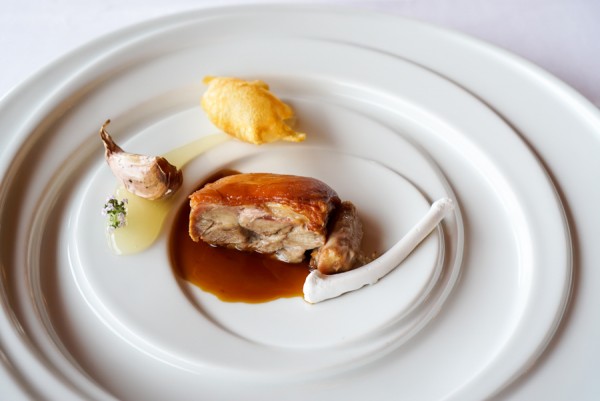 "Bone" – Iberian Emulsian – Garlic – fun fact, that crispy chip in the shape of a piglet, top center and looks like a light puffy cheeto, was the most difficult component of this entire dish! It was also the most satisfying part. That garlic was made of some kind of sugar! G said this was the best suckling pig ever.
"Xaxu" and Coconut Iced Mousse
Tools Traditional little cake with the permission of Gorrotxategui pastry chef. We have recreated: egg and almond with a side of foaming Coconut Ice Cream – O.M.G. this was heaven. So airy and light, it practically dissolved at the touch of our lips. G isn't a big coconut fan, but this ice-cold foam like 'cake' seriously blew his mind.
The broken Jar of Yogurt, "Gatzatua" and Berries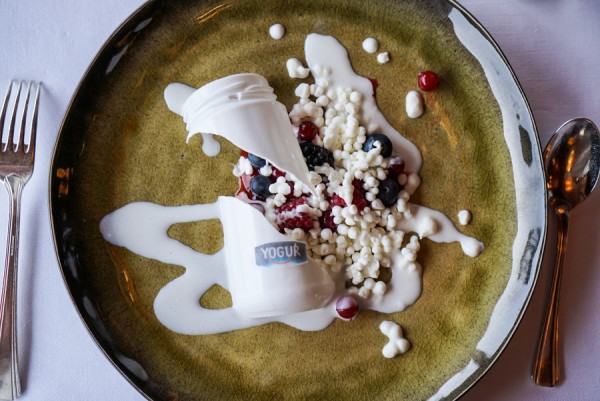 Did you think that we can not make you eat the dish? However, the jar we can. It is made of sugar and the label of eatable ink and paper – so creative, the berries and yogurt reminded me of dipping dots, remember those? The broken jar itself was a bit lackluster. I could not get over the plastic texture and sugary taste.
Bekarki Course
No surprise, I went for the menu that focuses more on seafood. I'm a sucker for prawns.
Prawns and French Beans cooked in "Orujo" Fireplace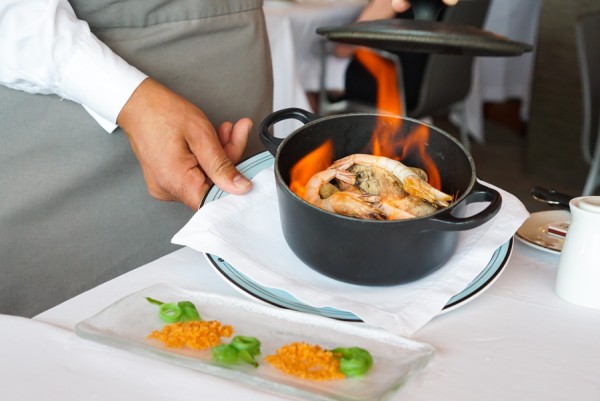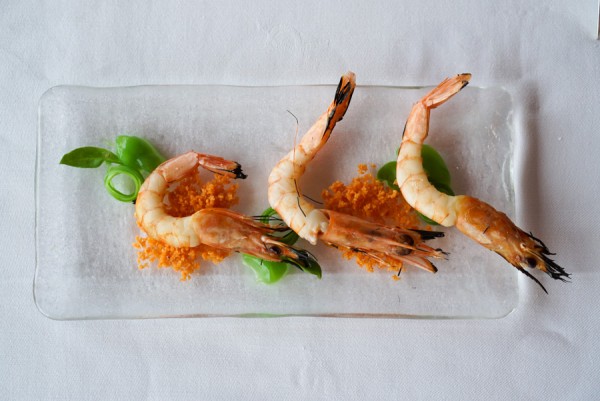 Peeled the tail, cooked in front of the guest in the dining room, with wine spirit. We recommend to suck the head and to accompany the tail with the green beans and the green beans cream – the cast iron fire show was worth getting the course alone! Pardon how this dirty this may sound, but I thoroughly enjoyed sucking on the grilled and gutty heads.
Asparagus Curled Milk, Fava Beans and Little Peas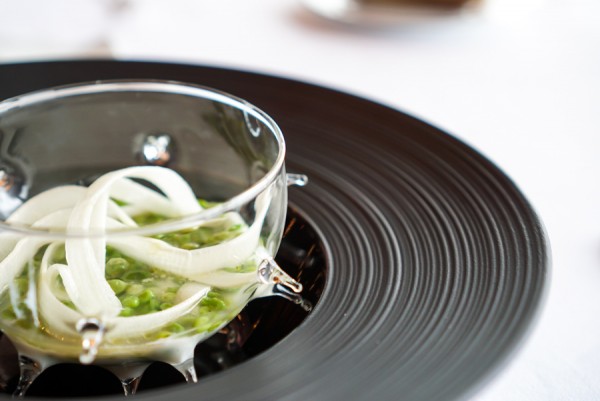 Premiere. The refreshing flavor of the green spring – easily the prettiest, plated dish in the house and so simple — after all, it's asparagus and peas and beans. Incredibly refined and deliciously pure and raw.
Sautéed Fresh Foie Gras with "Salt Flakes and Grain Papper"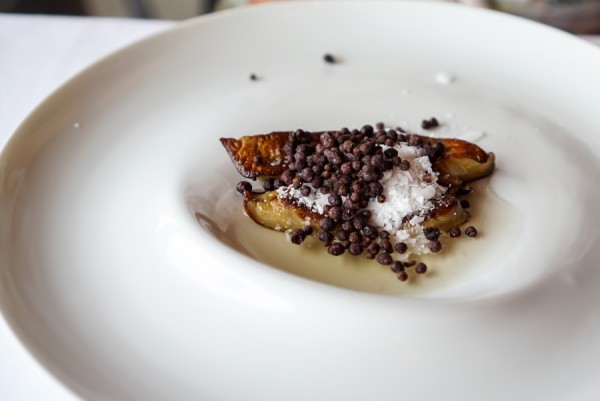 Sauteed Foie gras with a lot of Salt and Pepper – This was a bit of a mind-f*ck — err, excuse my language but I was genuinely confused, and I mean that in the best way. My eyes were saying, WTF, but my mouth was saying, give me more! I was so intrigued with the sugar-y salt and the savory pepper. The 'salt' was light sugar balls that weren't too sweet, while the 'pepper' was puffed grains of black rice.
Red Scorpionfish "UMAMI"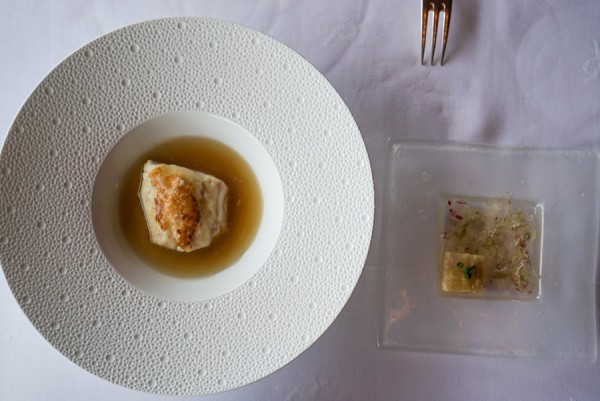 UMAMI is the fifth flavor, containing in only a few foodstuff and I translate it as tastiness. Powerful and persistent flavor – my buttery fish I traded for G's oyster dish.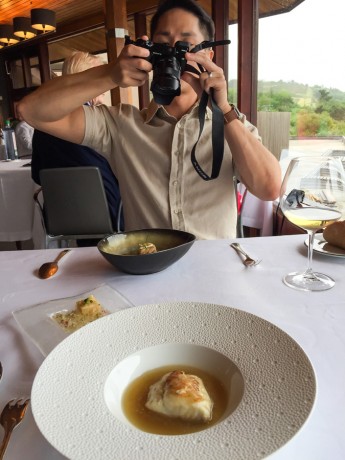 "Desalted" Cod Box with Shavings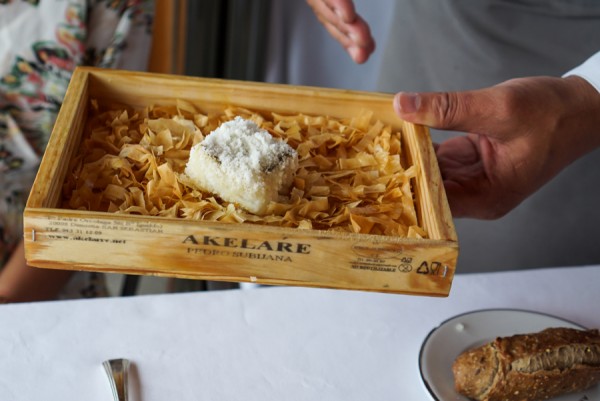 The Crystalized cod presented in a fish box, over eatable shavings and cod tripes in tomato water – more fish! To be completely honest, I don't remember this dish, but I did remember the presentation! =P
Grilled Iberia "Secreto" with Pepper seeds and Garlic in three different versions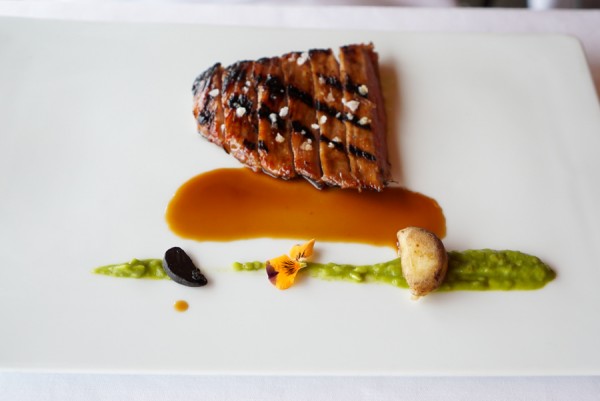 Fresh 5J pork meat, roasted in vegetal chacoal and lacquered with red pepper juice – looks like teriyaki beef, kind of tastes like it too, only really tender. G liked this one a lot, the fat was flavorful and spread out so nicely that he thought it was a steak! The two pieces of garlic were my favorite, especially the black one!
Say cheese!
Melting Cupcake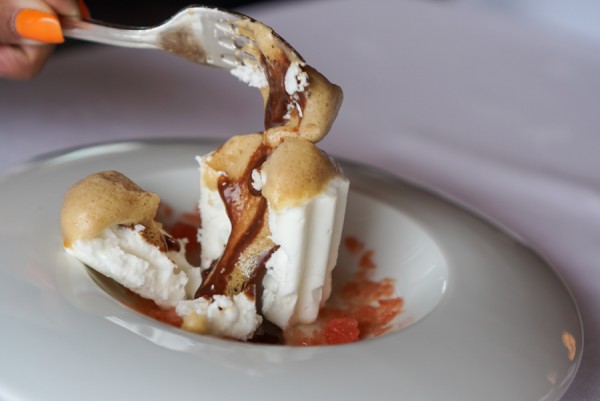 It looks like a popular American cupcake made of yogurt foam, coffee and chestnut with a bit of grapefruit – I usually never make it to the dessert course but on this day, after 3-hours of an assault on my tastebuds, this caffeine fix in the form of a foam cupcake was very much needed.
Orange "Tocino de Cielo" Sheet with Fruits Leaves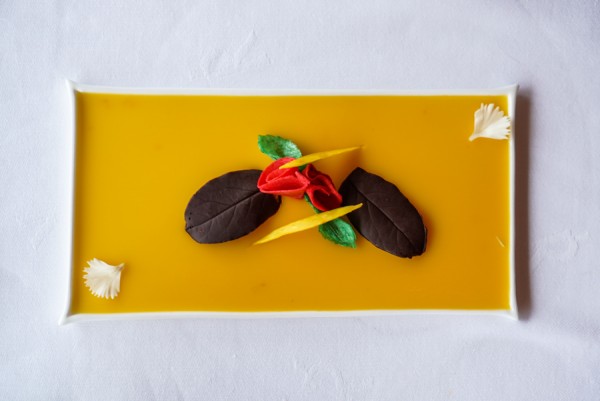 A sweet dessert, the "tocino" is, but with sourness of the orange it gets lighter. The fruit leaves can be taken by hand, and with the spoon "scratch" the bottom of the plate – taste like a gourmet jello-like pool of orange sorbet and a bit of tanginess. A welcome palette cleanser dessert.
Petit-Fours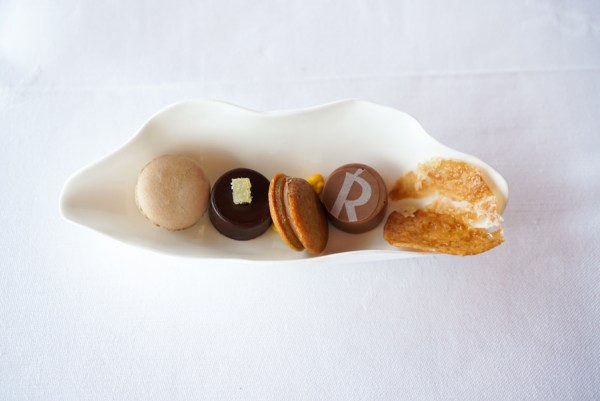 To round out the meals, a spread of tiny sweet treats — my favorite is the macaron, of course.
At 175€ per person and G's 65€ wine pairing, this was a steal compared to French Laundry…  and far more memorable (still not bitter.. lol).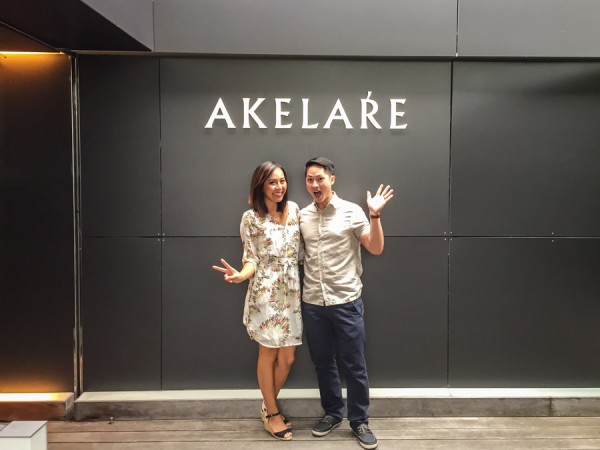 And just like that, a renewed and new found love (and appreciation) for food with a flair. I know there are far more delicious and cheap eats to be had in San Sebastian, their pintxos bar scene is enough to have us returning. But, if you're a foodie and are into the modern and molecular edge and innovative type cuisine, then Akelarre will sincerely leave you bewitched which, coincidently enough… Akelarre in Basque term means "Witches".
We're hungry for more — share your Michelin wins in the comments!
You might like:
Share and Enjoy