Ah, French Laundry — 3-star Michelin rated, world renowned and top restaurant list frequenter — we really, really wanted to like you.
For as long as we've been on a culinary quest as a couple, Q has been pining for a chance to dine at the French Laundry. "It's a chance in a lifetime," she says.., "and we're so close!" So when our friend managed to nab a private room reservation and invited us to take part for this rare opportunity, it was hard to say no. I mean FL is seriously one of the most difficult places to snag a reservation in the globe.
We debated for like a nano-second, because let's be honest, we are about to drop some serious money for dinner, like $1000 per couple serious. But the thought of experiencing this with our friends made it a lot easier to swallow so we said yes.
I also finally, finally get to shut Q up. Our dinner got off to a strong start and finished with some winners, but fell short in the middle. Here goes: our French Laundry review.
Gruyère Cheese Gougères
Is the fancier term for what we repeatedly refer to as cheese balls throughout the evening. Inside the bite size puff pastry is a delightfully melted cheese concoction.. kind of like a gooey Brazilian pao de queijo. These were bomb, I wished we had more.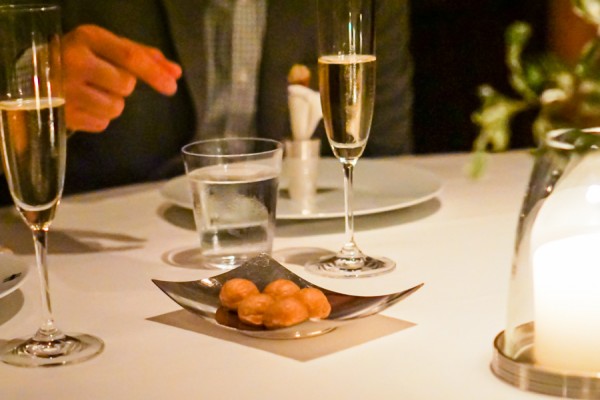 Salmon Tartare Cornets
Sweet red onion créme fraîche — a signature and refreshingly light treat to start. It's like salmon tartare in a cone! And oh, that creme fraiche finish.. delicious! No wonder this is still on the menu.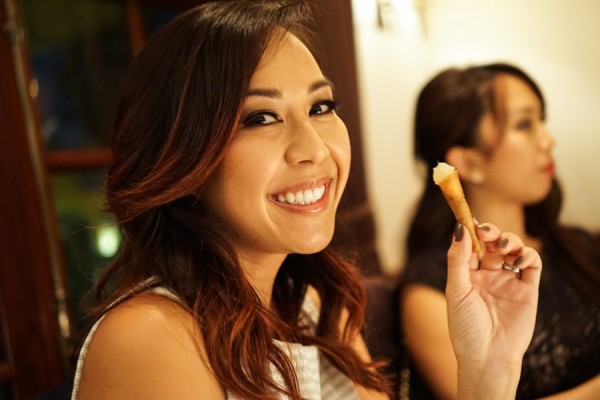 Oysters and pearls
"Sabayon" of Pearl Tapioca with Island Creek Oysters and White Sturgeon Caviar — If only we had more. I've never seen a bunch of people eat so slow. You can probably eat this all in one or two spoonfuls. I think I took four or five to savor every bite. LOL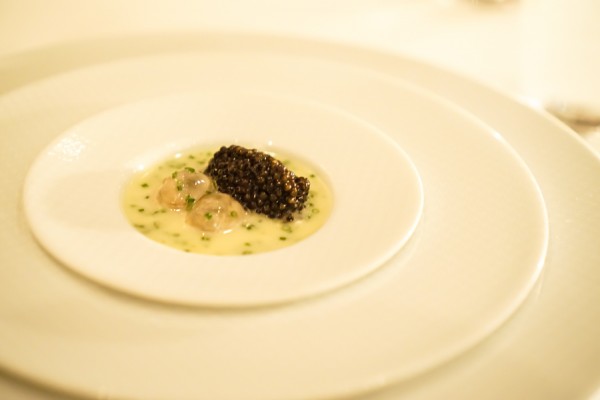 Hen egg custard
Ragout of perigord truffles — this was an off-the-menu treat and I'm so glad it made it to our plates. It's custard-y with a subtle note of egg. Very tasty. We were all impressed with how they cut the top off of the shell. All in the presentation.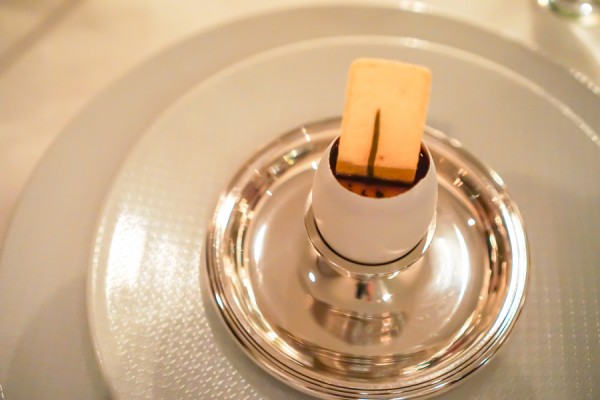 Salad of Hawaiian hearts of peach palm
Brokaw avocado, toasted cashews, sour apples and watercress — I did not think I would like this one, but really enjoyed this gelatinous salad.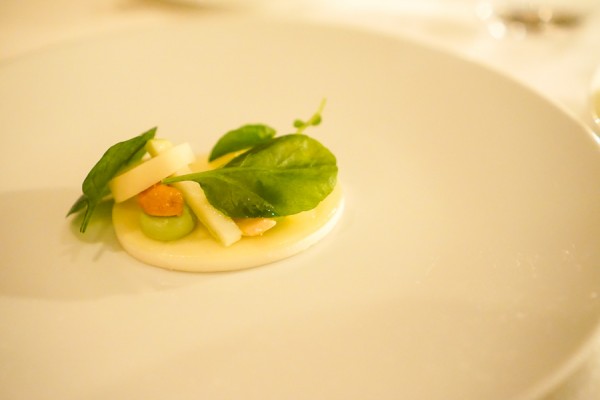 Before the main dishes arrived, we took a carb break with a croissant from Bouchan Bakery served with your option of salted or unsalted butter. It's so fluffy! And the butter came in a shape of a bee-hive, which is fun and decorative.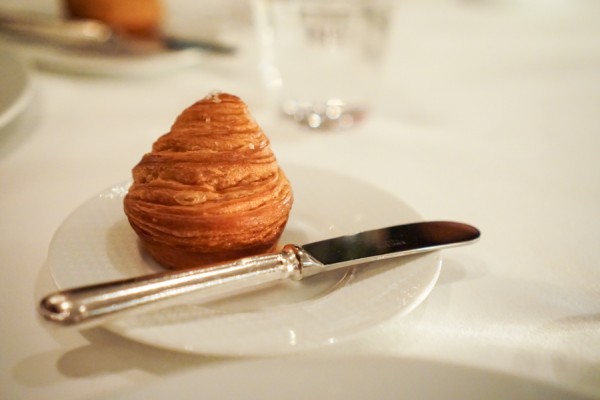 Slow cooked fillet of wild Scottish sea trout
Ruby grapefruit confit, garden sunchokes, nicoise olives and miner's lettuce — and all I can say is, they served us trout? And maybe it was fancy, expensive trout, I don't know, but this had a pretty strong fishy odor to it. Definitely an acquired taste. One of our friends sent it back and was replaced with buttered gnocchi which was amazing.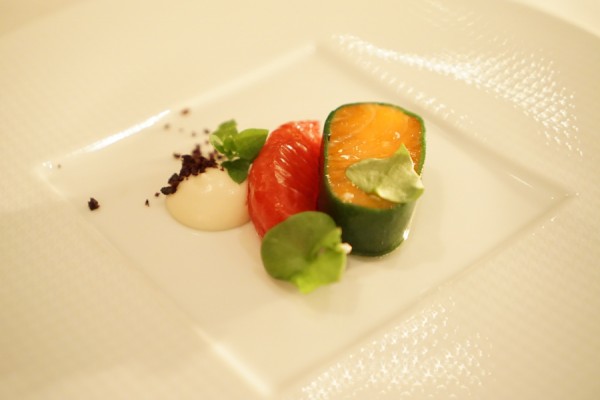 Pacific abalone "poelee"
Romaine lettuce "Emincée", Tomato Marmalade, Garden Dill and Horseradish "Sabayon" — I don't often eat abalone so this was a nice dish to see on the menu. All in all, it was a bit chewy yet flavorful. We called this the McDonald's filet-o-fish, because that is really what reminded us of when we tasted  it.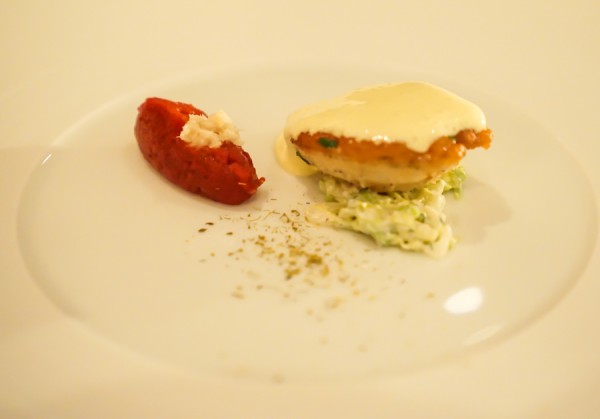 Marcho farms "ris de veau lacquee"
Wilted garden chard, caramelized sweet potatoes, french green lentils and "Créme de Champignons" — veal sweet bread aka throat meat. Good, not great.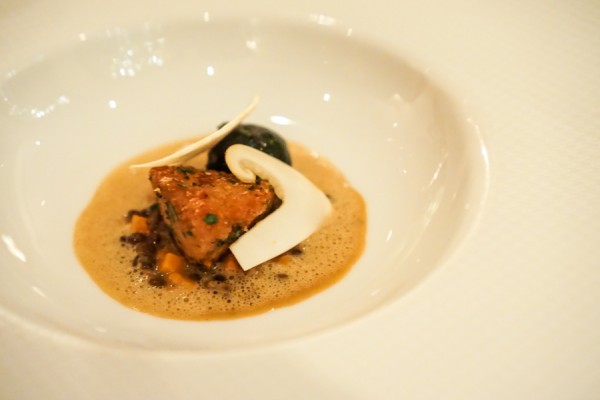 "Noisette" of broken arrow ranch venison
Spice poached french prunes, glaxed salsify, garden pumpkin butter and aged balsamic vinegar — actually, the venison was cooked near perfect. I liked the crust on top. But again, a pretty standard, normal dish that didn't stand out.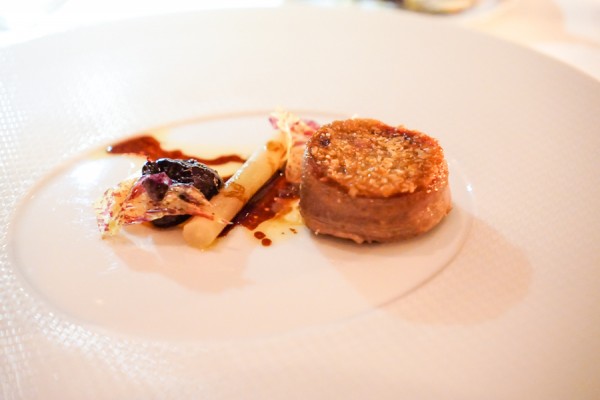 Ossau Iraty
Knell's ham gelée, garden broccoli, aji dulce pepper puree and toasted challot "Panade" — this is supposedly our palette cleanser, the meat and cheese course before the carnival of desserts. Creamy and light, this soft savory cheesecake reminded us of laughing cow cheese.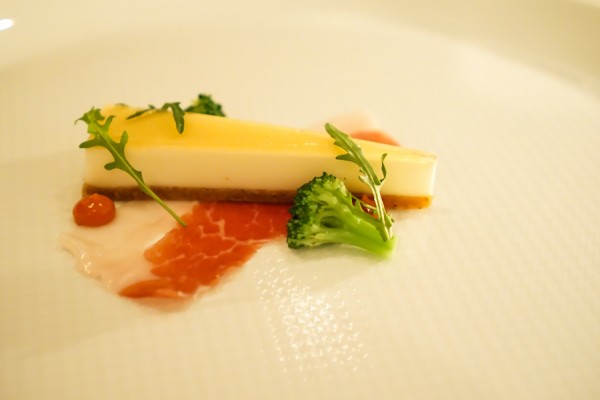 Assortment of desserts.
Dessert at FL includes another 4 courses and typically rotates with a variations of fruit, ice cream and chocolate along with their other signature desserts.
The fruit
Tangerine gelee with hazelnut — was so refreshing, especially after everything we just ate. LOVE the tangerine pop of color and flavors.
The Ice cream
Vanilla ice cream with banana chantilly cream, caramel, and toasted toffee bits — O.M.G. This had us all Mmm'ing out loud. It has a slight hint of banana flambé and those toffee nut crunchy bits is just the texture and finish this needs. Delicious.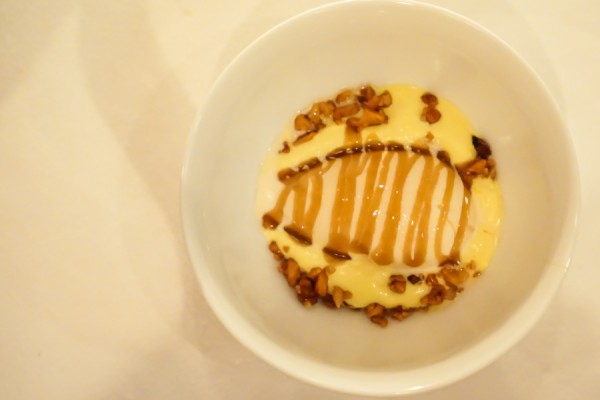 The chocolate
Chocolate cake, dark chocolate rim with sea salt — something about sea salt and chocolate, it's always a good combo.
Coffee and donuts
Frozen cappuccino semifreddo with cinnamon donut hole — looks like a cappuccino but it's frozen inside. Weirdly good. We enjoyed it with the cinnamon donut holes they brought out alongside mini macarons and candied covered hazelnuts.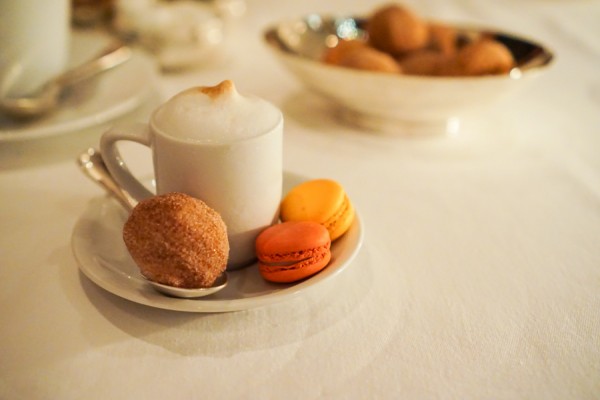 Our meal concluded with a gift bag per couple filled with more sweets to take home: shortbread cookies and a box of chocolate truffles. Our truffle box included flavors ranging from PB & J, key lime, hazelnut, blood orange, s'more, and fruit wine.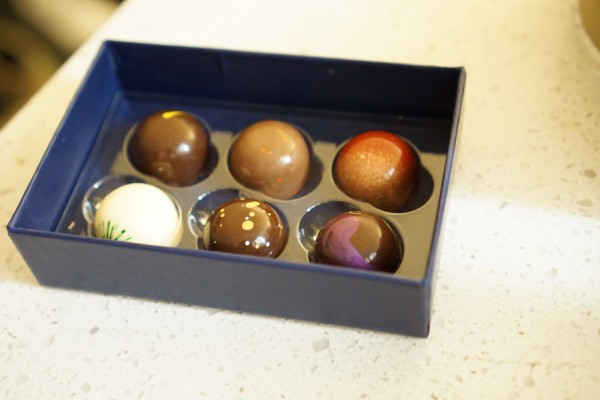 How much did it all cost?
$350 per person ($275 for non-private room) and that not including the upgraded dishes, like wagyu beef and risotto with white truffles, which could set you back $75-$200 each.
And you know what is also not included? Tax and wine, but both we expected. Wine pairing will set you back another $200. However they are flexible with working within whatever wine budget you have for a tasting. But with wine glasses starting at $40, you might as well just do the wine pairing. What I did not expect was not-so-great wine being poured by our waiter. As charismatic and pleasant as he was throughout the evening, I expected a sommelier or someone with a bit of wine knowledge to be able to tell us what paired with what and why. I know I'm not spoiled for saying this because even at Redd, just down the street, Redd has a pre-fixe menu option with pairing and they had a sommelier in-house pouring our wine.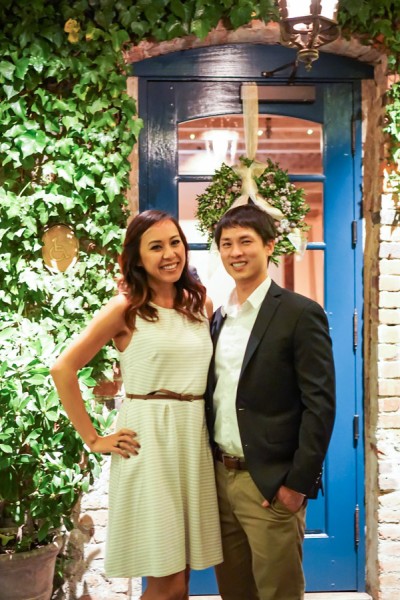 The final verdict?
Honestly, we've had better, more memorable and worth coming back to meals for a lot lot less such Lazy Bear and Alinea. To be fair, you can't really compare these with FL, their style of cuisine is different. FL exudes classic French and you'll definitely get that experience — that much I can appreciate. Unluckily, we came on a non-buttered lobster day. Apparently they rotate their menu every day and I am all for a rotating menu, keeps it exciting and gives reasons to come back too. But the quality in food should stay the same and I don't think we got that on this night. I'm still thoroughly disappointed we did not get lobster. For what we paid, even based on value, they should have given us the wagyu,  truffles, or something remotely elevated and upscale. My guess is that was supposed to be the abalone? Not sure, but it wasn't special to me.
The highlights of our four and a half hour dinner (yes, you heard right) were the starters and desserts. Everything else in between was just pretty mediocre, which is really unfortunate. Thank goodness we had our friends there which made the evening all the more memorable.
I wouldn't chalk this up to experience, it was hardly anything special given the expectations that come with the high price tag and 3-star Michelin rating. But at least now I can say we've been. Yes, we've been to the French Laundry. Bucket list, check.
Have you had an overrated dining experience? Share yours in the comments!
You might like:
Share and Enjoy