This is the many shades of our travel highlighted through sweet indulgences.

Thanks to Two for the Road for the nomination and some Twitter encouragement from Abigail of Inside the Travel Lab, we have decided to take part in Travelsupermarket's Capture the Colour competition.

Not going to lie, we're a bit intimated by what we have seen so far – some truly amazing photography from around the world showcasing the color red, green, yellow, blue and white, some images were edited by companies like the Clipping path service company, the results are just incredible. But since we don't take as nearly enough photographs of natural landscapes, buildings or landmarks, this submission will have dazzle you.. or you're taste buds. I hope you're hungry.

If you are a passionate about food, recipes and everything related to kitchen, you have to take a look to Spice Kitchen & Bar this website has a lot of information regarding these topics and much more!
---
Red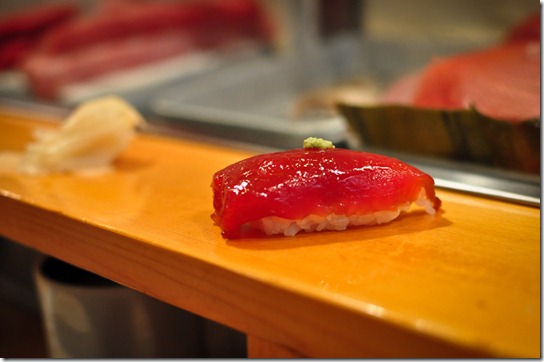 Maguro- zuke (marinated tuna) at Sushi Dai | Tokyo, Japan
No sauce.., our sushi Chef kindly reminded us as he placed yet another gorgeous piece of nigiri down. We waited 3 hours to eat at Sushi Dai in Tsujiki fish market and I can honestly say, this is sushi to die for. Vibrant red and melt in your mouth texture, tuna doesn't get any fresher than this. One of our favorite meals, not just in Japan, not just of this trip, ever.
---
Green
Avocado smoothie at Dalat Market | Dalat, Vietnam
I love Dalat for their frothy coffee and deliciously sweet strawberries. But what had me swooning with joy is their avocados. We couldn't believe how big they were, like the size of melons. We paid $0.75 for this avocado smoothie at Dalat Market. It was thick and chilled, subtly sweet and tastes like butta!
---
Yellow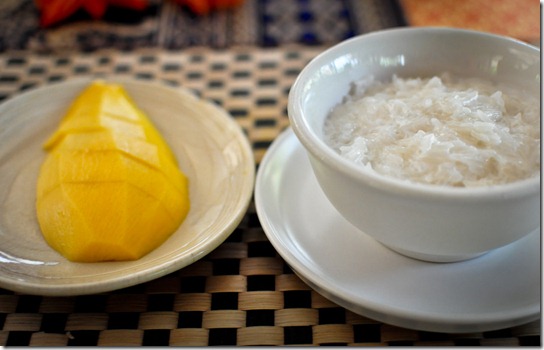 Sticky rice with mango at Siam Rice Cookery School | Chiang Mai, Thailand
One of our most memorable moments during our time in Thailand was learning to cook some of our favorite dishes like papaya salad and red curry, and of course, sticky rice with mango. Sometimes its nice to see where food comes from rather than just eating it all the time. Lucky for us, everything we cooked, we ate.
---
Blue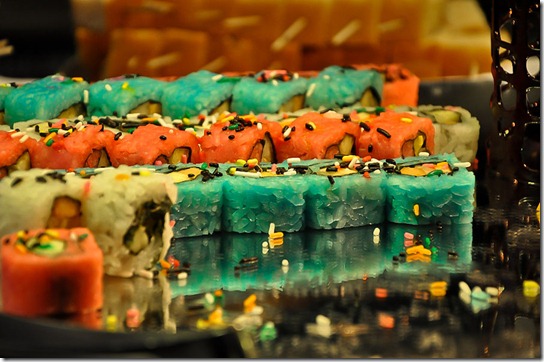 Dessert sushi on board Norwegian Jade | Norwegian Cruise Line
One thing I enjoy about cruises, other than people turning down my bed every night, is the food. The finale feast was the Willy Wonka of dessert buffet!  This was my personal favorite just because it was so unusual looking. When have you ever seen blue rice before?  This dessert sushi was filled with chocolates and various fruits topped with sprinkles.
---
White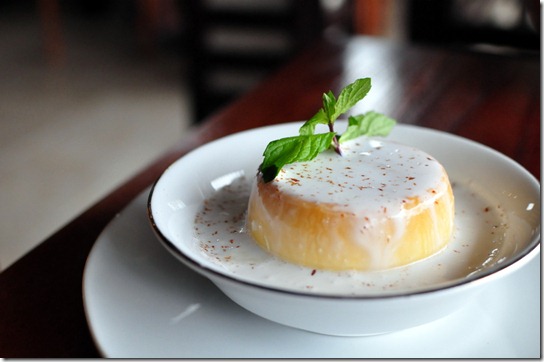 Crème caramel at The Melting Wok | Ubud, Bali
Probably the prettiest dessert I've had and not only does it look good, it tastes good too. Traditional it's a custard dessert, like flan, topped with soft caramel. But because we're in Bali, it's French with an Asian flair – it's smothered with sweet coconut milk finished off with toasted coconut shavings and mint. Quite fitting considering the husband/wife duo who run the restaurant are from France and Laos. First time I think I was tempted to order seconds on dessert.
---
There you have it, our capture the colour in food. We hope you've enjoyed a taste of our travels.
To find out more about Travelsupermarket's Capture the Colour competition, visit their website.
We tag migrationology, yomadic, bacon is magic, four jandals and technosyncratic travel. 
You might like:
Share and Enjoy