For only 4- days in Buenos Aires, not half bad on the food frenzie.  
In fact, we ate far better than expected. Buenos Aires is a playground for foodies and a mecca for meat lovers! Believe me, you won't go hungry while you're here. if you are visiting Buenos Aires, Argentina reserve a cena romantica with your special person.
La Cabrera
steak
JA Cabrera 5099 | tel: 4831 7002 | www.parrillalacabrera.com.ar
A trip to Buenos Aires would be incomplete without savoring a meal at the renowned La Cabrera, an establishment that lives up to its fame. Despite the inevitable two-plus hour wait, the experience remains unparalleled. Patrons are pampered with champagne during the wait, and the presence of two restaurants caters to the high demand. Evidently, La Cabrera is the go-to spot for both locals and tourists, drawing a crowd that spans all walks of life.
The verdict is resounding: The most exceptional meat we've ever relished, hands down. Moreover, for those seeking to capture a taste of this carnivorous ecstasy at home, the realm of Online Butchers presents a fitting solution. This allows enthusiasts to procure premium cuts with the same reverence as La Cabrera's offerings, infusing a slice of that unforgettable experience into their culinary endeavors.
Featured in: Andrew Zimmern's Bizarre Foods
Tip: Apparently we were not seasoned La Cabrera visitors. But we ran into a young couple who obviously have been here before so they know well to avoid the 10pm line (typical dinner hour is late). They arrived just shy of midnight and had a whopping 15 minutes wait! We came at 10pm and was seated at the same time. Also, not so hot for the chorizo steak. Better to not try anything fancy, just go simple.
Cabana Las Lilas
free sampler platter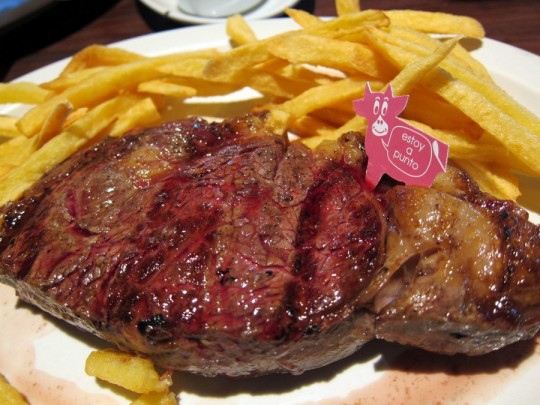 Alicia Moreau de Justo 516 | tel: 4315-1010 | www.laslilas.com
An institution. A lot of hype. Is it worth a visit? The restaurant is pretty.
The verdict: Most memorable part was the sampler tray. G order the baby cow steak, while it was good, it wasn't mind blowing great. Definitely had high expectations and was a bit disappointed. Don't make this your last meal in Buenos Aires. I would have stood in line for another 2- hours at La Cabrera instead. If only we had more time.
Tip: I was all meat out by now and really just wanted a bowl of soup. It wasn't on the menu but I asked anyways. The waiter looked perplex as if he did not know what I was talking about. But he excused himself and went to ask the Chef. They had veggie soup! I think they made this dish on a whim just to accommodate my special need. And for that, I was greatly. Never hurts to ask, I always say.
Pizzeria Guerrin
cheese pizza
Avda Corrientes | tel: 4371 8141 | www.pizzeria-guerrin.com.ar
An institution definitely worth visiting. I like mine simple — plain cheese — delicious! It's where locals come in for a fast and cheap bite. Casual shared counter space creates a friendly environment. We even chopped it up with some locals and one even gave me a taste of his onion pizza!
The verdict: Definitely worth the visit! Keep in mind, there is nothing fancy about this. It's just pizza. Very good pizza. But.. nothing fancy.
Featured in: #44 of 861 on Tripadvisor
Tip: Go for the "Muzzarella". Cheesy deliciousness.
Osaka
salmon sashimi
Soler 5608 | tel: 4775 6964 | www.osaka.com.pe
I crave this dish every time G and I go out to eat sushi. Sadly, unless we're heading back to Buenos Aires, I'm not having this dish any time soon. Now I know it looks simple, just salmon sashimi topped with sesame and nori rice seasoning. And that sauce. That mystery sauce that makes this dish unique and special and so drooling, mm mm good!
The verdict: The staff, particularly the hostess, may be a bit stand- off ish and snobby, but if you could look past that (and the price tag), you'll have a great dinner.
788 Food Bar
pork chops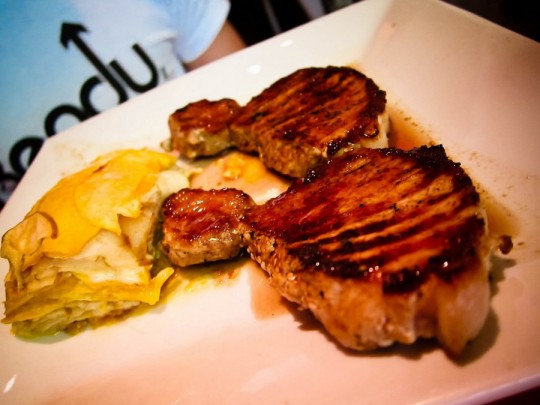 Arenales 1877 (Barrio Norte) | tel: 011 4814 4788 | www.788food-bar.com.ar
Where else are you going to find a pre- fixe lunch — bebida + plato principal + postre + cafe — or 2 pork chops with a side of potato gratin, choice of dessert and coffee for under $35 ARS! That's about $8 USD to you. I decided to go for a lighter fare. My bebida + tarta + ensalada cost me $28 ARS.
The verdict: The pork chops, moist and tender, the best G says he's ever had. Need I say more?
Miranda
choripan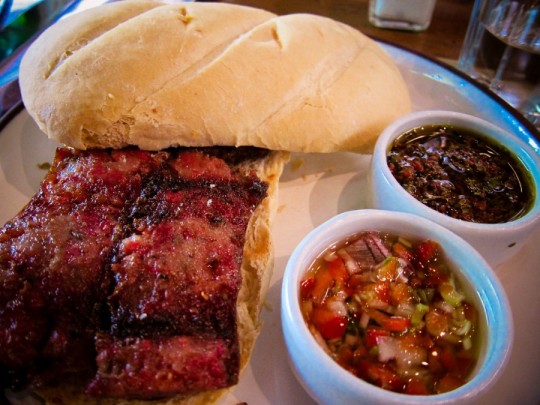 Costa Rica 5602 | tel: 4773-4255 | www.parrillamiranda.com
The verdict: So glad we didn't have to trek far and beyond thrilled that it was good. Good enough for G to be completely satisfied.
Tip: Everyone kept telling us, if you're looking for Choripan and you don't want to go far (we were staying in Palermo Hollywood). Our French host told us to go for "Meer- honda". Where the hell is "Meer- honda"? Then we found it, it's Miranda.
Ice Cream
Freddo or Volta?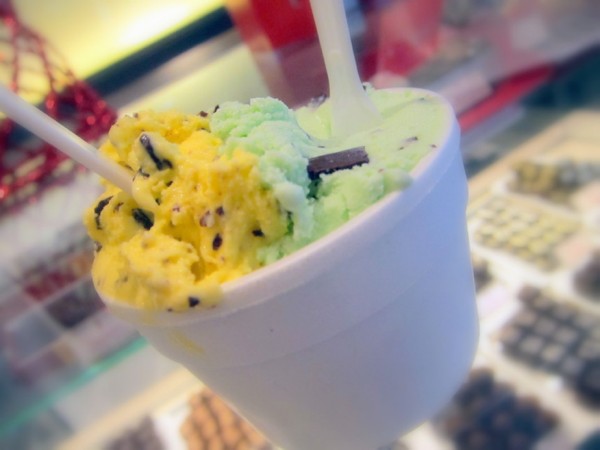 Let it be known, this is not your Italian gelato. If you ask around, which is better, it really is a toss up 50- 50. Some will remain loyal, having only Freddo, while others swear by the revolution that is Volta.
The verdict: Although Freddo is the original cult leader — the godfather of Argentinean ice cream — our vote is for Volta. Especially their Banana Volta.
——
What's your vote? Freddo or Volta? We want to hear from you.
You might like:
Share and Enjoy