First thing you should know. There are 3 different Marcopolo establishments and 2 of them are called Inns — Hostel Inn, Marcopolo Inn and Marcopolo Suites. Confused? So was our driver.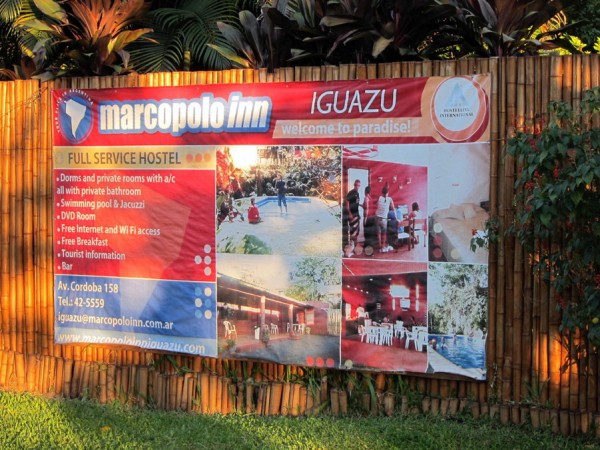 Our own taxi driver, a local no less, kept getting lost and taking us to the wrong one — the lesser, more grungier of the two — but I knew well we booked the one in town, centrally located and directly across the main bus station. After a few failed attempts, we finally suggest he called the hostel for directions.
One thing we've learned from our past travels is having the phone numbers of your hotel or hostel is way more reliable than any address and/ or maps combined. With a language barrier and foreign maps in hand, you're bound for getting lost. Sometimes just having your driver call your hotel or hostel solves all the problems.
Second thing you should know. Taxis operate on a fix rate system here in Iguazu. Kind of like an honor system. Their trustworthy if you could call taxi drivers that here in South America. Just have your hotel or hostel call a cab for you, the rate is fix depending on where you're going, even to and from the falls, so just go with it. You're not getting ripped off.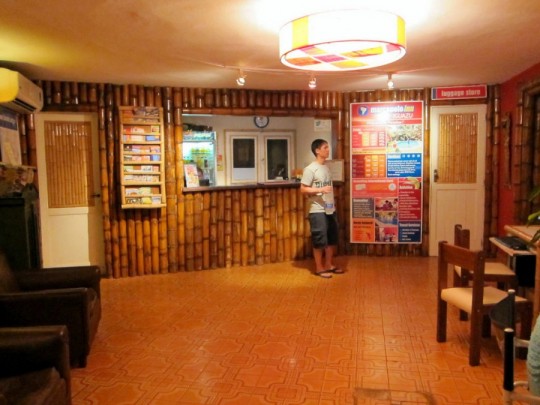 the lobby
That said.. one of the best hostel we've stayed at, hands down. A few amenities we appreciate include:
Barbara – The staff, especially Barbara, are young and hip, down-to-earth and extremely friendly. Always readily available and helpful.
Free internet – We couldn't even get internet connection at our hotels in a big city like Rio de Janeiro so to have faster internet in the middle of nowhere is a blessing.
Laundry service – Best rates in town. They charge by the bag load so request a few, fill 'em up and drop 'em off at the lobby front desk. Fresh laundry ready to be picked up the next day.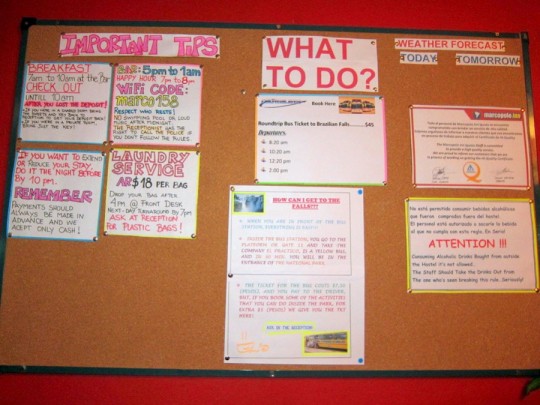 Daily specials – Pizza party Tuesday? For just AR$20 you get all-you-can-eat pizza and 1 beer! And then there's Happy Hour, Happy Night with 2 for 1 deals. A special for every day of the week! And it's cheap.
The outdoor bar – Outdoor. Bar. Need I say more? It also doesn't hurt to have cheap beer and wine. God, we love Argentina (and inflation).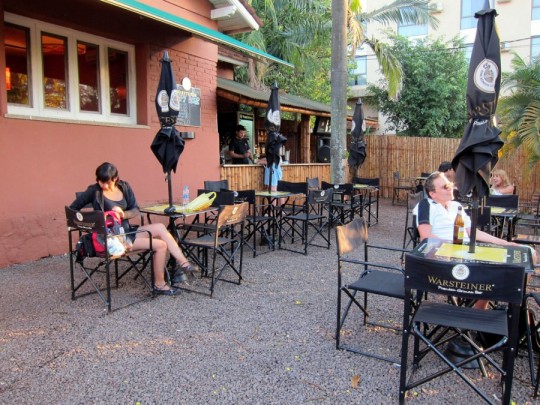 There are times when we enjoy mixing it up in a 6 plus person bunker. You know, the typical, traditional hostel experience. And then there are times when we just want a room to ourselves but cannot afford to book a hotel.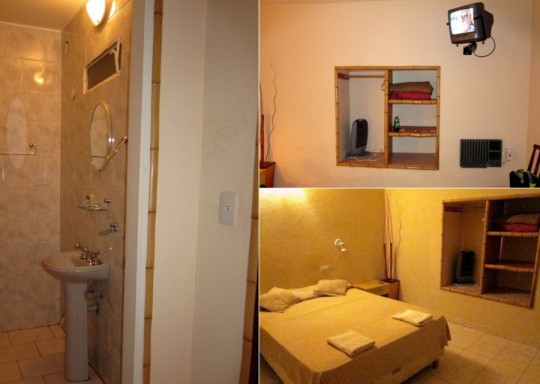 our private double with AC
That's where hostels like Marcopolo Inn are a great find. They offer our hotel double room at budget prices. Plus, we're not so tightly bound by hotel customs. Hostels are generally more laid back and no frills. The best part — meeting young travelers alike from all over the world.
Our room cost roughly AR$660 for 3 nights. In US dollars that's approximately $150. $50 a night for a private double with shower and AC! Not too shabby, huh.
And another thing. All Hostelling International members get a discounted rate! So either bring your card or sign up on the spot and save more money. To learn more about Marcopolo Inn, visit their website.
You might like:
Share and Enjoy