Bargaining in Rio? Make sure you bring your A game (or chicken)!
Let's be honest. $7 Reais for a hand-crafted Brazilian bracelet is really nothing to sneeze about. But when you're in Rio, on Ipanema beach with hundreds of beach vendors walking back and forth selling anything from beverages to food and bikinis to souvenirs, the fun is all in the bargaining game.
I had my reservations whether we'd be getting a great deal when attempting to bargain since we did not speak the language. Turns out, we were better than I thought. Apparently, it helps to have a few bargaining chips of your own!
Want to know the secret to a successful bargain in Rio? Here are a few tips:
1. come fully loaded.
Nana and I were terrible at bargaining for bracelets on the beach. Couldn't get a vendor to budge. Not even for $1 Reais! So we figured maybe we got a grouchy one and decided to wait for the next one to come along and try again. But for some reason, the vendor did not want leave.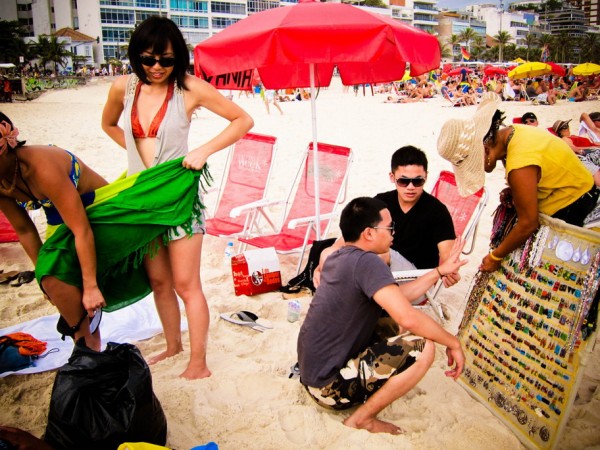 Can you spot the Colonel in the middle of our bargaining bananza?
Then we found out why. He was eying our bucket of chicken. But not just any chicken.. the Colonel himself, chicken!
Seeing our opportunity for a trade, we made the final offer — one breast for 2 bracelets. He cracked. Not even Rio can resist the Colonel.
It's always a win-win situation when you buy in numbers. Lucky for the beach vendor, Nana had multiples in mind when it came to finding the perfect Brazilian bikini to accentuate her assets.
It's a lot easier to say 2 for $50 rather than paying $30 for 1. Nana practically bought the entire rack! Just remember, the more you buy, the lower the number should drop. Something I learned from my ten pashminas at the Grand Bazaar during our trip to Istanbul a few years back.
3. the chant (or taunt. lol).
Ever been to a ball game or hockey game where the crowd starts chanting in unison to motivate their own team for the win? It's kinda like that. Gets the crowd all wild up and the dealer is less reluctant to stand his ground.
I wish I had the camera going 2 minutes earlier. I missed the best parts — the build up to finale breaking down the hat seller! All good. I got the finale and that's all that matters.
A convincing quinze chant is hard to do when you don't have the numbers. Quinze because the seller wanted $20R but we're chanting for $15R. Fortunately for us, we came 6 strong. 8 if you count the lucky bystanders riding our band wagon. We didn't mind. They've been trying to bargain the vendor down for at least 20 minutes until we showed up.
In the end, Nana walked away with her hat and only had to pay Quinze plus $2R!
Above all, having a little fun doesn't hurt either. As you can see, we're probably the most fun he's had all day. At the end of the day, I think we broke him down with laughter.

Got any successful bargaining tips? We'd love to hear from you.
You might like:
Share and Enjoy