I never tire when G goes on business trips. Mostly because every now and then, I get to tag along for the ride. But only.. only if there is good food waiting for me. G feels the same on this one. So this trip is no different than the ones before, just good ole good eats in Portland, Oregon!
Food is one of the great pleasures of traveling and nothing beats a weekend away like 400 food carts at your disposal. Another place you must visit when in Oregon is https://www.visitoregon.com/businesses/allison-smith-design/.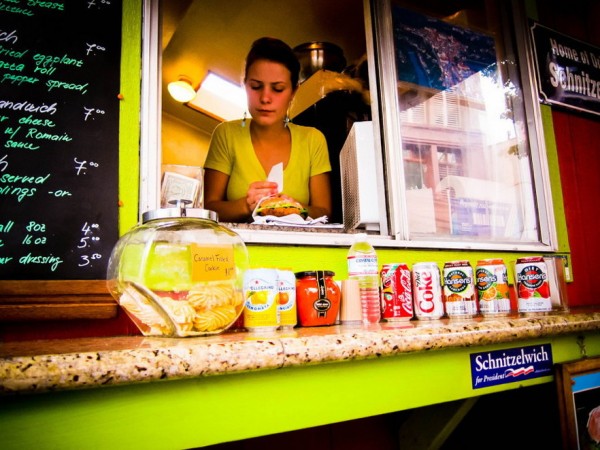 Tabor Czech Food | SW 5th & Oak/ Stark Parking Lot
friday night.
For a late night bite, head on over to the food carts on Hawthorne and order up a fried wiffles at Whiffies Pies. Sweet tooth? There's a cart for that– Pereirra Creperie. And who doesn't love fries?
There's a cart for that (with poutine) too– Potato Champion. Wash it all down with a pint from Deschutes Brewery.
saturday morning.
Start your day off with a bacon maple donut from the infamous Voodoo Doughnut. Wash it down with a cup of Chai Tea Latte at Stumptown Coffee Roaster conveniently down the block.
Head downtown to meet up with your guide from Portland Walking Tours— reservations required.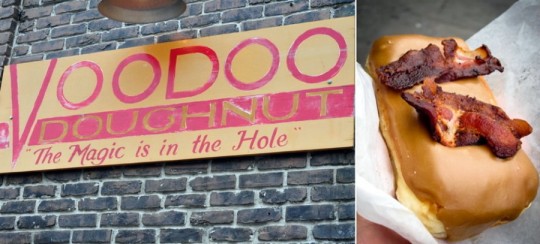 Voodoo Doughnut | 22 Southwest 3rd Ave
afternoon.
After your walking tour, make your way back downtown for lunch at Nong's Khao Man Gai's food cart. Order up the no frills– Khao Man Gai. Suggestion? Order one to share. So many carts, so little time.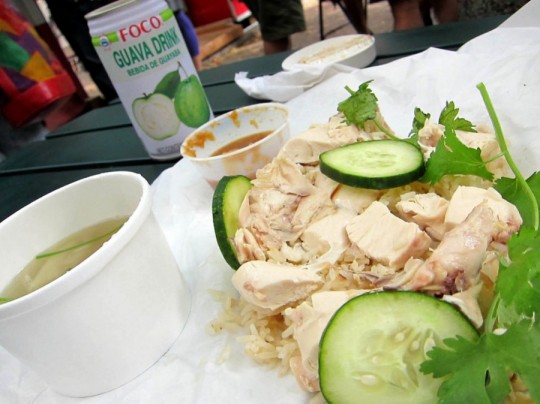 Nong's Khao Man Gai – chicken and rice | SW 10th & Alder St
After lunch, zig zag and get lost as you make your way through Powell's Books. Make your way to the Portland's Saturday Market.
evening.
Head back to your hotel and get dolled up for a night out on the town. From nightclubs to trendy bars, Portland has an eclectic mix of nightlife scenes that is sure to please any palette. We chose a relaxing evening– dinner at Toro Bravo and drinks at The Secret Society conveniently located next door.
Here's a tip: Don't ever feel bad for telling the truth to your waiter when they ask you, "How is everything?" I'm getting much better at this. Told our waiter at Toro Bravo, politely of course, that our pasta dish was a bit too salty for my palette and low and behold, they did not charge us for the heavily salted pasta.
sunday morning.
Beat the line and get up early for Sunday brunch at Tasty 'n Sons. Order up a Bloody Mary and don't forget the biscuits and gravy on the side.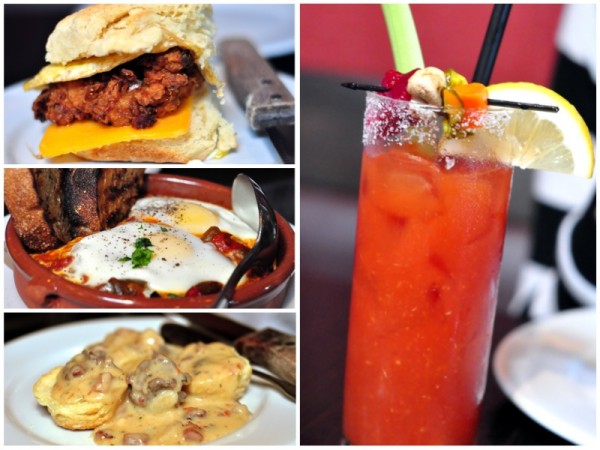 3808 North Williams Avenue, Suite C, Portland, OR 97227
afternoon.
Take advantage of what Portland stores have to offer. Best of all– Portland is sales tax free. Or as I like to call it– guilt free shopping! Check out NW 23rd Avenue also known as Nob Hill or the Alphabet District.
evening.
Hail a cab to pok pok for the world's best wings– Ike's Vietnamese fish sauce wings.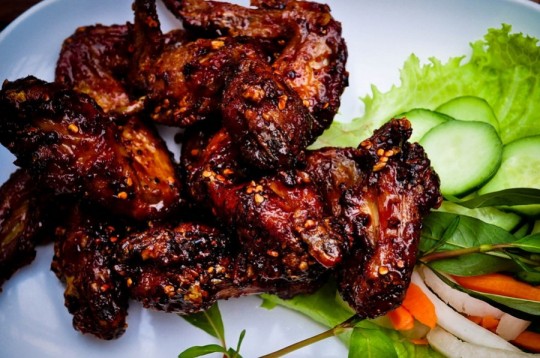 pok pok | 3226 Southeast Division St
If for some reason you're craving waffles after that awesome chicken, take a 15 minute walk to the Waffle Window where you can order the 3 B's waffle. That's 3B's for Bacon, Brie & Basil!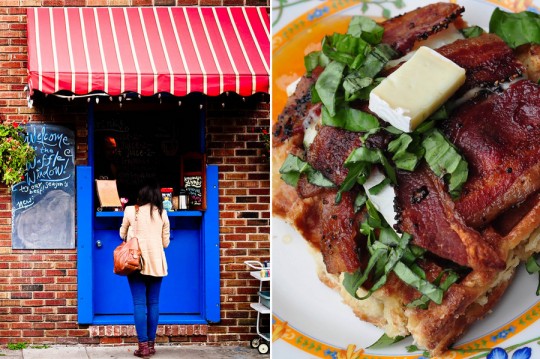 Waffle Window | 3610 Southeast Hawthorne Blvd
Two days is just not enough time to bask in food cart nation. Lucky for G's mapping and strategic planning, we got to try out the ones we wanted most.
What's your favorite food cart in Portland, Ore.?
You might like:
Share and Enjoy