LONDON – BRUSSELS – AMSTERDAM – MUNICH (FUSSEN) – VENICE – ROME – FLORENCE – INTERLAKEN – NICE – BARCELONA – PARIS – LONDON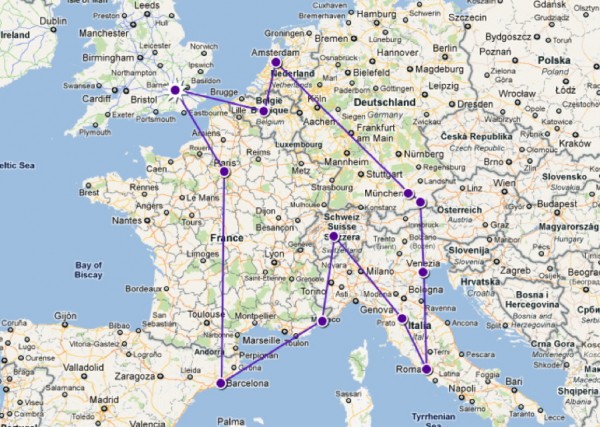 Hi Friends and Family!
I've been secretly planning an extended trip slated for June 2006 designed originally for my friends and I. But when cash was not flowing for most, G and I decided to take Europe on our own! His first trip out of the country, ever! I plan to make it an experience to remember. Armed with a 3 week Eurailpass, we are hitting up, what we call, the best of Europe, sampling superb cultures and tasty morsels along the way. Below is a briefing of where we plant to go and a bit about what we're plan to do while there. Changes and more to come. Enjoy!

5- 6 June : London
We purposely cut London short knowing we would eventually be back where we started. But first on the agenda– fish 'n chips!

6 June : Half Day in Bruxelles
We're making a quick pit stop here on our way to Amsterdam. Here to enjoy all things Belgium– chocolate, waffles and fries.
6- 7 June : Amsterdam
Going to try some of their famous Heineken beer and other "special" treats!

8- 9 Muenchen
Eating brats and sausage at the Hofbrauhaus and kicking off the World Cup in true German style.
9 June : Day Trip to Fussen
A bike ride through the countryside followed by a visit to Neuschwanstein Castle.

10- 11 June : Venezia
Try our best not to get lost through the windy, dead- end streets of Venice making our way to St. Mark's Sq.
11- 13 June : Roma
When in Rome.. we plan to do it all– Colloseum, Trevi Fountain, Vatican City, and of course, pizza!
13- 15 June : Firenze
Sampling the world's best gelato one shop at a time.

15- 17 June : Interlaken
Extreme sports, here we come. Paragliding maybe?
17- 18 June : Nice
Enjoy some fun in the sun on the beach in the French Riviera.

19- 20 June : Barcelona
Can't wait for tapas and sangria!

21- 23 June : Paris
L'amour! Eiffel Tower, the Louvre and much more.
23- 25 June : London
Back in London to end our 3- week trip. Shopping at Harrods is on the agenda.
Hopefully the next 30 days will fly by. 12 cities, 8 countries and 3 weeks — We cannot wait!
You might like:
Share and Enjoy