Over the years, our traveling style, habits and staying preferences have changed.
When we first traveled abroad, we stayed in hostels for budget reasons. Hotels were expensive and apartment rentals weren't even a thing yet. Now, having traveled together for nearly a decade, we have a pretty good idea on how to find the best accommodation to fit our style.
Hostel
I like hostels – they're a great go-to if you're on a budget. And if you do your research right, you can be selective and weed out the bad ones. We often pay extra for private rooms for privacy – Gerard's a slob and likes to throw his stuff everywhere. They're pretty basic – bed, sheets and pillow, maybe a desk or towel if we're lucky. We often had bunk beds like our J-Hopper hostel in Osaka, Japan.
And then there's the a rare occasion when we get to stay in a swanky hostel like 7Sages in Xi'an, China. It's probably the prettiest, most charming hostel we've ever stayed in.
Pros: Hostels are typically central. The staff is usually friendly and helpful and you're more likely to mix and mingle with other travelers because hostels provide that social setting. Some provide kitchens, like the ones in New Zealand, and we were able to cook our own meals.
Cons: Sometimes you really do get what you pay for and trying to save a buck comes back to bite you in the butt. All the horror stories that comes with staying in a hostel, we've been there: coed bathrooms. Lack of privacy. Dorms. Loud, drunken, singles looking for a good time. Unreliable WiFi. Not every hostel will look like 7Sages.
Hotel
Who doesn't enjoy a hotel stay especially if it's on an enchanting one like the Carmel hotel? The cost may be a bit more than the average hostel, but when you're in places like SE Asia, beyond affordable compared to Western standards, so we capitalized on that wherever we could. Check out our $50/night splurge at this 5-star resort and spa in Cambodia!
Again, this was rare, but where else can you do this without breaking the bank? Most of our hotels stay looked more like this:
Pros: Free WiFi, breakfast, gym and pool are rare perks for even flashpackers. Room service, TV, fluffy towels, soft pillows and concierge are all a great luxury when it comes to staying in Scottsdale hotels. No per person charge.
Cons: On the flip side, not having a kitchen or other living space to move around can be a bit claustrophobic. If the hotel offers food, you can bet it's on the pricier side.
Apartment
We recently discovered apartment rentals and I'm slightly bummed we didn't find out about this sooner. Basically, someone either rents out a spare room or the entire apartment on a short-term basis and you essentially get all the amenities of a home away from home. I mean, who doesn't want the comforts of home while far, far away?
While in Eastern Europe this past winter, we rented apartments in Prague and Budapest. Our Prague apartment is super cute in a prime location, Old Town Square,  literally around the corner from the Astronomical Clock.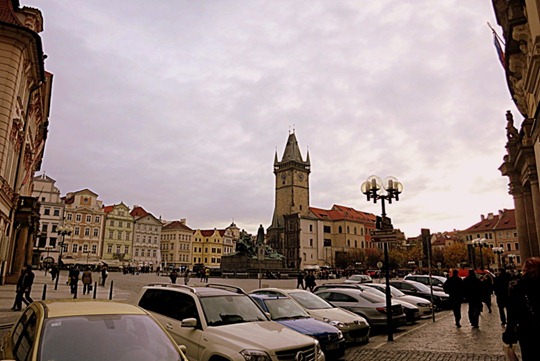 A few amenities I appreciated: fluffy pillows, towels, a blow dryer!, kitchen with hidden refrigerator and dining room. What I enjoy most about our Prague apartment is having breakfast every morning with Gerard in our pjs while we map out our day.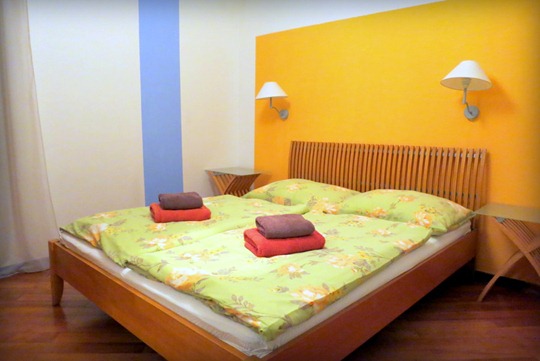 In Budapest, our colorful apartment is located in an eclectic neighborhood just minutes from the Great Hall Market. We had a washer and dryer combo set! Around the corner is our favorite soup kitchen inspired by the soup natzi episode on Seinfeld. We also had a working television. Granted it only had seven channels, one was ESPN, and we were able to catch the 49ers game!
Pros: The natural feeling of home. To greet your neighbors, shop the local markets, to cook, venturing into local bars, restaurants and hole in the wall places, do things as if you've lived there for years, to travel like a local essentially makes it a unique traveling experience you wouldn't otherwise get from hostels or hotels. Can be cheaper than both hostels and hotels if there's two of you. In fact, I was absolutely stunned with Apartment Wien because it's budget-friendly yet no words can explain how aesthetic and cozy it was to stay there.
Cons: Some of the best rates are often apartments on the outskirts of town. We didn't have a hard time finding one that is central but our options were limited for those on a budget.
I definitely feel like we've transitioned out of hostels and hotels over the years especially with our latest discovery in apartment rentals. We enjoy traveling at a much slower pace with every comfort of home as we can possibly get. But that isn't to say we would shy away from a swanky hostel or a bargain 5-star hotel given the opportunity.
What is your preferred way to stay while traveling?
A very special thanks to the kind folks at Wimdu.com for hosting us in Prague and Budapest. All opinions are our own.
You might like:
Share and Enjoy