This is your rough how-to guide for traveling through India by train.
Traveling India by train can be intimidating. But after our first train ride out of New Delhi to Jaisalmer, it didn't take us long to learn the ropes. To my surprise, traveling India by train is actually quite easy. We spent three weeks in the Rajasthan region of India. Our train travels were as follows: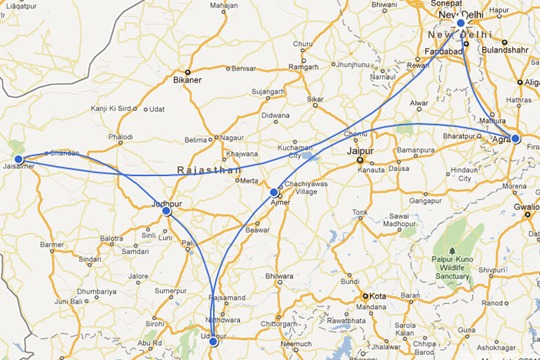 New Delhi – Jaisalmer – Jodhpur – Udaipur – Ajmer (Pushkar) – Agra – New Delhi
The booking rules have changed.
Prior to arriving in India, we managed to book most of our train tickets via ClearTrip without a glitch. That has now since changed. You are now required to have an IRCTC account. The IRCTC is the Indian Railway reservation system.
In order to activate an IRCTC account, you need an Indian mobile number. For a step-by-step instruction on how to activate an IRCTC account without an Indian mobile number, visit seat61.com.
Essentially the workaround this is e-mailing IRCTC customer service a copy of your passport and they will reply back with your account activation code. We got a response with our activation code within 24 hours.
IRCTC Issues
The IRCTC may be the biggest reservation system in the world but they suck. Don't be surprised if you are unable to search for specific train routes or book your ticket through ClearTrip due to system overload and error. It's down quite often.
WL, RAC, CNF and what this all means
The Indian Railways have a unique booking system. Once a train is fully booked, a number of tickets are sold as "Reservation Against Cancellation" or RAC. Once those tickets are sold out, you can be "Waitlisted" or WL. If a passenger with a confirmed reservation cancels, you get moved up the line. Meaning, if you are WL you can move up to RAC status and RAC to Confirmed status or CNF, and the business is important for this processes, as for employees, the use of forms from https://www.thepaystubs.com/1099-nec-form-generator could be the best choice.
Confused yet? Don't worry. We've been RAC and WL on virtually every train ride and managed to get CNF seats in the end. At one point, we were even Waitlisted #17. Just make sure that if you are WL or RAC to check the morning of or 2 hours before your train departure to see if you have been promoted to CNF status. Which in most cases you will.
You can check if you are confirmed online or at the train station where the WL confirmation is posted on a message board or on a list outside your assigned train cart. If your name is on the list, congratulations! You are confirmed.
Once on board, the conductors will make their rounds to verify tickets. You don't need a physical ticket, just your E-ticket on any mobile device and passport will do. Another reason why Gerard's phone came in handy.
Your stop will not be announced. At least I never heard ours announced in any of our rides so better to know your arrival time and set your alarm. If you're running late, just confirm with several passengers on the train. Somebody will be able to confirm each stop with you.
Where is my seat?
All train carts are clearly marked by class with 1st Class AC at the front of the train and Unreserved 2nd Class towards the back. You just need to know which direction your train is heading to know which is the front and where on the train tracks to wait.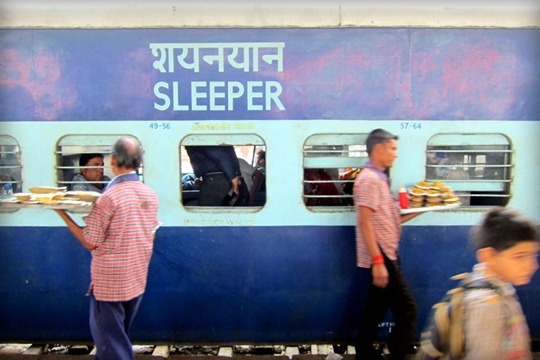 We typically booked Air-Con 2-Tier or 3-Tier with one AC Chair Class while training in India. Our beds were comfortable. We had clean sheets, blankets and pillows. No Indians tried to take our seats although occasionally, you will see one bounce around trying to find a free bed to sleep in.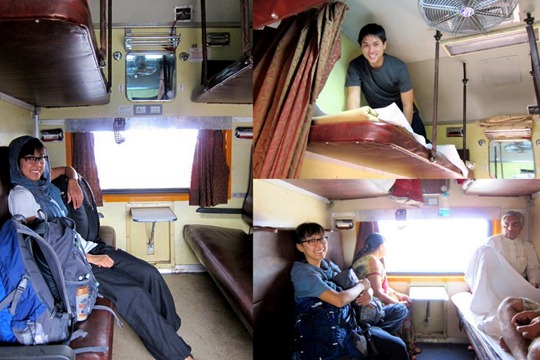 Food on board
We were spoiled to thinking every train ride in India would be like our first overnight train from New Delhi to Jaisalmer – veg Thali dinner on board ($100Rs), the Chai Chai man ($5Rs) and the awesome tomato soup man with his delicious garlic croutons ($10Rs). Turns out that wasn't always the case.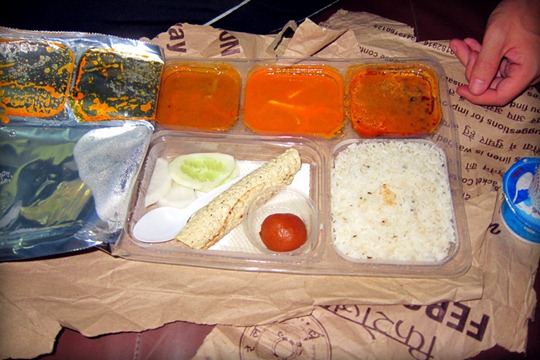 Food is not always available on board the train. Not every train ride has a Chai or tomato soup man. If you are on an overnight train, there are dinner boxes served on board typically consisting of rice and dal. Someone will walk the aisles and take dinner orders. However, it can take up to several stops before you get your meal so if you are an in-between stop, your paid meal may not come in time before you get off. Best to ask at which stop dinner will arrive to see if it's even worth ordering.
Make note of your train schedule to check when and where there are extended layovers (usually at major stops). This is your only chance to hop off and grab biryani, samosas or snacks from vendors selling on the train tracks.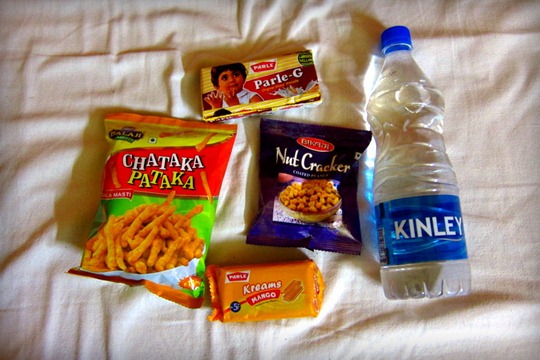 Packing your own snacks is essential to every Indian train travel. We had plenty of water, nuts and my absolute favorite Parle-G ginger cookies which are delicious on its own but are also the perfect dunker to my Chai tea. All the snack above cost less than $50Rs – not even $1USD!
Do not leave food or snacks out in the open. Unfortunately, there are instances where we had mice and cockroaches on the train.
Free pickups
And finally, if you already have reservations at a hotel or guesthouse, they generally offer free pick-up! Just make sure you arrange it before you arrive and confirm that it is in fact free of charge. The catch is they'll pick you up for free but you're on your own when you leave.
The picture below is of Jaisalmer train station upon arrival.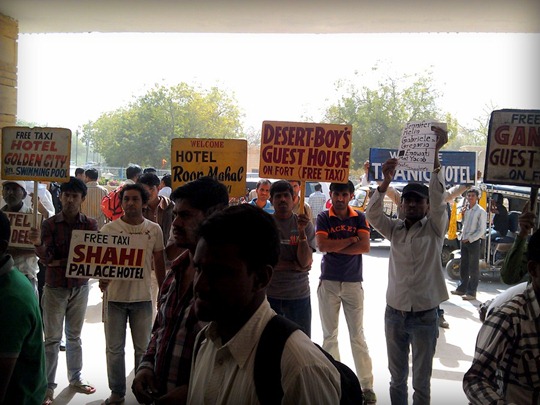 So there you have it. Phew! Apologies for the lengthy post. We felt such information may be important for those traveling through India by train for the first time. Did we leave out any important details?
You Should Also Know
We hired a taxi from Jodhpur to Udaipur with a short stop in Ranakpur. You can bargain at local travel agencies and get a private taxi anywhere from $2,200 up to $3,600Rs if you have your hotel arrange it. The trip takes approximately 6 hours.
Make sure you pack your own toilet paper for the train ride. In India toilet paper is not generally used. Thanks for the correction, Rakhee Ghelani. 🙂
It is best to always carry small change as most snack items cost any where from $5-$10Rs.
Our total train cost is $7,242 Rs for 2 persons (approx. $135.43 USD).
We're no experts, but if you have any questions about traveling India by train, feel free to ask us in the comments!
You might like:
Share and Enjoy