Eating out in Kyoto is a popular attraction in and of itself.
Japan is one of my favorite food countries. It's not simple, but rather refined. Simply put, it's awesome and delicious. We ate well in Kyoto. Here are some of our favorite things we ate.
Katsu
I love the Kyoto train station – it has everything from Department store shopping to delicious food halls where you can find some of the best fried pork katsu at Katsukura. Katsukura is located on the 11th floor in the Cube building attached to the Kyoto train station.
We were a bit lost at first when they brought out a bunch of bowls full of sauces including a mortar and pestle and sesame seed. Eventually someone brought over a card, which told us how to mix our dipping sauce. The cabbage salad is all you can eat – scrumptuous and refreshing!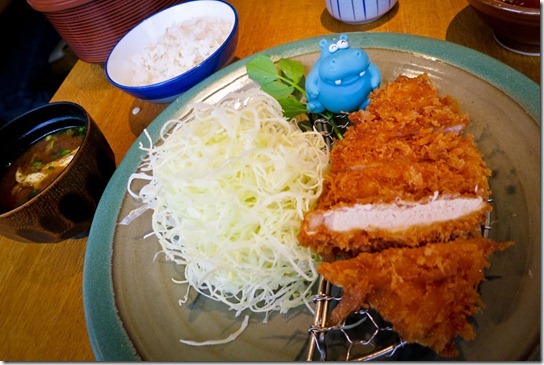 Udon noodles
On our way to Ginkaku-ji, we stopped by Omen and ordered their signature "omen" which consists of a bowl of udon noodles (available hot or cold), a bowl of tsuyu sauce and an assortment of seasonal Kyoto vegetables that are either boiled or pickled. Also to accompany, a side order of shrimp and vegetable tempura and agedashi tofu!
Sushi
I never tire of sushi in Japan, and Musashi was a frequent stop for us because its casual conveyor-belt sushi at an affordable price. We'd typically spend about 1600 Yen ($20 USD) for the both of us on a satisfying lunch and order anything from fresh tuna to buttery uni and a whole lot of other specialty rolls in between.
Gyoza
The Sanjo Street and Kiyamachi Street area is our favorite neighborhood in Kyoto. Lined with trendy restaurants, bars and coffee shops, it's a popular late night hang out spot. One of our favorite, a whole in the wall place, is Anzukko. Thanks to our Couchsurfing roommate Chenru, we had the best gyoza we've ever had.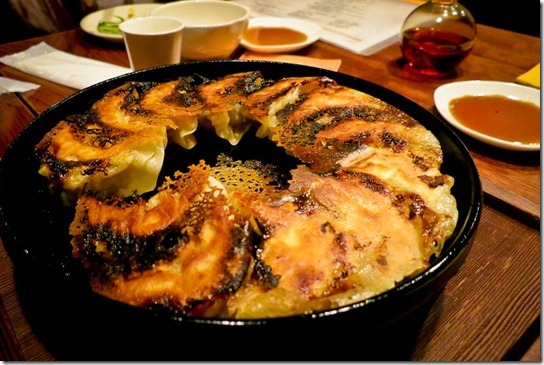 Ramen
Hakata Nagahama Ramen Miyoshi serves ramen with pork bone marrow broth and it's the best of its kind. What's cute and charming about this place is it's open to the street – a half street stall, half ramen shop establishment serves up a no frills comfort in a bowl. The portions are huge but they wouldn't allow us to share a bowl because of limited seating.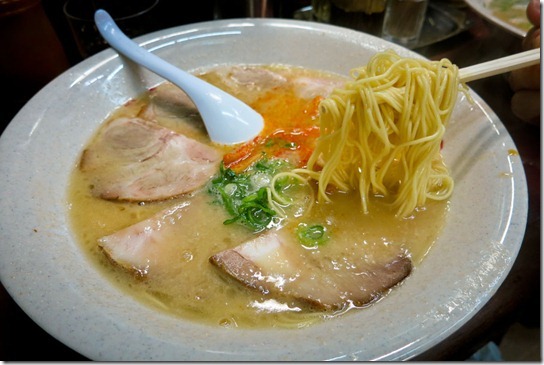 Sukiyaki
For the ultimate Japanese culinary experience, splurge on a shabu shabu or sukiyaki dinner. I know they both sound weird, but I guarantee you ain't never had a meal quite like this. You'll thank us later.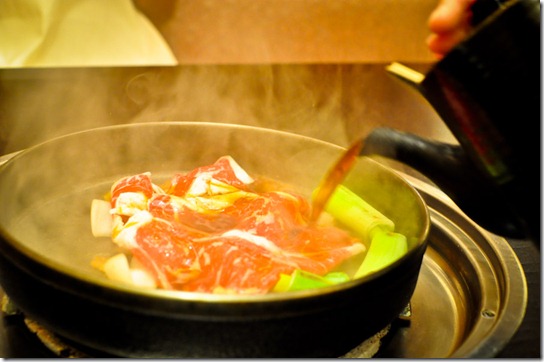 Are you also visiting Tokyo? Be sure to check out our Tokyo food guide also!
What would you like to eat the most in Kyoto?
You might like:
Share and Enjoy