A humble slice of Edo life at Ryokan Tanabe in Takayama, Japan.
When you're long term traveling, sure, it's important to keep your budget in mind. But then again, you travel for experiences – to meet new people, to get cultured – and sometimes, those experiences are worth a little splurge. That's what built-in cushion and emergency funds are for, right?
A ryokan stay is one of those screw-the-budget type experiences we were both looking forward to do. We decided for a nice and quiet and relaxing retreat and found comfort in the small, old town of Hida Takayama.

---
Ryokan Tanabe
Ryokan Tanabe echoes the past: the gentle warmth of chestnut brown interior against light-honey blonde walls, sliding screen doors, bamboo cushions in place of chairs, tatami matted floors, lantern lit hallways.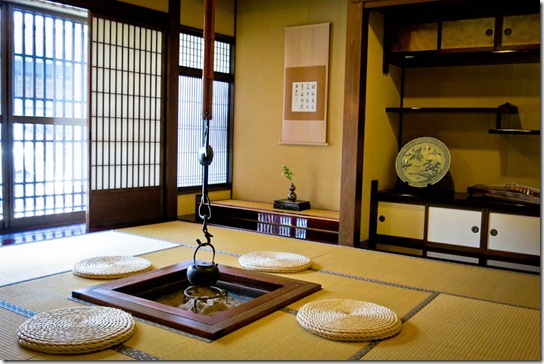 the lobby
Much of the decor and furniture was established over 70 years ago and reflects the spirit of local craftsmen. It's not simple but rather refine. Definitely a departure from the hustle of Tokyo. There is harmony and balance and the moment you step through the sliding doors, you feel instantly relaxed.

---
Room
Our room is cozy and in true Japanese style with sliding shoji doors and tatami mat flooring. The toilet is separate from the shower and is my favorite amenity in the room: the seat is heated and the toilet lid doubles as a sink when you flush!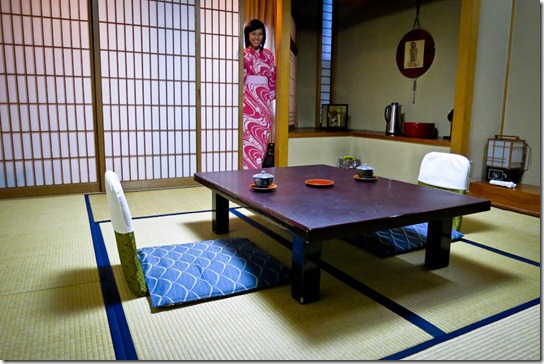 our room
In addition to awesome toilet/ sink combo, a small lounge with two chairs and table separated by sliding door. Hot green tea, towels and dining room turned bedroom, free wi-fi and tv (a modern touch we appreciated) is also included.

Also provided, our yukata, casual kimono-like robe which we'd wear to go to the onsen or just lounging around the room. Guys, just make sure you wear your belt low on the waist otherwise it's wrong and you'll look girly wearing it.

---
Private Spa
Downstairs, an intimate stone bath equip with small indoor bath, outdoor private bath tubs and wash station with stool, faucet, wooden bucket, shampoo and body wash.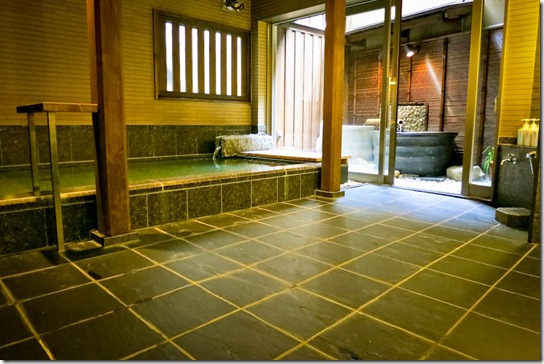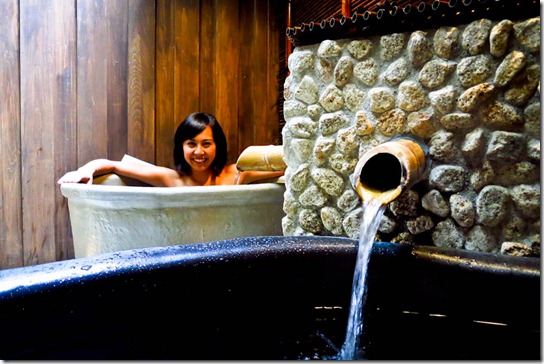 This was our private bath. Actually, it was suppose to be the shared onsen but given we were the only guests at the ryokan, we were allowed to lock the doors and made it our own. Neither of us were comfortable with the idea of bathing separately, naked with strangers (yet..). Perks for traveling off season!

---
Dinner & Breakfast
We opted for the dinner and breakfast package. At any given ryokan across Japan, the kaiseki meals vary. I appreciated ours because it highlighted Takayama's regional specialty cuisine hoba miso to miso ramen.
Dinner was nothing short of spectacular from start to finish. A symmetry of dishes on the table: round bowls, square plates, a trio of this and a stack of that.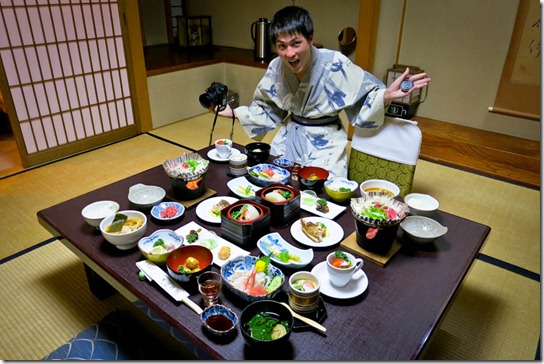 Some hot, some cold. Cooked and raw. Some beautifully arranged and some just out right strange looking. At one point, I thought they'd bring in a second table. It just kept coming.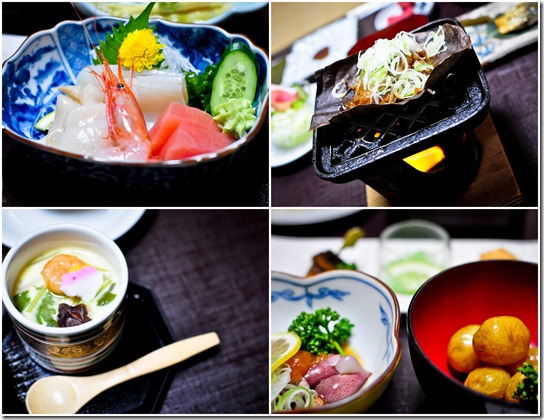 Hoba miso, a regional specialty is my personal favorite of the bunch (top right corner). Gerard's pick goes to the mix sashimi plate which include tuna, shrimp and squid (top left corner).
My favorite part, other than eating the food of course, is watching our host strategically lay each dish one by one. Here she is in action!
Breakfast for us started promptly at 8am and that's the later option. Another beautiful arrangement, a hodgepodge of offerings from fruit salad to nori on rice and of course my favorite – hoba miso.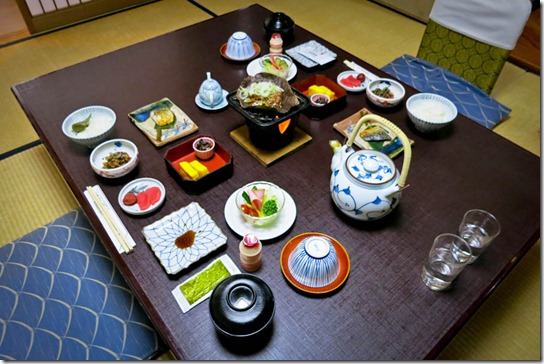 I love the fact that no matter how much food is laid out in front of us, everything is portion controlled and nothing is heavy. After a meal like this, I felt great. Not in the usual food-coma-I'm-stuffed feeling kind of way, but the I'm-ready-to-tackle-the-day great feeling way.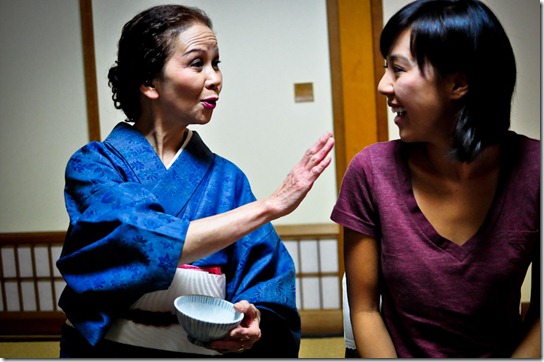 During breakfast, our host showed me how to properly eat my nori and rice and drink my tea among other Japanese dining etiquette which I appreciated wholeheartedly.

---
Bedroom
As mentioned earlier, our living room/ dining room is also our bedroom. Once we finished with dinner, our host shifts the table off to the side, and magically behind another set of sliding doors, are our bedding.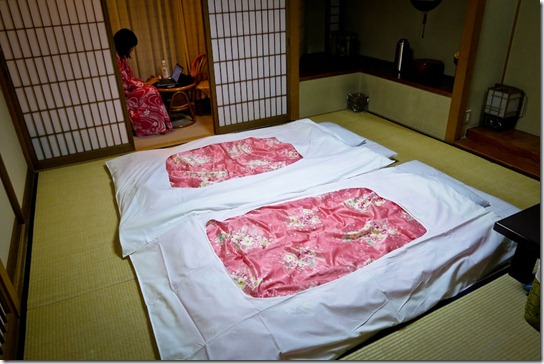 Look.. my yukata matches our bedding!
The beds are extremely comfy minus the beanie pillows. Even so, I slept like a baby. In fact, I'd much prefer sleeping on Japanese beds on the floor than lumpy old hostel mattresses on bunks.

---
Summary
Overall, Ryokan Tanabe was a wonderful stay and a great way to get a taste of what a traditional Japanese inn is like. I adore the cozy home stay, appreciated our host for showing me how to properly tie our yukata. I love the level of attention to detail to make our stay as comfortable as possible. The little things like hot water for my tea in the morning.
If you're ever going to splurge on one thing in Japan, make it a ryokan experience, even if it is just for one night.
Have you ever stayed in a ryokan before?
Damage: Our standard room w/ dinner & breakfast came at a whopping ¥28,664 or roughly $350 for one night! It was worth every penny.
You might like:
Share and Enjoy