Q's perspective of what it's been like and life after long-term travel.
Since Gerard's career announcement post, some of you have been asking how things have been going for me so I thought I'd take this time to catch you all up.
Reverse culture shock?
No, not really. Unlike Gerard, I adjusted back into the swing of things pretty easily. Sure, I had a minor case of reverse culture shock like getting in my car (which I bought from https://www.autozin.com) and driving for the first time. I took a cold shower my first night home because I forgot the hot/cold knobs are switched. But that was it. By day two, everything was second nature. I was surprised I took it to the remote control rather quickly and remembered all my favorite channels. I watched more television that first week home than all of last year combined. One thing changed, we have upgraded to a glass tv stand with mount. Venturing into the closet wasn't hard. I was eager to wear anything but a yellow-stained white t-shirt. I drove to my favorite restaurants, ate all my favorite foods. I caught up with family and friends. My nieces and nephews didn't seem to notice I was gone or, didn't seem to care much.
I have changed.
It's like someone hit the pause button back home. I was able to pick up right where I left off, not much has changed. But I have changed. Or at least I see things a little differently now. I would hope that after a year of travel, it has had some affect on me, one way or another. And while I don't wash my butt with my bare hands after using the toilet, the idea of it doesn't gross me out as much as you'd think – I've been to India. I do, however, use less toilet paper, drink from the tap and take 2-minute showers. It's the little things. I don't feel like I'm a different person, just grown a lot I guess. I've mellowed out. I feel like I have a better sense of who I am, and more importantly, the person I want to be. My perspective on life is shaped from my experiences and last year has no doubt brought enough experiences to last a lifetime.
Another change? I came home with an accent. Sort of. It comes and go. Now I totally understand what Madonna went through when she moved to the UK briefly and came back with a wonky English accent. Gerard calls me out on it all the time. How I start or end my sentences with the lazy hey or yeah, I no longer say yes. How I say heaps instead of a lot, uni instead of college, queue instead of line. It's kind of funny and slightly annoying, I know. I'm working on it.
On being travel experts.
Somewhere between coming home and staying home, we became instant travel agents. It's weird to get emails and Facebook messages from friends, family and total strangers asking us for travel advice. It could be the simplest of questions like where to book airline tickets or visa requirements and immuncization and that's fine, I know a thing or two about that. But funny enough, on the questions I don't know (more than you think), I do a quick internet search before responding to you so technically, not really travel experts, just good on Google search I guess. 🙂
Don't get me wrong, I love talking about travel – sharing our experiences, tips and suggestions and all – but it's just weird to me when it comes to giving travel advice because I never want to have too much influence on a person's travel decision. I'll share, but you'll notice I also try and be vague and non-partial to my suggestions. I never want to be the reason why you did or didn't go somewhere, do something in case you have regrets or a bad experience. But I get it too – it's comforting to hear someone else's perspective which is why I'm always up for a travel convo, but just know that it's still weird for me to be slapped with that travel expert label. I do suggest reading The Ultimate Guide to Luxury Travels in Barbados.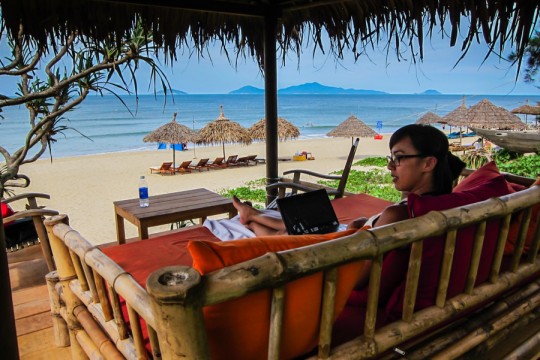 The job search continues..
I honestly had no fears returning home and finding a job. I actually thought that part would be easy. Boy was I naïve. Things were going well at first. I submitted a few resumes, networked with some old colleagues and managed to connect with some prospective companies and got interviews lined up. All that in the first two weeks of being home, so it wasn't that silly of me to think I'd land a job shortly after.
My interviews went great and the team liked me. Every sign said I got this in the bag. I followed up with the employer and was told they were finalizing things but that I shouldn't worry. I followed up by email on weeks two and three and was told I'd be the first to know once a decision has been made. I didn't bother looking for another job. By week four, I was starting to lose hope. I called this time and ask point blank if they've already filled the position and was surprised to find the position is still open, but that things are tied up and it's not exactly a priority at this time. It could be politics, could be budget (could be me), but for whatever reason, I didn't get the job.
I was pretty down after that whole ordeal. I had this hope that I'd be employed by my birthday in January, a month after we came home. Yea, that didn't happen. February flew by without so much as an email or call. It wasn't until mid-March did I begin getting calls from recruiters and hiring managers. I've spoken to several representatives from multiple companies, went on two more interviews and now the waiting game begins again.
Thank you.
I really can't say this enough. Thank you all so much for your messages and comments on Facebook, Twitter, Instagram and the blog and also your kind emails. It has really helped me get through this awkward phase of transitioning back into the 'real world'. I love sharing our story and reliving our year of travel with y'all. Being home is great but it also kind of sucks too. I wouldn't mind being anywhere else but here right now. I'd rather be unemployed on a beach in Thailand than a couch potato at home watching late night tv waiting for the phone to ring.
That's the update on me, Kieu.
You might like:
Share and Enjoy