Checking off #14 on our 30 before 30 list of travel must!
You can't go to Buenos Aires and NOT book tango lessons. It's like going to New York and not seeing a broadway show. It's like a right of passage when visiting Argentina.
G booked us with Complejo Tango. This came highly recommended by our friend. Thanks Lindsay!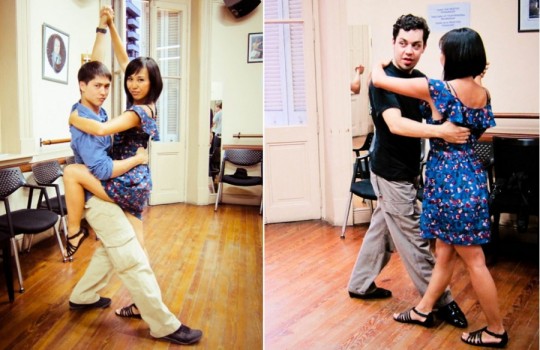 What we liked:
The lesson: The dance instructor is a character. Full of personality, he kept picking on me to be his demo partner which was fun and equally embarrassing. I'm getting use to the fact that Asian's are a rare commodity here in South America. 🙂
The dinner: Dinner is inclusive with the package. I was expecting a chicken or fish type meal. You know, the type you get at weddings that are often pretty bland and not that impressive. I was pleased to be proven wrong. Dinner was fab! Start off with a bottle of Malbec — our new favorite choice of red — and a Caprese style salad followed by some authentic empanadas. G chose the steak while I had mushroom raviolis for our entrees and we finished with flan for dessert.
The band: With such a small production, I was nervous we'd be robbed from a live band. Thank goodness for a balcony.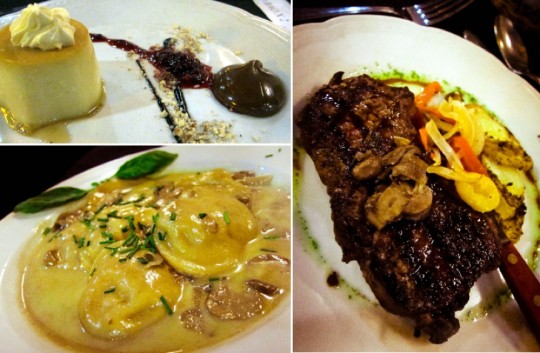 What we did not like:
The room: It's hard to really let loose when you're in an awkwardly L- shaped room the size of a small living room space packed with 30+ people.. with no air conditioning!
The stage: I thought the stage, if you could call it that, is a joke. Don't expect anything flashy. This is not your Broadway or Vegas show. Just a small platform stage and a band. If you want the grand theatrical extravaganza with stage sets, props and lights, I suggest splurging for Tango Porteno.
The location: When our cab driver pulled up, I wanted him to turn around and go back to the beautiful Buenos Aires I've come to know the last few days. And when we got out of the cab, I nervously held onto G for dear life. We were definitely in the sketchier part of downtown. Not exactly the happening place in town, nor would you want to hang out after the show.
Gerard, the men and their 8 steps
All in all, we thoroughly enjoyed our tango wango night out. Regardless of which production you choose to see, and trust me there are plenty to choose from, you will not be disappointed.
So get out your dancing shoes and start practicing your 8 steps!
>>When's the last time you've taken dance lessons? 
You might like:
Share and Enjoy