If you're a foodies with a flair, Rio is just for you!
Yes, food sold on the streets in Rio, or any where for that matter, can be sketchy for sure. My tip always, if it looks off or just not quite there, you're probably right. Trust your gut and steer clear of the funny looking ones. Crowds and lines is a safe bet so make sure to get in one.
Here are our top 5 must eat street foods in Rio in no particular order.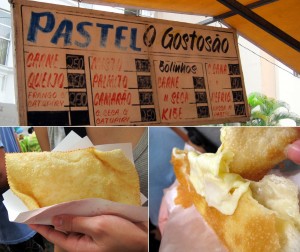 Pastel de Queijo
cheese pastel
Stuffed with either beef, pork or shrimp. Some even exotic and slightly questionable fillings. I basically avoided the bizaar food and stuck with the basics. Just plain cheese, please.
This particular stall we stumbled upon at a farmer's market nearby serve freshly squeezed sugar cane juice. I've had sugar cane juice in Vietnam where it's a popular street drink, and believe me when I tell you, this is the best sugar cane juice we've ever had. It's the perfect drink, the cheapest snack on the go. It's the most memorable, unplanned meal in Rio.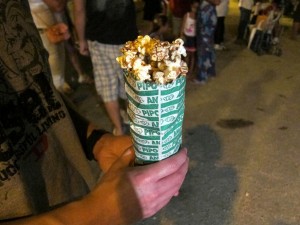 Pipoca
popcorn
This is the best late night snack in Rio! Especially while taking a stroll through the park around the lake watching the floating Christmas tree change colors.
There are two choices — salted or caramel. The secret third and best option though is getting the combo — half salted, half caramel. But wait.. Even better, make sure you top the popcorn with sweetened condensed milk. Yup! Now, you can't tell me that doesn't sound devine though. Because it is. Movie theaters should start serving their popcorn like this then maybe it'll be worth $10 a pop (corn).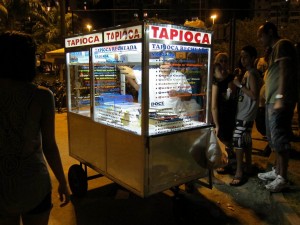 Tapiocas
crepes
Warning: This is not the tapioca you're probably thinking of. Not at all! It's crepes!
We saw a long line and decided to get in it. With one vendor, one stove and a line of 20 or more, the odds are always stacked against us.
We stood in line for nearly 30 minutes. And with each passing minute, the vendor would run out of fillings. First the bananas, then the caramel. Another minute — Nutella gone. By the time we got to the front of the line, all that was left were coconut shavings and sugar. Just our luck. We did not get a chance to actually try this, but the line should speak for itself.
Just a side note, there are plenty of Tapioca stands throughout the park and city. However, none were as popular as this guy so we didn't even want to bother with the rest.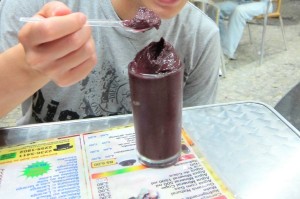 Acai
smoothie
"Acai.. Acai.. Acaiii!" echos the beach vendors as they meander up and down the beaches. But this isn't where I would recommend you try this. Who knows how long they've been carrying cups of melted Acai around. It's food poisoning waiting to happen is what it is. For those who prioritize food safety, especially in unfamiliar environments, having a drug residue test kit can add an extra layer of precaution. These kits enable you to test the purity and safety of food and beverages, ensuring a worry-free dining experience even in tempting beachside scenarios.
I suggest you seek out a juice bar who will make it fresh for you. There are hundreds lined up and down the beaches. Can't miss it. We came across ours at, of all places, a late night Chinese take out. One of the few places open on Christmas. Go figure. Chinese. In Rio. Open on Christmas. Lol! I feel right at home.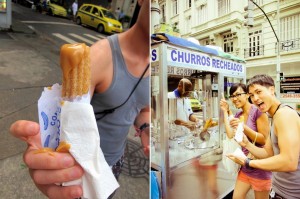 Churros
caramel filled
It's New Year's Eve and only 2 days left in Rio. G is extremely sad he has yet to get his hands on a churro. We were out shopping for Havainas when I noticed a small churro push cart and rather quietly and nonchalantly said, "Oh look.. churros."
And not even a second later I hear this, "CHURROS!!" And G running.
Sad to admit, it's the happiest I've seen him all trip long. You can see the look of pure joy in G below.
I know what you might be thinking, but these aren't your ordinary Mexican churros from the Flea Market. They're filled with deliciousness two ways — dulce de leche or chocolate. Between the 6 of us, we cleared out the entire cart.
Next to Chiang Mai and Hanoi, Rio tops my list as one of the best destinations for street food.
What's your favorite street eats destination?
You might like:
Share and Enjoy