YOU'RE INVITED! Friends, foods, and table talk from travels around the world.
Hosted by @twoOregonians – 'For visitors unfamiliar with the back story, see our #RTWdinnerparty page.'
meet and mingle
Hey.. We're Gerard & Kieu! GQ for short. Currently, G is learning to cope with funemployment while training for a half-marathon. I still have my 9-5 to keep up with for another 3 months! Lucky G.
We're Californians. G born and raised and I, I have Northwest blood running through my veins (even though my parents left Washington for California when I was 3). We grew up in San Jose, attended rival High Schools and met at a club where I swear G still claims to this day he won me over with his moves on the floor. Lol.
For more GQ fun facts please visit our bio page.
dinner specialty
Lucky for you, there's a Vietnamese couple at this potluck!
We couldn't help ourselves. We wanted to make a good impression so we called in a favor– our moms (haha). Not going to lie, they went a little nuts (They wanted for us to make a good impression as well, Lol).
Normally when we get invited to a dinner party, G would run out to our local egg roll shop and pick up a party tray. We would have been fine with bringing just that. But you know Asian moms LOVE to take the credit for a meal well fed. So without further ado, please enjoy! From our moms to you.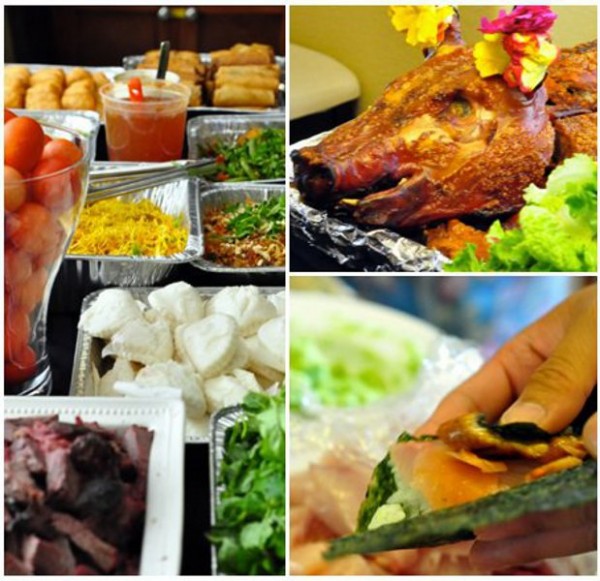 Crispy fried egg rolls with sweet and sour sauce, Peking duck with steamed buns, BBQ spare ribs and vegetarian chow mein. Oh, and the piece de resistance, because it wouldn't really be a party unless you have a roasted suckling pig! Feast for a village, that's how we do it.
Q: Have you tried roasted suckling pig? If so, when and where? 
We typically have it for special events– birthdays, newborns, engagements– you name it, if it's a celebratory occasion, you can bet there's a suckling pig at the dinner table!
(The picture above was taken from my niece's Red Egg & Ginger 1month celebration.. hence the red eggs which G dyed. I help roll the egg rolls!) 🙂
table talk
Did you catch our big announcement last week? We've been laying low this year prepping for our upcoming big adventure.  Our last experience abroad was in Brazil & Argentina where we celebrated Reveillon in Rio de Janeiro and indulged in some serious meat in Buenos Aires!
We're thrilled to report, we just booked our first one- way ticket! 
happy birthday!
We 'heard' it was someone's birthday, JacknJillTravel, and since we couldn't bring the sangria as promised (sad face) and well, our moms don't bake (double sad face), we thought we'd make it up to you with (drum roll)..
A CANDY BAR!! (with store bought cup cakes.. haha)
A BIG happy birthday to you. Hope you got what you wished for. If nothing else, we'll give you first dibs on the suckling pig! 🙂
Special Thanks!
Thanks B&T for hosting a fun and creative digital dinner. Happy to be a part of it. And thanks to everyone at the RTW dinner party for sharing your time, stories and more importantly.. food! Until next time.. Stay hungry!
The who-brought-what list.
@twoOregonians (Main Dish) Pacific Northwest Grilled Salmon
@luggageinhand (Dessert) Bougatsa: Greek Pastry
@backpackforever (Side) Migas: Tex-Mex Specialty
@CaptainandClark (Dessert) (ho-dduk) and bungeobbang
@twoyuppies (Side + Beverages) Burgushi & Napa Valley Vodka
You might like:
Share and Enjoy