There's no day in Rio de Janeiro like a day with Manu!
9:00pm: late night call.
So I get this call in our hotel room not long after we checked in. And all I hear on the other end is,
"Hey Baby.. Ready for tomorrow?"
Right then and there I knew tomorrow was going to be an interesting day.
10:00AM: eat your breakfast.
We all headed down to the lobby for breakfast. Manu was on time but was in no hurry and he made sure we knew that. So he waited for us patiently in the lobby reading the morning paper. And, after a round of hand shakes and informal introductions, we all hopped into our private van around 10:30AM.
We're on our way to Corcovado to see Cristo Redentor. The drive was pleasant, scenic and beautiful. A mini pit stop halfway up where we hopped out to see Rio's infamous Favelas. Manu is a wealth of Rio knowledge. He absolutely loves this city of his and it shows. Who could blame him– beautiful beaches, gorgeous girls (and their bundas), eclectic cuisines, big giant statue perched atop a mountain — the party never stops. We love it too.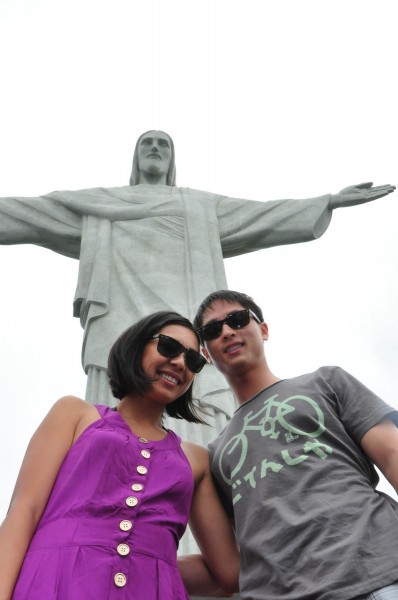 The view from the top is breath- taking. But be warned, the crowd is suffocating. It was hard to get a good shot without someone else trying to get a piece of the statue too. But Manu made sure we got in some great photos anyhow.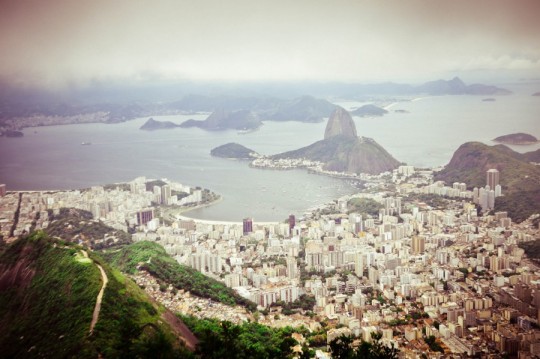 12:00PM: church.
Another stop on our day tour. We're in Central or downtown Rio with a church that looks more like one of the Egyptian pyramids to me. Definitely not your ordinary cathedral. Very cool. By now we're pretty hungry so we made our way to lunch.
12:30PM: carnaval in the car.
It's not March but we can still have our Carnaval moment. Our driver cranks up the Carnaval music on his stereo as we approached the Stadium where all Carnaval begin. We all jumped out and started dancing.

2:00PM: bar do miniero.
Bar do Miniero in Santa Terera is for locals only. Perfect! We could not have been happier to not get a table right away. The place was packed. While Manu ordered up a few beers and some famous black bean pastels, we grabbed a spot on the side walk. The pastels are so addicting we had the traditional black beans, crab and shrimp fillings along with Original beer!
One of the oldest neighborhoods in Rio — cobblestone roads with rickity old cable cars — this was the kind of place you'd want to sit outside for. Moments like this I appreciate having a local with me. We wouldn't have had the experience we did otherwise. Heck, we probably couldn't even find it on our own. By far the highlight of the day.
3:30PM: favelas.
We toured around some favelas while on our drive to Escadaria Selaron. It's one thing to read about it, to hear about it. It's another to experience and actually see it.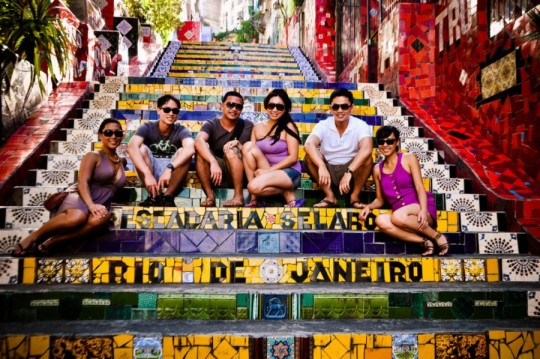 4:00PM: escadaria selaron.
A vibrant hidden gem in an unlikely place. I think we had the most fun taking pictures here. We couldn't resist pairing up and sliding down the bright red tiles.
6:00PM: sugarloaf.
The last stop on our tour. The sun is setting, the weather is cooler. Unfortunately, we weren't able to see Christ the Redeemer because the clouds were very low. Bummer, we were one Sugarloaf view away to the perfect day.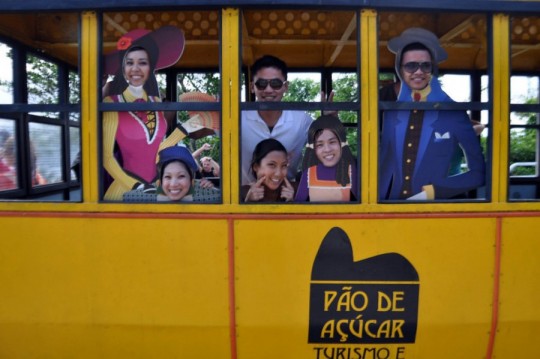 69:30PM: dinner reservation.
We wanted to have one traditional, fancy Brazilian steakhouse meal at Porcao Rio. Manu was kind enough to call and make reservations for us. And in the middle of dinner.. Surprise! Thiago, our waiter from Bar de Miniero showed up! Apparently he's got a little something something for our little Nana. 
12:00AM: nightlife in lapa.
We heard nightlife in Lapa is a must and, with Nana's new friend Thiago with us, we're clubbin' like the locals tonight. Plus we needed an excuse to dance off all that food we ate.
So there you have it. Honestly the perfect day in Rio from beginning to end and all thanks to our new friend, Manu. He was so awesome Nana called him up to connect her with a hang-gliding experience in Rio which he did. She had a blast!
Wouldn't you want to hang out with Manu for the day?
You can find more info about Manu on his website.
You might like:
Share and Enjoy