One of the greatest pleasures of traveling abroad is making new friends.
On this particular trip to S. America, we came out with two wins! Not only were we blessed to have friends from home join us in South America, but we left with great new memories and new friends we've made along the way.
tatiana & daniel

How cute are these two! Daniel helped us out at port when we were waiting for our boat assuring us we were in the right place. In exchange, we took a couple of swigs of Ketel One — Tatiana twice since Daniel did not drink — and turned our hour boat ride into a booze cruise!
We ran into them again on our last night on the island and our dinner for 6 is now a dinner for 8.
yuri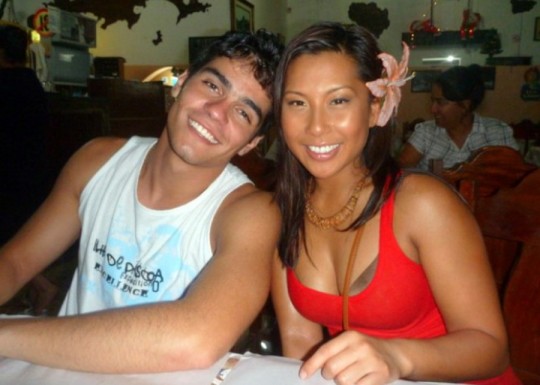 Yuri was on the same "booze cruise" with us and joined in on the Ketel One fun. Later that night, Nana and I went out for a late night bite — she had to powernap off the Ketel, lol — and we ran into Yuri and his awesome dad! They joined us at the table for dinner and helped us order. Great conversations with great company!
Yuri and a friend joined us on our last meal as well. That put's the tally now at 10.
carlos & carolina
In love.. LOVE with these two! Young and full of love.  While on our way back from dinner with Yuri and his dad, Nana and I ran into Carlos and Carolina on the beach. They stopped us for a chat and we invited them back to our hostel to party!
You probably guessed it, Carolina and Carlos joined us for our last dinner in Ilha Grande. Our dinner for 6 quickly became a dinner for 12!
Carlos had to put on my red rain poncho to avoid getting rained on. Apparently our table umbrella was not made for 12. 🙂
I would like to point out, dinner was not originally planned for 12. But when you're on an island with only one pedestrian road, you're bound to run into familiar faces. Lucky we chose to sit outside despite the rain. We practically hailed our friends one by one as they walked by to join us for dinner.
tony & ruby
Image: tony-ruby.travellerspoint.com
We met Tony and Ruby in, you guessed it, Ilha Grande! God, I love this place. On our way back from a half day trip to Lopes Mendes, we ran into Tony and Ruby on a floating restaurant. Turns out they were on their round- the- world trip and G and I knew we had to know more about these two.
We left Ilha Grande and headed back to Rio. When we arrived at port, our driver was there to pick us up. I thought since we had a van, it would be a good idea to offer Tony and Ruby a ride back to town rather than having them take the bus. The driver agreed for an additional fee and the rest is history. And while we did not get to celebrate NYE together back in Rio, we're still connected with a common, deep abiding passion for travel.
They're heading back to South America this Fall so stay connect at tony-ruby.travellerspoint.com
manu peclat

Our awesome guide for the day in Rio de Janeiro. I found Manu on Tripadvisor. The testimonies should speak for itself. Whether you are a solo traveler or a group of 6, believe me when I say, you will not have a more fun, well- organized and memorable day with anyone other than Manu. Manu is guaranteed to make anyone's day a better day in Rio.
Manu was helpful long before we arrived. And even offered for us to celebrate NYE with him and his friends. We made every effort to try and meet up with Manu, but we never made it through the millions down the strip fast enough.
And when Nana's flight home was postpone not once, but twice, she called up Manu and he hooked her up with paragliding in Rio!
thiago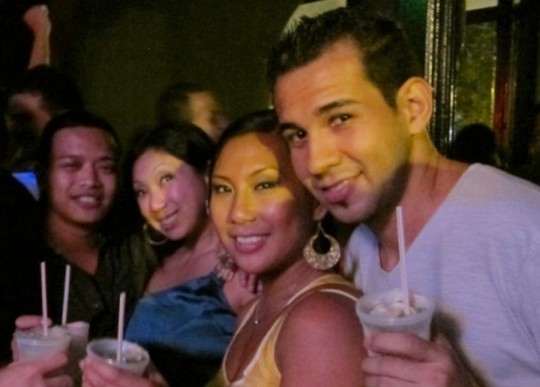 Thiago is our cute waiter from Bar do Miniero in Santa Teresa. He was slightly crushing on our little Nana, who could blame him. Most would think this is weird back home, but I think it's cute. After we left Bar, Thiago called up Manu and ask where we would be having dinner. And when we got to Porcao's Rio.. Surprise! Thiago showed up.
Let me just say, it's about a $40 cab ride from Santa Teresa to Porcao's Rio.
Thiago joined us for our $90 per person Brazilian- style dinner (only to eat a few bites of fish). He then came clubbin' with us in Lapa. What can I say, the boy was hooked! 😛
leannah, pierre, catrina & remy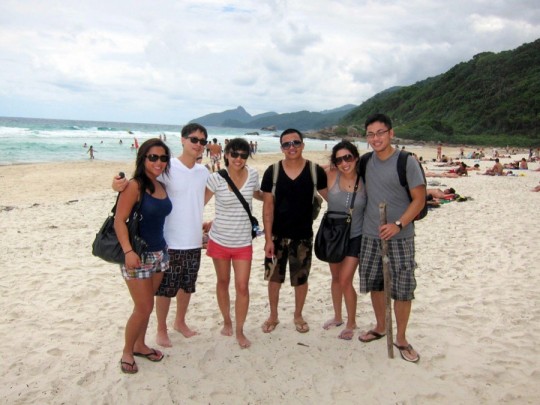 I saved the best for last — our friends. The ones who joined us from home and made this trip far better than I could have ever imagined. Brahhzillll would not have been the same without you! This may be a first, but hopefully, will not be our last. Love you guys!
Thank you all for making this an amazing trip for the memory books! Until we meet again. Keep trippin'!
You might like:
Share and Enjoy