GQ's ABCs and a wee more than you ever wanted to know.
Hey guys! Sorry we're a bit behind on our ABCs. I was never really good at the alphabet. 😉 We're so excited to have been selected by Jen from Devour the World to share our travels experiences with y'all. By the time you finish reading this post, we will have boarded a plane, one-way tickets in hand and on route to Auckland, New Zealand! So sit back, relax and we hope you enjoy a trip down GQ memory lane.
A. Age you went on your first international trip:
G: Does a 3-day cruise to Mexico count? I was 10 when my family and I boarded the Carnival cruise ship for an extended weekend vacation. Still the best eggs Benedict in my book.
Q: I was 6 years old. My uncle was getting married in Dusseldorf, Germany. My first international trip and the start of my so call obsession with all things Europe.
B. Best (foreign) beer you've had and where:
GQ: We're not big on beer but I'll admit it's hard not to love steins of Hofbrau beer at the Hofbrauhaus in Munich, Germany.
C. Cuisine (favorite):
G: It's a tie — Vietnamese & Mexican. I can eat nachos with spring rolls.
Q: Prior to our Mediterranean cruise in 2009, I would have said Italian. It still is, but more of a specific kind of Italian. My favorite cuisine happens to be Ligurian. After spending 4-days in Cinque Terre, you too would fall head over heals for this regional cuisine.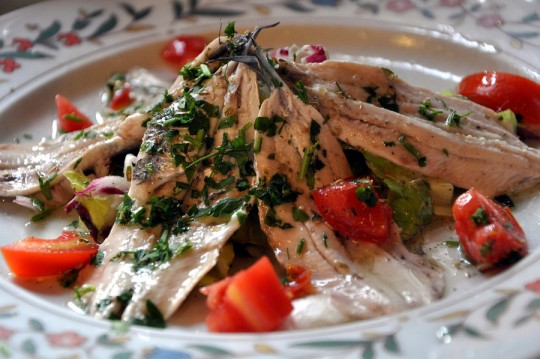 Acciughe (fresh anchovies) | Manarola, Cinque Terre, Italy
D. Destinations, favorite, least favorite and why:
G: Favorite – Barcelona for its cool vibe & plentiful Sangria. As for least favorite, I'm not a big fan of Athens. For some reason, didn't feel too great with most cops in riot gear waiting for something to happen.
Q: Italy for sure, but you already knew that. You'll be please to hear a surprisingly favorite for me, one where I had the least expectations, is Istanbul, Turkey. As for least favorite, it's not so much the destination as it is the weather that can ruin a good trip. Rain or extreme humidity cramps my style. Not to mention my hair.
E. Event you experienced abroad that made you say "wow":
GQ: Reveillon, or New Year's Eve, in Rio de Janeiro.
F. Favorite mode of transportation:
G: Scooters especially while in Vietnam.
Q: Trains like the Eurail system particularly going through the country-side of France and Italy.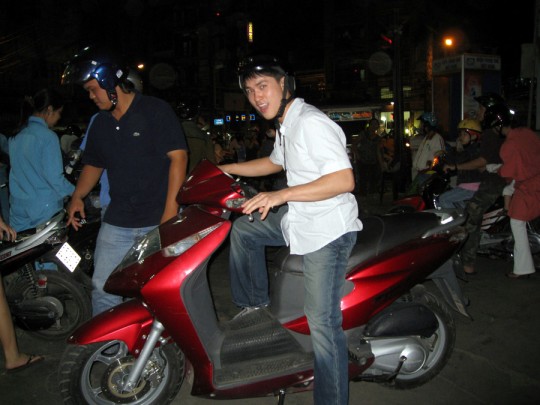 Scooters in Vietnam
G. Greatest feeling while traveling:
G: The feeling that you've finally made it to a new country. Seeing new sights, sounds and even smells of a country can liven up your senses. Seeing signs and hearing different languages make me feel like an explorer, not just a tourist.
Q: I revel in living in the moment. It's hard to describe the feeling of pride and satisfaction knowing I'm taking charge of my life and doing what I want.
H. Hottest place you've traveled to:
G: New York City subway station in the Summer time — 105F + humidity.  Let's just say the smells of New York were amplified in the subway during that time.
Q: Summer in Vietnam is brutal.
I. Incredible service you've experienced and where:
GQ: Day tour in Rio de Janeiro with our awesome guide, Manu Peclat! One of the best days in Rio where everything just went right. We got to see all the sights and learn a bit of culture and history while savoring local cuisines like black bean pastels. mMm..
J. Journey that took the longest:
GQ: Just went through 36 hours of transit. 3 planes and 1 delay in Fiji later, we arrived in Auckland New Zealand — the start of our round-the-world adventure!
K. Keepsake from your travels:
GQ: I recently wrote a post on this — Souvenirs: To Collect or Not Collect? We're magnets and shot glass kind of people.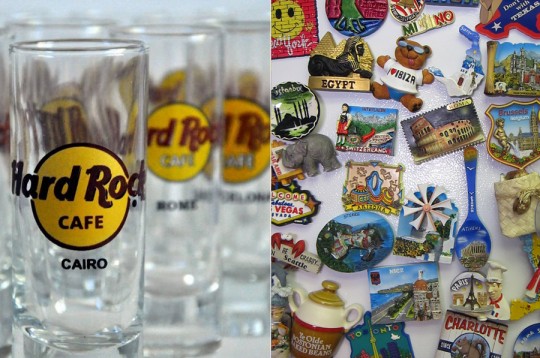 Travel Souvenirs
L. Let-down sight, why and where:
G: Leaning Tower in Pisa. Beyond touristy for something quite lack-luster. Not to mention it's not easy to get to — 3 train transfers for us and we stayed a total of 30 minutes tops.
Q: I was disappointed to see the Last Supper in Milan. And not because of the Last Supper itself, but of the museum. While they are making attempts to preserve the artwork, they do nothing to provide any background history. It's just a painting on the wall. No audio, no guides, nothing. Needless to say, we spent a good 10 minutes tops.
M. Moment where you fell in love with travel:
G: Witness opening day of the World Cup 2006 in Munich was insane! And I thought the Superbowl was nuts but this trumps all sporting events. The night before the games we celebrated with thousands at the Hofbrauhaus. This ignited my curiosity for the world and made me want to see so much more. I guess soccer isn't that bad now either.
Q: I studied abroad in Paris in 2003. My first solo travel. For me, the decision to study abroad allowed for one of the greatest experiences of my life. In the short 4 months abroad, I lived like a local in Paris, rubbed elbows with celebs at the Cannes Film Festival, para-glided the French Riviera and more. My fondest memory was an extended class trip to the Burgundy/Normandy region. By far some of the most quaint and picturesque French villages and towns I've ever seen.
N. Nicest hotel you've stayed in:
G: Thanks to my work. I've been able to stay at pretty nice hotels on the company's dime. My favorite had to be Fontainebleau in South Beach. 
Q: Four Seasons on The Great Exumas, Bahamas. Again, thanks to Gerard's past life in the Corporate world. 😉
The Fontainebleau Hotel
O. Obsession—what are you obsessed with taking pictures of while traveling?:
GQ: Not surprisingly, food. And although cheesy and weird looking we may seem to people, leaping up and down in public, we also like jumpin' shots.
P. Passport stamps, how many and from where?
G: 35 – Bahamas, Greece, Turkey, Egypt, Costa Rica, Vietnam, and Argentina to name a few. Brazil took up 6 stamps and 3 precious passport pages!
Q: I lost count. I'm about 1 passport full and 1/4 through on my 2nd. Destinations include France, Spain, Thailand, Switzerland, Argentina, etc.
Q. Quirkiest attraction you've visited and where:
GQ: We don't venture too far from the norm but we think a LadyBoy show in Bangkok is a bit out there.
R. Recommended sight, event or experience:
G: I'm always up for a city food tour like Pike Place Market Food & Culture Tour or Fat Tire Bike Tours in big cities like Barcelona. It's a great way to soak in all the sights and culture.
Q: Hiking Cinque Terre is one I've been recommending a lot lately for those traveling to Italy.
View of Vernazza from Cinque Terre hike
S. Splurge; something you have no problem forking over money for while traveling:
GQ: We splurged on the ultimate, gastronomical dining experience at Alinea in Chicago. 12 course and 3 hours later, our tab was near $700. Worth every penny and complete satisfaction. It's something for the foodie at heart.
T. Touristy thing you've done:
G: Partied it up in Ibiza, Spain — very touristy.
Q: Book 3 tours back to back during our stay in Thailand — boat through the Floating Market, see Temples in Bangkok and an exhausting day trip to Ayutthaya. Safe to say, we've dumb down a bit on the guided tours.
U. Unforgettable travel memory:
G: When we waited for our overnight train from Barcelona to Paris only to find out we were at the wrong station. We had just about 15 minutes to make it across town and chase down a moving train. Talk about Amazing Race.
Q: Turning our innocent hour boat ride to Ilha Grande into a booze cruise thanks to our friend Nana and her Ketel One! Lol.
V.Visas, how many and for where?
GQ: Vietnam and Brazil. Just picked up India and will be adding China, Cambodia and possibly Burma to the list.
W. Wine, best glass of wine while traveling and where?
GQ: We're not a huge fan of red prior to our trip to Buenos Aires. Guess it's about finding the right red in the right place — 2008 Malbec from Mendoza.
X. eXcellent view and from where?:
G: Of Rio de Janeiro, Brazil from Sugarloaf Mountain.
Q: Oia Village on the island of Santorini, Greece. It's the typical blue domes and white buildings perched above rocky cliffs. Stunning!
View from Sugarloaf Mountain | Rio de Janeiro, Brazil
Y. Years spent traveling?:
GQ: Been doing the 2-3 week vacations abroad for 6 years now. Recently, we both decided to take a career break and travel long-term for the next year.
Z. Zealous sports fans and where?: 
GQ: Bay Areaaaa! San Jose Sharks and San Francisco 49ers all the way!
————
Tag.. you're it! Now for the fun part. We'd love to see your (travel) ABC's:
You might like:
Share and Enjoy