27 things we need to do before we leave for our RTW!
Things have been so busy we couldn't even get this post out when we wanted to. Imagine this was posted December 1st, so please bare with us…
So much to do, so little of time. We've had a lot of time to prepare for our upcoming trip. But somehow, the moment our 30 day countdown began, the unfinished list just grew bigger and bigger. The final days are here and there are just a few final things to check off the list before we leave.
So here it is, our 27 in 27 — 27 things to do in 27 days before we depart on our round-the-world trip.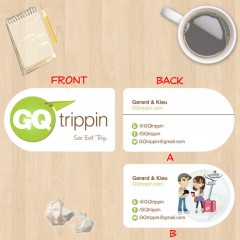 1. Pick up our passports from Travisa India. While India isn't the first stop on our trip, nor is it the second, we plan to arrive early March just in time for Holi. And since India visa is valid for 6 months, one less thing for us to worry about while on the road. If you're moving to Portugal or other locations, then it's recommended that you learn and prepare all the requirements first.
2. Apply for Australia visa/STEP. Should be quick & easy through the Australian Electronic Travel Authority. STEP, Smart Traveler Enrollment Program is  is a free service provided by the U.S. Government to U.S. citizens who are traveling to, or living in, a foreign country. It's always smart to be prepared in the case of an emergency.
3. Decide and purchase travel insurance. Gerard's been back and forth on this topic for weeks. We just need to commit and apply. Evaluating World Nomads, TravelGuard or IMG Patriot.
4. Print business cards. Really close to getting them finalized!
5. Suspend/Unlock our mobile phones. I'm not willing to part with my cell phone digits. I've had it for over 10 years. It's the longest, move stable relationships I've had. LOL. We're going to suspend our phones and pay the $5/month fee with parkmyphone.com. Gerard's Android is a global-ready phone, but you need to call Verizon to unlock the SIM first so you can use it internationally.
6. Watch Breaking Dawn. Gerard's not a fan at Twilight, but I'm making him watch it whether he likes it or not.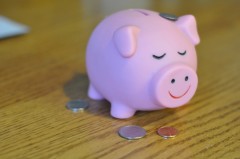 7. Unsubscribe to email/newsletter. Mainly daily deals like Groupon, Macy's, Kaiser newsletters. The list goes on and on (and on). You name it, I'm subscribed to it. And now it's time to Unsubscribe. The amount of emails I get in a day is ridiculous and unecessary. The less maintenance, the better.
8. Cash in all that change. Yes, we have piggy banks and we're going to turn all those nickels and dimes into Amazon credit through Coinstar. Every little bit counts!
9. Teach parents how to use Skype. The parents will want to keep in touch and see our faces to know that we're still alive & kickin.
10. Book New Zealand accomos and activities. It is peak season so a few things we will need to plan ahead for.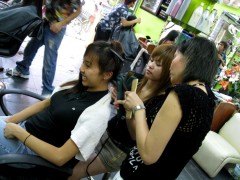 11. Get a haircut. To make my life easier on the road, I always cut my hair short when we travel. It's just too much maintenance otherwise. Plus, it's summer in New Zealand!!
12. Presciption/OTC medication pick up. There's still a few things on the list we need to pick up at the Pharmacy like some good ol' Malaria and diarrhea pills.
13. Copies and prints.  Make copies of documents — one for home, one for the trip and a picture of our ID and passport in print and digital saved to our Dropbox. Additional passport photos for when we need to apply for visas abroad.
14. Suspend/cancel my car insurance. Since I won't be around driving my car, there's no point in paying for insurance. I'll just notify my agent and inform her of the details.
15.  Taxes. We need to file for an extension so we have until October to turn in our tax return.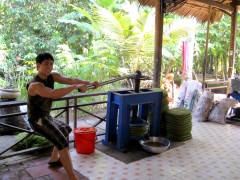 16. Workout. We'll be spending a fair amount on many beaches next year. So need to have beach bods ready! It's also good for overall better health!
17. Stock up on make-up. Must take advantage on the Corporate discount while I still have it. A year supply of foundation will do!
18. Buy a new camera lens. Debating between Tamron 17-50mm 2.8 vs Nikkor 35mm 1.8. Have 1 week to test both and then decide.
19. Prep new travel laptop. The Acer Aspire TimelineX 11.6″ just arrived and now we'll need to remove bloatware and install software on it for photo editing, blogging, etc.
20. Download travel apps. Anybody got any good recommendations for iOS or Android? This probably deserves its own post sometime.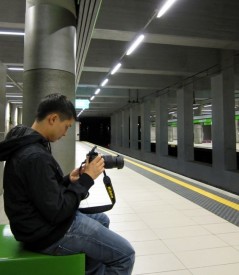 21. Practice photography. We'll want some good photos on this trip, so we'll either need to read up on photography books or go on some photo sessions. Or we can just practice on the road. 🙂
22. Notify credit cards companies/Set auto-pay. It's always good to call your credit card company or bank to give them a heads up about your travel so they don't decline any transactions abroad. I still have a car payment and school loan to pay so will need to set those up on auto-pay. As a credit card owner or a future one, it would be wise for you to learn information such as opt in credit card offers.
23. Avoid getting sick at all cost. We have a track record of coming down with the flu right before a big trip. It never fails.. until now (I hope).
24. Download driving music for New Zealand road trip. We'll be road trippin' New Zealand from North to South Island for one month. That's a lot of driving with just god-knows-what-radio-musicNew Zealand has if any.
25. Test pack. I've only test packed in my head. So far, so good. Haha. The true test begins as soon as we get everything together all under one roof.
26. Eat lots of Mexican food. Where we're going, we may not have the chance to. At least not as good as from home in San Jose, CA!
27.Plan a kick-ass going away party. A proper send off and a great excuse to get everyone together in one place before we leave. Mark your calendars – Thursday 12/22. Location TBD.
Any other last-minute tips you have to help prep for a big trip?
You might like:
Share and Enjoy