A year in pictures, a lifetime of memories. 2012, best year ever.
When we quit our jobs, never in my wildest dreams did I imagined we'd be spending the year the way we did – a year in travel. It's been one helluva a year filled with more ups than down, both good times and bad, great adventures, fun memories and lifelong friendships. It's been an incredible, life changing year.
In case you've been under a rock, here is a look back at the last twelve months.
January
New Zealand
We rang in the New Year in beautiful New Zealand. Driving on the 'wrong' side of the road was weird but fun. NZ was a land of firsts for us – we tried marmite (hated it) and ate meat pies (loved it). Our overnight cruise of the Bay of Islands rocked. We also went zorbing in Rotorua and, crazy enough, bungy jumped on my 29th birthday in Queenstown. I can't think of a better place to jump start our round-the-world trip.
February
Australia
We headed for Melbourne, Australia on, appropriately, Australia Day! After a month long rain in New Zealand, Australia welcomed us with sunny skies and warm weather. We spent our month on the Greyhound Australia making our way up the East Coast – cruising the Whitsundays and even checked off a long overdue bucket list item – snorkeling The Great Barrier reef!
March
Singapore, Malaysia, India
Singapore was our gateway to spending the next six months in Asia. If you want to work in Singapore to finance your expenses, you may seek for companies who can help you secure important documents, such as a personalized employment pass. We split roughly 10 days between Singapore and Malaysia eating our way around hawker food.
India was a challenge for us; we were definitely out of our comfort zones. It's raw and unforgiving, and quite possibly the most rewarding travel experiences we've had. We explored Rajasthan by train, rode camels in the Thar desert and took a crack at bargain shopping. Gerard danced with boys when we crashed a wedding and I got groped while celebrating Holi. That's India for you.
April
Thailand
By April we were more than ready to change up our diet from daal curry and chapati to pad thai and sticky rice. In Thailand, we snorkeled Koh Phi Phi and celebrated the Full Moon Party in Koh Phangan. Chasing one festival to the next, we headed north to Chiang Mai to take care of elephants and ring in the Thai New Year, Songkran.
May
Hong Kong, China, Japan
Our week in Hong Kong was filling. We did nothing but eat in Hong Kong. China was overwhelming and not in a good way. There's just too much going on, and we finally hit a wall, no pun intended. The constant traveling was making us lazy, bitter. But then we found Shanghai dumplings, the Terracotta Warriors and the Great Wall of China and travel fatigue quickly dissipated. Thank goodness.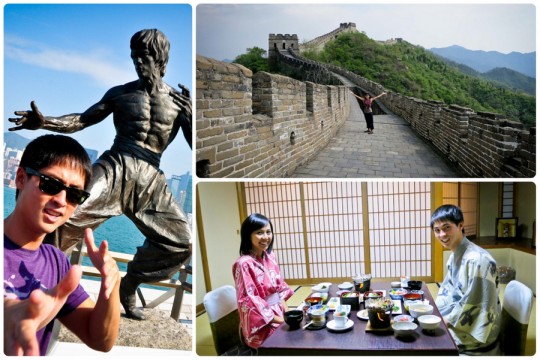 From the chaos of China, we arrived to the serenity of Japan. A breath of fresh air, Japan was everything we expected and deliciously more. We slept in a traditional ryokan, spent the afternoon geisha hunting, ate our way through Kyoto and indulged in more sushi than you could consume in a lifetime. For the first time in months we felt like we were on vacation again and it felt great!
June
South Korea, Vietnam
Seoul was a blessing thanks to our friend who graciously let us crash at his place for over a week to do absolutely nothing. We had no agenda, nothing touristy on our radar for once. Instead, we did the "normal" things you'd do at home – ate Taco Bell, went grocery shopping, bar hopping and even saw a movie at the theaters. And eat tons of kim chee.. that kind of normal.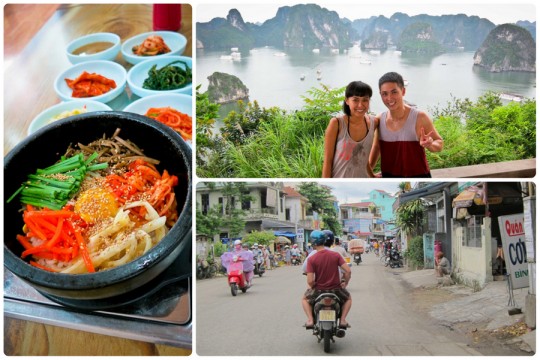 June brought us back to Vietnam to explore our roots. It's nice to finally hear and speak a language we know other than English. We made our way from Hanoi to Ho Chi Minh City, visiting Sapa, Halong Bay and Nha Trang along the way. We ate snails on the streets and oodles of noodles at every stall. Gerard even traced his lineage in Hue. Apparently he is a descendant of royalty!
July
Cambodia, Indonesia
In July we crossed the border. Cambodia is one of the few places where you could stay at five star hotels for the price of two.. so we did. We splurged on luxury hotels, woke up at the butt crack of dawn to see Angkor Wat, and visited S21 and the Killing Fields, both remarkably moving. Cambodia was one of those places I wasn't sure what to expect. But the kindness in people, the history and trials and tribulations the country has gone through made it such a wonderful experience for us.
After 10 days in Cambodia, we flew down to Indonesia. We took yoga class for the first time in Ubud, ate banana pancakes for breakfast and chased dolphins at sunrise in Lombok. In the Gilis, we took our first discover dive and it was life changing. Diving is such a surreal experience everyone should try.
August
Hawaii 
August came faster than we had hope. Our Asia jaunt was over but we were excited to be heading home soon. Gerard's friend was getting married, hence our extended layover in Hawaii. We spent the next three weeks lounging on the beach taking surf lessons, paddle boarding and getting a gnarly tan. We even encountered sharks on the North Shore!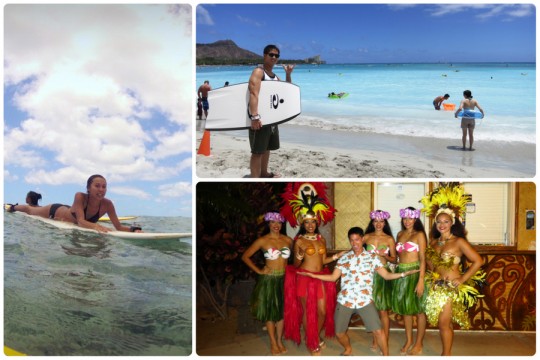 September
Peru
Our South America jaunt kicked off in early September. South America was never on the original plan but we were presented with an opportunity we couldn't resist, so we had six weeks split between Peru and Bolivia. Machu Picchu has always been high on Gerard's bucket list and we were not disappointed. Nor were we let down with the food either, especially the ceviche.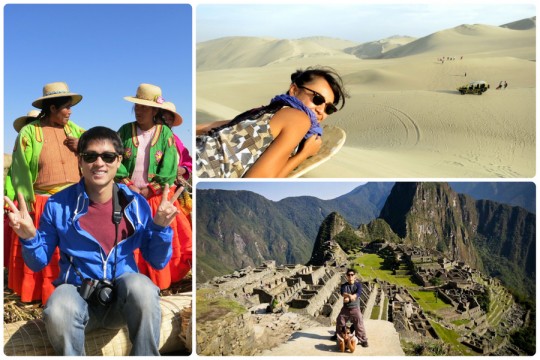 October
Bolivia
After Peru, we traveled by bus to Bolivia and soon after, I realized how much I hate to travel by bus. It's brutal, especially in South America. If Machu Picchu was high on Gerard's list, then the Uyuni Salt Flats is beyond high on his list, so you can imagine how ecstatic he was. And I have to admit, I did not realize how naturally stunning Bolivia is until we got there. Definitely an underrated country. We chilled out in Sucre, took Spanish lessons and ate a lot of fruit salads.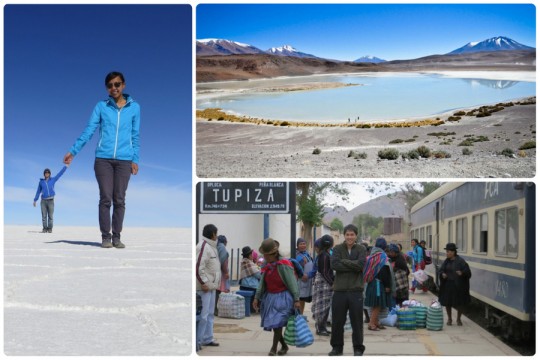 November
Prague, Ljubljana, Vienna, Budapest
Eastern Europe was a last minute decision. We were too tempted not to finish off the year in travel – we didn't want to go home, yet. Plus, as weird as it sounds, I've never experienced Europe in the cold so I was tempted to bundle up and experience the Christmas markets for the first time. If you follow us on social media, y'all already know, we got engaged in Prague! Over the month, we relaxed in Ljubljana and Lake Bled, visited Christmas markets in Vienna and soaked up in the thermal baths in Budapest.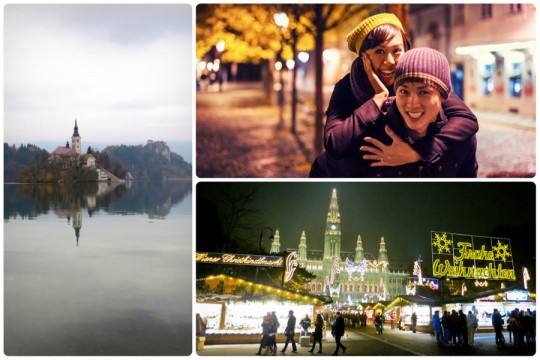 December
New York
We wrapped up our year with a visit to New York City. We didn't do much sightseeing, we've been here plenty times before. Instead, we came to visit our friends Steph and Fran whom we met on a bus in Vietnam in June and again in Cambodia. Five days of great food, wine and company in an awesome city was exactly the way we wanted to experience New York City.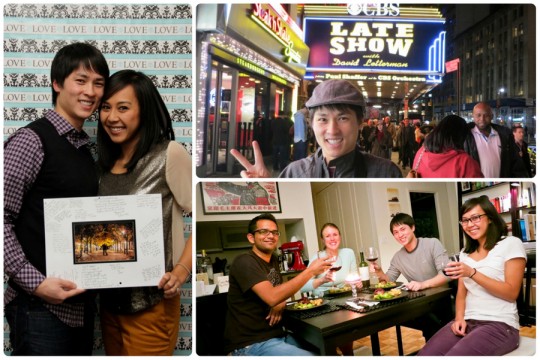 Finally, after being on the road for twelve months straight, we made our way home. I can't believe how quickly the year has flown by. To cap it off, over a hundred of our closest friends and family surprised us with an amazing engagement party!
Nothing, and I mean nothing, will ever top the past twelve months. 2012 has been, without a doubt, the best year of our lives.
If you want to see our year wrapped up in a 3-minute video, here it is.
Thank you for following our journey and for letting us share our year with you.
You might like:
Share and Enjoy